Kim Kardashian Briefly Dropped 'West' From Her Social Media Handles
And the internet was temporarily in shock.
---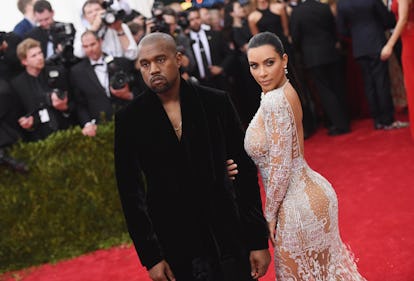 Getty Images
It's a new year, but Kim Kardashian is back to her old games on social media.
The reality TV star sent shock waves through Twitter on Tuesday when she quietly and quickly updated her social media handles, dropping the "West" from her name. For mere minutes her Instagram bio went from "Kim Kardashian West" to simply "Kim." Her Twitter made a similar update, before quickly changing back to showing her full married name, Kim Kardashian West.
Was Kim just trying out a new sleek moniker a la Beyoncé or Madonna for the new year? The mogul has been silent from social media since her attack-at-gunpoint in Paris in October and the social media update may be a signal to her fans that she plans to re-emerge on Instagram and Twitter in the near future with a new image — perhaps less public and more branded, hence the "Kim" choice.
But the subtle change could also be an ominous indicator that points to trouble between Kardashian and Kanye West's marriage. Divorce rumors began swirling about trouble between the couple after West was hospitalized in late November and unsubstantiated reports later emerged that the couple were in counseling or living apart (which only intensified when Kim was spotted without her engagement ring).
Kardashian and West have done their best to squash rumors, with West posting — and then deleting and reposting — a picture of his family from Kris Jenner's annual Christmas party.
And just this morning, Kim took to her website to release home videos of her and family, seeming to signal that everyone was happy and healthy in their home.
For those keeping up with the Kardashian drama, here are the receipts:
This is too much stress to start the new year with, Kim.
UPDATE, 2:11 p.m.: In a very sweet but very confusing plot twist, Kim Kardashian made a triumphant full return to social media just minutes after all this name-update chaos, posting a photo of herself, her husband Kanye, and their two children, North and Saint, paired with the simple caption "family." The picture immediately squashed all speculation about her marriage's future, and now we can all celebrate 2017 with our favorite social media family.
Watch W's most popular videos here: