Kim Kardashian and Chrissy Teigen Are Starting a Book Club
It's time to get literary.
---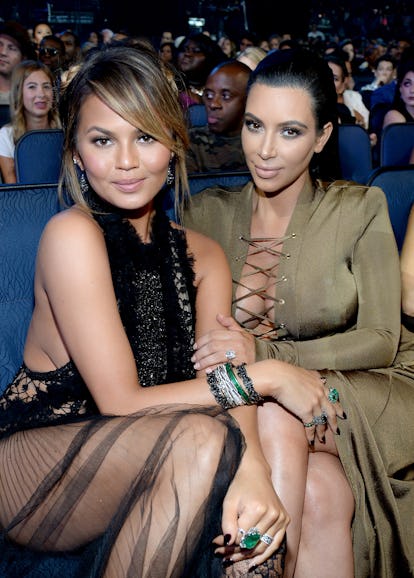 Kevin Mazur/Getty Images
After facing the ordeal of a violent robbery in Paris, Kim Kardashian has kept a lower profile, preferring to stay home rather than walk a red carpet. She's also said to be reevaluating some of the materialistic aspects of her image. So maybe it doesn't come as a surprise that she's starting a book club.
Of course, Chrissy Teigen is the first member. Her hairstylist Jen Atkin is joining as well. Per Kardashian, "everyone's invited!!!!"
Kardashian and Teigen announced the collaboration on Twitter on Wednesday. Although the book club doesn't yet seem to have a name, iIt does have a launch date — Monday — and a probable home on Kardashian's app. Kardashian already assigned the book club's first title, Betty Eadie's Embraced By the Light, "a life-changer" that Kardashian describes as "a story of a woman who died during surgery &came back 2life. She shares her journey of what heaven is like. Its so good."
Given Kardashian's recent ordeal, it's maybe not a surprise she's taken solace in a book about life after a brush with death.
The joint literary endeavor comes as Kim Kardashian continues her gradual reintroduction to public life. During her absence from social media, Kardashian was plagued with conspiracy theories that she staged or exaggerated the incident. Teigen became one of the mogul's most vehement defenders.
Kardashian has been more and more vocal in 2017, most recently slyly condemning Donald Trump's executive order on immigration. The book club continues Kardashian's streak of social engagement, while giving Teigen a new avenue for her reliably incisive opinions.
Watch Kim Kardashian take W's Screen Test: