Kim Kardashian Finally Comes Clean About Her Book Club with Chrissy Teigen
More than a year later, she explains what happened with their promising book club.
---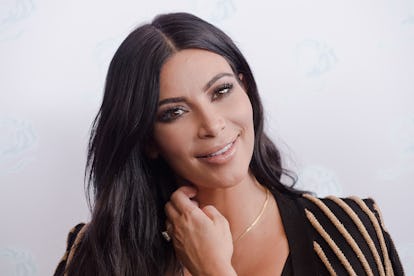 Francois G. Durand/Getty Images
Long, long ago, just a couple of weeks into Donald Trump's presidency, Kim Kardashian and Chrissy Teigen offered some hope for Americans: They announced that they were forming a book club, warming everyone's hearts with the delightful prospect of observing the Kardashians engage in some hard-hitting literary discourse, no doubt accompanied by Teigen's hilarious tweets.
The club was of course always going to be exclusive—sadly, we can't all cozy up on the couch with Teigen and the Kardashians. Though from the start, the pair used their platforms to make it seem just a bit accessible. Kim, for one, told her millions of followers what it was like to speak to the author of the book club's first pick, Embraced by the Light by Betty J. Eadie, a '90s bestseller about the author's near-death experience, while Teigen simply invited Twitter at large to join them in their reading.
Alas, that last promise—yes, the one accompanied by a kiss emoji—turned to be a lie. As 2017 painfully wore on, and into 2018, we never did end up hearing what Kardashian thinks about The Awakening Heart is; she and Teigen are going on over a year of radio silence on the book club that finally ended this Monday, when Kardashian decided to offer an update.
Kim Kardashian Takes W's Screen Test:
Something seems to have stirred in Kardashian's mind, because, out of the blue, she started off the week by posting about the club's first and only meeting on her website and app. "For my first book club, we went all out!" she wrote of the meeting with Teigen, plus her sister Kourtney and her hairstylist Jen Atkin, and of course the author, Eadie, which took place more than a year ago. "It was so meaningful to me to meet with Betty because her book has brought so much clarity into my life," Kardashian continued, offering a "glimpse of how it all went down."
Only subscribers are privy to the entirety of that footage, but thanks to People, we know that from there ensued a quite honest discussion about mortality between Kardashian and Teigen, who are both published authors themselves. (Kardashian's 2015 book Selfish, featuring selfies and captions like "I had one drink and was wasted LOL," was widely reviewed, including by the New York Times, and Teigen's Cravings: Recipes for All the Food You Want to Eat was one of 2016's best-selling cookbooks.)
The discussion started with Kardashian telling the group that, especially since her late father recommended it to her, the book "just taught me how to live here on earth, and how this life is really about lessons and growing and teaching and stuff like that." The ever-relatable Teigen then asked, "And you weren't scared for after anymore? I'm terrified." Kardashian responded that she in fact isn't—"at all."
In short, the video shows that the conversation is engaged; the enthusiasm, palpable. Indeed, from the get-go—the meeting begins with Kourtney greeting Eadie by telling her that she was not only the first person to come to their book club, that her book was in fact "our first book from our book club!"—it seems quite, quite promising that another meeting and assignment will come soon. (Why else would Kardashian would have posted such a #TBT on a Monday?)
Don't get your hopes up, though. As genuinely as Kourtney and the rest seemed to express their excitement, Kim also finally offered some genuine insight into why that "first" book ended up also being their last. Just like all the clubs you joined at the beginning of freshman year, all the bands you and your friends were in for a hot minute, and all your short-lived attempts at not eating gluten, the reason for the book club's demise is pretty simple. It "never took off," Kardashian wrote, "because we were lazy."
Related: Emma Roberts Wants You to Read More, and She Has the Book Club To Make You Do It