Kim Kardashian Cosplayed as a Devotional Candle, Catholics Are Not Impressed
The Catholic League decried Kardashian's latest Dolce & Gabbana look, describing her as a "former porn star." Fact-check, please.
---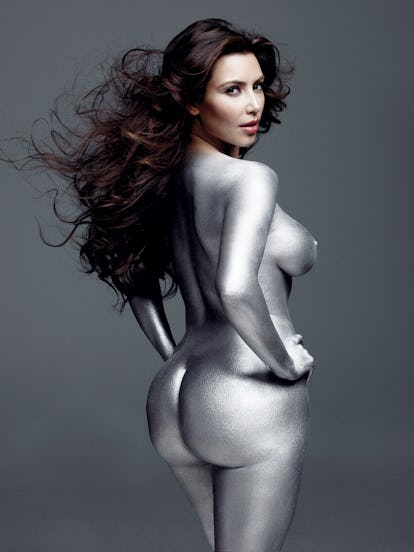 While recently filming Keeping Up with the Kardashians, Kim Kardashian wore her most controversial outfit yet: a translucent mesh Dolce & Gabbana minidress with a portrait of the Virgin Mary emblazoned across the front and surrounded with crystal details. She paired it with strappy sandals and the wet-look hair that she's mastered. (Her social media hiatus has not put a damper on her sartorial and beauty know-how.)
Sounds pretty standard for the reality TV star, right? But in combination with Kardashian's most recent launch–on 4/20, she debuted a new line of weed-themed merch, including a devotional candle that cast Kardashian as the Virgin Mary herself–many Catholics are offended
Though Dolce & Gabbana have frequently incorporated religious iconography into their designs, Kardashian's latest moves have drawn particular ire from the Catholic community. "We've never seen any indication that Kim Kardashian venerates the Blessed Virgin Mary — she is a former porn star — so her latest headline-grabbing stunt can only be seen as exploitative," the Catholic League said in a statement, incited by the combination of her Dolce & Gabbana look and the candle.
Apparently one cannot both be the Virgin Mary and sport her likeness. lt's actually a pretty meta move — she transformed an image of the Virgin Mary into her own likeness for a prayer candle, and then she turned herself into a prayer candle to return the favor. And to top it all off, Kardashian is a notorious teetotaler — so she's probably not even partaking of the substances for which she's selling all this paraphernalia.
It's also worth adding here that Kardashian is not, and never has been, a porn star. Even further, though many of her street style looks veer towards flashy and revealing, by all accounts she's actually quite straight-edge. And while it's difficult to attest to her religious preferences, her son is, in fact, named Saint.
Because Kardashian rarely makes a move — especially of the paparazzi-photographed variety — without enormous foresight and strategy, it's unlikely the candle merch drop and the Dolce dress are unrelated. And that's why, for some, Kim Kardashian West is a religious icon.
Kim Kardashian's Most Memorable Looks
Pulling an Angelina in Altuzarra in Beverly Hills.
Photo by Getty Images.
Keeping it simple in a sleek black suit.
Photo by Getty Images.
Matching baby North in head-to-toe tan.
Photo by Getty Images.
Rocking Givenchy maternity at the 2014 Met Gala.
Coordinating in one of many long coats in New York.
Photo by Getty Images.
And a textured one, too.
Photo by Getty Images.
In a sheer Proenza Schouler dress at the 2015 CFDA Awards.
Photo by Sherly Rabbani.
Looking chic in head-to-toe black at a Paris gym.
Photo by Getty Images.
Right on trend in a barely-there Roberto Cavalli dress at the 2015 Met Ball.
Photo by Sherly Rabbani and Josephine Solimene.
Like Will Ferrell in Elf, Kanye West just wants to bring joy to the world: