Kim Kardashian and Demi Lovato Both Dressed Up as Selena Quintanilla on Halloween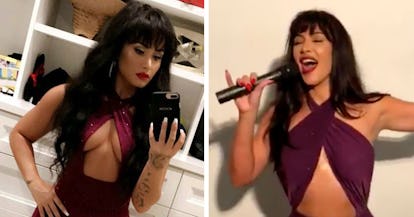 Composite. KimKardashian/Twitter, DemiLovato/Snapchat via _demi_lovato_fanpage1/Instagram
For Halloween this year, Kim Kardashian, was paying tribute to her favorite musical icons, starting with Cher, then dressing as Madonna and Aaliyah. Her fourth, and hopefully final, costume was as Selena Quintanilla, the iconic singer and songwriter, who was dubbed the Queen of Tejano music in the early '90s due to her massive popularity in the genre and was tragically murdered at the age of 23 by her former manager. Only last week, Quintanilla earned a star on the Hollywood Walk of Fame.
If you're experiencing déjà vu, that's because actress and singer Demi Lovato dressed as Quintanilla over the weekend. And both Kardashian and Lovato wore one of Quintanilla's most memorable ensembles: a sexy purple jumpsuit with a bunch of sparkles that flared out at the bottom. Quintanilla wore the look while performing at the Houston Astrodome, and the moment was prominently featured in a 1997 biopic about the singer, starring Jennifer Lopez.
Kardashian shared her Quintanilla ensemble on Twitter, with a little song and dance. "My fave Selena!!!!" she wrote.
Lovato, meanwhile, showed off her costume over the weekend on Snapchat, which were saved for posterity after 24 hours by numerous fan accounts. Look at those sparkles!
J.Lo, the obvious candidate to play Selena Quintanilla on Halloween (hey, she already has the outfit!), was otherwise occupied talking about her new boyfriend Alex Rodriguez. and doing her kids' makeup.
Related: Kim Kardashian, Ariana Grande and More Celebrities Who Took The "Couples Costume Idea" Meme to Heart This Halloween
28 Times Celebrities Dressed Up as Other Celebrities on Halloween
Jessica Biel as Justin Timberlake (and Justin Timberlake as a microphone), Halloween 2019.

Courtesy of @jessicabiel
Stormi Webster as Kylie Jenner, Halloween 2019.
Tracee Ellis Ross as DJ Quik, Halloween 2019.

Courtesy of @traceeellisross
Nina Dobrev as Billie Eilish, Halloween 2019.

Courtesy of @nina
Anastasia Karanikolaou and Kylie Jenner as Christina Aguilera and Britney Spears, Halloween 2019.

Courtesy of @kyliesnapchat
Avan Jogia and Cleopatra Coleman as Billy Bob Thornton and Angelina Jolie, Halloween 2019.

Getty Images
Rita Ora as rapper Post Malone, Halloween 2018.

@ritaora
Kylie Jenner as Christina Aguilera, Halloween 2016.

@kyliejenner
Beyoncé and Blue Ivy Carter as Janet Jackson and Michael Jackson, Halloween 2014.

@beyonce
Katy Perry as Freddie Mercury, Halloween 2015.

@aceoriolet
P. Diddy as Prince, Halloween 2012.

@diddy
Kim Kardashian and Joyce Bonelli as Anna Wintour and Grace Coddington with their children North West and Zeplin Black as André Leon Talley and Karl Lagerfeld, Halloween 2014.

@kimkardashian
Dua Lipa and Isaac Carew as Bianca and Mick Jagger, Halloween 2018.

(@dualipa)[https://www.instagram.com/p/Bpm0DnTBjwP/]
Winnie Harlow as RuPaul, Halloween 2018.

Getty Images
Paris Hilton as Miley Cyrus, Halloween 2013.

@parishilton
Harry Styles as Miley Cyrus, Halloween 2013.

@louteasdale
Chrissy Teigen and John Legend as Queen Elizabeth and Prince Charles, Halloween 2018.

(@johnlegend)[https://www.instagram.com/p/BpoGoyVF5zh/]
Harry Styles as Elton John, Halloween 2018.

Getty Images
Miley Cyrus as Lil Kim, Halloween 2013.

@mileycyrus
Kate Moss as Cara Delevingne, Halloween 2014.

@caradelevingne
Fergie and Josh Duhamel as Choupette and Karl Lagerfeld, Halloween 2015.

@fergie
Kim Kardashian in 2015 as Kim Kardashian in 2013.

@kimkardashian
Shanina Shaik as Rihanna, Halloween 2015.

@shaninamshaik
Miranda Kerr as Marilyn Monroe, Halloween 2015.

@mirandakerr
Neil Patrick Harris as Groucho Marx, Halloween 2016.

@nph
Victoria Justice as Amy Winehouse, Halloween 2015.

@victoriajustice
Aziz Ansari as The Weeknd, Halloween 2015.

@azizansari
Martha Stewart as Marilyn Monroe, Halloween 2016.

@marthastewart48
Watch: Margot Robbie Dressed Up as James Franco in "Spring Breakers" For Halloween, and Loved Getting Away With It