Kim Kardashian's Makeup Artist Mary Phillips on the Products She Can't Live Without
Phillips, who regularly works on makeup looks for Kendall and Kylie Jenner, Jennifer Lopez, and Bella Hadid, reveals her favorite products and tips.
---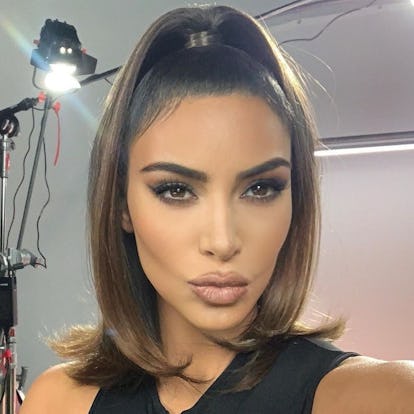 Photograph courtesy of Mary Phillips, @maryphillips on Instagram.
Mary Phillips has established herself as one of the most gifted celebrity makeup artists in the world. Naturally, when creating makeup looks for Kim Kardashian West, Kendall and Kylie Jenner, Jennifer Lopez and Bella Hadid, there are certain career perks that come your way—and one of the most exciting perks Phillips receives is early access to the newest makeup formulations and skincare treatments that allow her to create impactful looks for her A-list clients.
We picked Phillips' brain about the new products to pay special attention to at this very moment. Below, she shares with us the tips, techniques, and essential products she feels have the most lasting results.
Let's discuss all things new. In terms of makeup, what product should we pay attention to right now?
I recently received Pat McGrath's Dark Star Mascara and I'm loving the texture and sculpted effect it has on my lashes. Because I am always wearing a mask these days, my eyes are more clearly on display and mascara has been a must. With this new PM mascara, my lashes are pushed up—fuller, longer, and more defined.
In regard to new makeup techniques, trends and application, what's worth noting?
For me, less is more is always a trend. I do see that people have been playing up the eyes a little bit more these days. Pastels and neons are always fun for the summer; however, I did recently try a new eyeliner technique on myself using neutral brown tones with the Stila Stay All Day Waterproof Brow Color in shades Medium and Dark.
I started by drawing a wing at the outer corner of my eye with the Medium liner. Then I lightly traced my lash line and under the wing with the Dark liner for a soft and subtle, yet sculpted, neutral, winged eyeliner.
Also, I've always been a huge fan of blush and a bronzy glow—that aesthetic never goes away for me. The Nudestix Nudies cream stick in Sunkissed is great, and easy to blend onto areas where the sun naturally hits to create a warm, healthy, fresh-out-of-the-sun look.
Which lip shades are you crazy about this summer?
I am loving the Victoria Beckham Bitten Lip Tint in Bisou, which is a gel formula that enhances your natural lip tone. After I apply Bisou onto lips, I like to apply the La Mer Lip Balm on top to smooth and soften. I find combining these products gives the lips a perfect, soft texture and flush color—almost as if you just finished making out. I also love the Nudestix Lip Glace in Nude Cherry, which moisturizes, plumps, and gives the lips a post-popsicle, red lip tint.
Let's talk skin. We can all agree that great skin is critical before any makeup is applied to give a transformative or enhanced look. Is there a skin product you can't live without these days?
I have to say that I absolutely love the new Concentrate from La Mer. It's a magically soft, velvety restorative treatment that has my skin feeling strong and resilient. Because I have spent more time at home lately, I've made more time for meditating, reading, and taking care of my skin. It's a new formulation that is more advanced than the original, with a higher potency of the Miracle Broth Elixir. The ingredients are ultra-calming and soothing for my skin, and frankly, my well-being. It is a barrier serum that visibly soothes, strengthens, and stabilizes skin.
Give me a rundown on your skin prep. What do you use consistently?
Prepping your skin with the right products is important because if your skin isn't looking its best, neither will your makeup. I have to say that La Mer products never disappoint my skin. I am a huge fan of their skin philosophy. The Miracle Broth Elixir infused into their products is healing, hydrating, and has anti-aging benefits. The La Mer Mist is the perfect spritz to refresh, hydrate, and energize skin—and the La Mer Concentrate gives my skin strength and protection from pollutants while calming redness. La Mer Renewal Oil smells relaxing like a day spa and floods my skin with hydration. La Mer Moisturizing Soft Lotion is a lighter moisturizer option perfect for warmer weather. It quickly absorbs into skin and gives a vibrant, balanced glow.
Are there anchor makeup products that you turn to over and over, regardless of who the client is, that help turn a look into something stellar?
I have used Tom Ford Mink Mirage Eye Shadow Quad in 90% of my makeup looks, whether it was just the eye base or the full eye look. Tweezerman Lash Curler to curl lashes and open up the eye, Charlotte Tilbury Lip Cheat lip liner in Iconic Nude and K.I.S.S.I.N.G lipstick in Nude Kate and Penelope Pink for a perfect nude lip. Again, I have to say for the skin, La Mer Concentrate is a must-have to help calm and soothe any redness or irritation. I often use the La Mer Crème de la Mer before makeup application to hydrate and help makeup glide onto the skin more smoothly.
During summer, the weather can fluctuate between humid and dry on both coasts. Advise us on the best methods to keep makeup and sunscreen from rubbing—or better yet—melting off.
I suggest keeping makeup light and not so set in powder, so it doesn't get caked from the heat. After I apply my moisturizer (Crème is my personal favorite) and La Mer's The Broad Spectrum SPF 50 I like to prep skin with La Mer's Hydrating Illuminator for an ultra-smooth canvas. The Reparative Skin Tint SPF 30 is my favorite for the summer. It is a lightweight formula that provides a sheer, healthy glow and SPF 30 which is perfect for warmer weather. I recommend just very lightly powdering the T-zone area to set and finish.
Give us a makeup trick we'd be astounded by to help with application.
After applying foundation, I like to apply a pea-size amount of Crème de la Mer with The Powder Brush to the top of the cheekbones and down the bridge of the nose for an instant, hydrated, creamy glow.
Despite the circumstances, we are still managing to find time to work on our tans and sunbathe. Give us some insight: what products and treatments do you feel are most effective when caring for the skin below the neck?
I'm not one to sunbathe, but if I am out in the sun, I always make sure to wear La Mer Broad Spectrum SPF 50 all over. La Mer Renewal Body Oil Balm luxuriously absorbs into skin, which feels and looks great on the body. It gives the skin a radiant, nourished, silky glow.
Related: The Must-Have Summer Products From Black-Owned Beauty Brands