Kim Kardashian and Madonna Met Decades Ago, May Collaborate on a Beauty Product
And revealed how they first met when Kim was just a kid.
---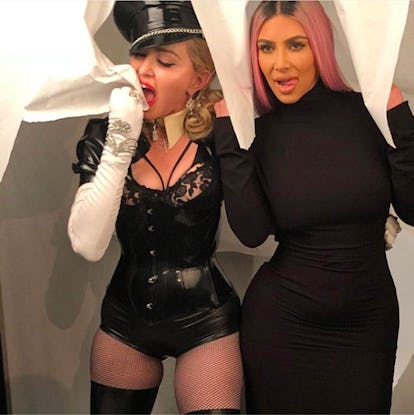 instagram.com/madonna
An affinity for going platinum blonde, pushing the envelope, and sparking countless think pieces on celebritydom — Kim Kardashian and Madonna share many things. As it turns out, they also have a connection that dates back to when the reality TV star was just another kid. Last night, the two beauty moguls met for a beauty panel at Barneys in Los Angeles, where they spoke about their friendship's early origins and hinted at what is bringing them together these days. Spoiler: It seems to be a KKW Beauty and MDNA Skin collaboration.
Madonna and Kardashian first met decades ago at the social media connoisseur's childhood home. "Madonna, at a period in her life, moved in with her manager, who happened to be our next-door neighbor growing up," Kardashian told the crowd at last night's private event, per Entertainment Tonight. "So, Kourtney [Kardashian] and I would walk… and we would see Madonna."
The pop star even gave Kardashian a gift back then: "I remember so vividly… and she just walked in and was like, 'Girls, you know what? I'm over these bracelets.' And gave us these black rubber bracelets," she said.
Soon, however, Madonna and Kardashian may be exchanging something else: ideas for a collaboration. Madonna hinted as much on Instagram yesterday, posting a photo of the pair on the set of a shoot with the caption, Eating paper with Kim….,.,,,,,?? A foreshadowing of things to come????????? #beauty #skincare #workinggirls #oscar #fun #mdnaskin #thermalwaters #holywater @jr @kimkardashian @mdnaskin ?♥️." Considering their mutual affinity for high-end skincare, it wouldn't be surprising if their collaboration fell more under the umbrella of Madonna's MDNA line. It's also rumored the pair may have more surprise joint events lined up throughout the week.
Meanwhile, Kardashian also revealed upcoming products for her own line. "Next, I have a collab with my makeup artist of 10 years, Mario Dedivanovic," she said. "We have a really cute collection coming out. Something that we've worked on for a long time. Then I have concealers, and I have a new fragrance coming out that I'm so excited about, just a lot of fun stuff." One thing you shouldn't expect her to release anytime soon, though: Take home vampire facial kits.
Related: A Definitive Guide to How Kim Kardashian Really Feels About Each of Her Family Members
Photographer: Steven Klein Stylist: Arianne Phillips
Victoria Beckham's black cotton and elastane dress, at select Neiman Marcus stores; Bergdorf Goodman, New York. Cornelia James gloves; Madonna's own necklace. On men, from left: Dior Homme's black wool suit, at Dior Homme, New York, diorhomme.com; Pedro LourenCo's black cotton shirt, pedrolourenco.com. Z Zegna tie; David Yurman ring. Prada's black wool suit, at select Prada boutiques, 888.977.1900.

Photographer: Steven Klein Stylist: Arianne Phillips
Chopard bracelet. On him: David Yurman rings.

Follow W magazine on Twitter!

Photographer: Steven Klein Stylist: Arianne Phillips
Vintage sequined silk gown (also shown in the next two scenes), at The Way We Wore, Los Angeles, thewaywewore.com. Erickson Beamon cuff; Jimmy Crystal lighter case; Giambattista Valli shoes. On men, from left: Dolce & Gabbana's ivory silk sateen dinner jacket, at Dolce & Gabbana, New York, dolcegabbana.it; Saks Fifth Avenue, saksfifthavenue.com; Dior Homme's white cotton shirt, at Dior Homme, New York, diorhomme.com. Tommy Hilfiger tie. Prada's white wool jacket, at select Prada boutiques, 888.977.1900; Dior Homme's white cotton shirt and black wool pants, at Dior Homme, New York, diorhomme.com. Trash & Vaudeville tie.

Photographer: Steven Klein Stylist: Arianne Phillips
L'Wren Scott's wool dress (also shown in the next two scenes), at select Barneys New York stores, barneys.com. Cornelia James gloves. On him: Keiko's nylon and lycra spandex swim trunks, at Keiko, New York, keikonewyork.com.

Photographer: Steven Klein Stylist: Arianne Phillips
Burberry Prorsum's leather coat (also shown in the next two scenes), at select Burberry stores, burberry.com; select Barneys New York stores, barneys.com. Calvin Klein collection bag (on floor).

Follow W magazine on Twitter!

Photographer: Steven Klein Stylist: Arianne Phillips
Madonna in Dior sunglasses
Vintage silk lace dressing gown, at Decades, Los Angeles, decadesinc.com; Miu Miu's black silk duchesse satin bra, at Miu Miu, 888.977.1900; Flexees' nylon and spandex briefs, at select Macy's stores, macys.com; select Kohl's stores, kohls.com. Chartreuse ring.

Photographer: Steven Klein Stylist: Arianne Phillips
Photographer: Steven Klein Stylist: Arianne Phillips
Photographer: Steven Klein Stylist: Arianne Phillips
Photographer: Steven Klein Stylist: Arianne Phillips
Hair by Andy LeCompte/Solo Artists; makeup by Gina Brooke/ J. Artist Management using Shu Uemura; manicure by Elza and Wanda/Copacabana Palace. Set design by Arabella Serrell. Male Casting by Luis Viner. Male Models: Jesus Luz/Ford Models Inc., Romulo Pires da Silva/Bananas Models, Julien Quevenne/Ford Men NYC. Production by Betty Prado, Paolo Felisbino and Piera Paula; Lighting by David Devlin. Photography Assistants: Sharif Hamza, Sebastian Mader, Daniel King, Matthew Thompson and Fernando Young. Fashion Assistants: Laura Morgan, Lori Messerschmidt, Kathy Lee, Rebecca Ramsey, Garrett Munce, Marina Franco and Jose Camarano.

Photographed on location at the Hotel Gloria, Rio de Janeiro, Brazil.

Photographer: Steven Klein Stylist: Arianne Phillips
Photographer: Steven Klein Stylist: Arianne Phillips