Kim Kardashian: The Marilyn of our Time
In case you missed it, here are the best style news stories of the week
---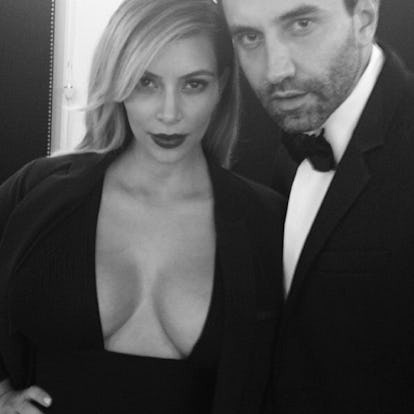 Alt, Carol Admits she "doesn't get" Kate Upton in a video interview, reminds viewers that she is not a teenage boy.
Brant, Harry Walked the runway for IRFE during Paris Fashion Week; proves he does have those Stephanie Seymour genes.
Bundchen, Gisele Celebrated five years with Tom Brady by walking for Balenciaga. Why not?
Cyrus, Miley Does not like being compared to Tinkerbell, prefers Nicole Kidman.
Dore, Garance The Parisian blogging goddess goes old school by launching a stationery line; stay tuned for a collaboration with The Sartorialist.
Helmut Lang The husband-and-wife-team behind the brand, Michael and Nicole Colovos, are stepping down. (And making room for more Theyskens?)
Jenner, Kendall Continues her runway domination by going to Paris Fashion Week; could certainly teach Harry Brant a thing or two.
Leon Talley, Andre Joins Instagram. Posts images of Pat Clevelend in bodysuits, no caped selfies—yet.
Lange, Jessica The 64-year old actress is the new face of Marc Jacobs Beauty, now has something in common with Miley Cyrus.
LVMH Invested in young Italian designer Marco de Vincenzo—good move, since they lost Marc-no-o.
Marant, Isabel Admits she's kind of over sneaker wedges. Thank god.
Mouret, Roland Making plans to open up a store in New York City. Uptown's most svelte delight.
Ora, Rita Cuts her hair into a choppy bob, finally over her Marilyn moment.
Owens, Rick Cast real women as runway models for the second consecutive season, unfortunately no stepping in sight.
Perry, Katy Getting over her breakup by designing bubblegum-sweet jewelry for Claire's. Check back for her "I Hate John" cuff coming soon.
Rampling, Charlotte Upstages Jessica Lange by becoming the new face of NARS at age 68.
Superga Teams up with Madewell on some chic sneaks.
Tisci, Riccardo Names Kim Kardashian the Marilyn Monroe of our time; explains why Ora changed her 'do.