Kim Kardashian: The Art of Reality
Kim Kardashian can't sing, act, or dance, but she's found the role of a lifetime in the fine art of playing herself. Behind the scenes with the Queen of Reality TV.
---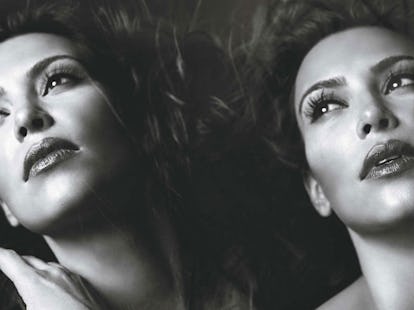 By 11:30 a.m. the line was already out the door and down the street. "That's good," Kim Kardashian said calmly as she looked at the ever-enlarging crowd of people waiting to see her at Nordstrom in Santa Monica. She watched from behind the tinted-glass safety of her black SUV, as the driver turned the corner into the underground garage. Kardashian, who was dressed in a low-cut, sheer cream blouse tucked into a belted short black skirt, with bare legs and her trademark sky-high platform pumps, looked, as she usually does, both exotic and comic-book curvy. Kardashian is a master of proportion: The tightness of her clothes highlighted and elongated her hourglass body, and her long black hair, which was curled and smoothed and teased into a waist-length fall, set off the smoky Cleopatra makeup on her catlike brown eyes.
As a celebrity, Kardashian gives good value: She is the star of a reality show, Keeping Up With the Kardashians, which means she is famous for being herself. On the show, and in life, she has defined that persona as a glamorous It girl who is close to her family, a wealthy but hardworking beauty who is not skinny, a single woman (almost 30!) looking for her soulmate. Kardashian takes her role seriously. She's willing to reveal her life in all its simple complications to the millions who watch the show; the millions who follow her on Twitter; and the millions who read her blog on her website, asking questions and seeking advice on how to be all things Kim. Like a classic movie star with a knack for new technology, she meets and greets with poise and perfect hair.
Kim Kardashian: The Art Of Reality
Kim Kardashian in W's November 2010 issue.

Photographer: Mark Seliger
Kim Kardashian in W's November 2010 issue.

Photographer: Mark Seliger
Photographer: Mark Seliger
Photographer: Mark Seliger
Photographer: Mark Seliger
Photographer: Mark Seliger
Click here to find out how makeup artist Gucci Westman engineered Kim Kardashian's shining moment.

Photographer: Mark Seliger
Photographer: Mark Seliger
Untitled, 2010, by Barbara Kruger For W's November 2010 cover, courtesy of Mary Boone Gallery.
Untitled, 2010, by Barbara Kruger For W's November 2010 cover, courtesy of Mary Boone Gallery.
"I'm wearing the lip gloss," Kardashian told me as the driver searched for the security entrance. She was at the mall on a bright Saturday morning in September to promote FusionBeauty cosmetics, a company known for its lip-plumping products; to meet Kardashian a customer/fan would have to be among the first 200 patrons to spend $75. Kardashian checked her phone and typed something in. "I wanted to remind my fans that I'm here," she said. "They're always asking me what lip gloss I'm wearing on the show, and I wanted to make sure to share my beauty tips. I wrote, 'Lip plumper is a lot better than plastic surgery!'"
This is part of Kardashian's every-girl approach. She may look like a pinup, but she's also practical and at least theoretically faces the same challenges as her mostly female fans. She has no particular talents—can't sing, can't dance, can't act—but she has something that appeals: Kardashian represents possibilities, a goal that may be attainable. She's genuine and colorful, which is why, after five seasons and a spin-off, Keeping Up With the Kardashians shattered records at the E! channel, garnering 4.7 million viewers for the premiere episode this August. That installment, like all episodes, had several storylines; wisely, Kardashian shares the spotlight with her entire family. Her mother, Kris—who is also known as the "momager," since she manages the business affairs of every member of the family—is married to Bruce Jenner, the Olympic athlete. With her former husband, Robert Kardashian, who is best known for representing his friend O.J. Simpson at his trial for murder (its own kind of reality show), Kris had four children—Kourtney (31), Kim (29), Khloé (26), and Robert Jr. (23). With Jenner, who had four children from previous marriages, Kris had two more daughters— Kendall (14) and Kylie (13). "People used to say we were like the real-life Brady Bunch," Kardashian told me. "So many crazy things would happen. People would come over and say, 'Where are the cameras?' Everyone always said it was like a sitcom at our house! We also knew that while we had the glitz and the glam for an audience to vicariously live through, we are such a normal family that everyone can relate."
Kris took the idea for a reality show about her clan to Ryan Seacrest, who has a production deal at E! He said yes immediately, and within a week every family member had agreed and filming began. From the start, the storylines have combined the glossy and mundane with soap opera–like flourishes: Kim has a fight with her (now ex-) boyfriend, football star Reggie Bush, and a photo shoot in her bikini; although she's not married, Kourtney becomes pregnant and has the baby; Khloé meets Lamar Odom, the sixth man on the Lakers, and marries him a month later. All of this—the birth, the wedding, the photo shoots, the fights, and, most of all, the invariably happy endings—are filmed for the show. "I always knew that people assumed I was a Hollywood wild child dancing on tables, drunk at parties, shopping all day, out all night," Kardashian told me as we headed into the mazelike bowels of Nordstrom. "But I knew: What they think of me is not me. I'm probably way more boring than they think. I'm not a drinker, and when I'm up on the table dancing, it's for the picture. Then I sit right back down. I play into the perception of me, but it's not really me. And the show reveals that."
Kardashian was ushered by the FusionBeauty publicist and several representatives into a small room, where she would do interviews before meeting the waiting public. There was a table set up with sweets and savories—candy bars and carrots. Kardashian eyed the food. "Why is it when you're dieting, you crave everything?" she said to no one in particular. This had the sound of a soon-to-be blog entry.
A procession of journalists was brought in. They asked mostly beauty questions—"Have you put the LipFusion to the kissing test yet?"—and Kardashian hit all her bullet points, again and again. LipFusion is just one of her many endorsements. She (sometimes with her sisters) promotes a clothing line for QVC, a weight-loss supplement, Armenian-inspired jewelry, an online shoe business, "couture" lollipops, bathing suits, scented candles, and Kim Kardashian perfume. The show has made her a brand: The midpriced, mainstream-with-a-touch-of-sparkle products that she endorses are carefully chosen to reinforce her glam/regular girl image. "People have been waiting for hours," one producer said. "Why do you think they want to see you?" Kardashian didn't need to think. "They have sisters or they don't have sisters, and then they see me as a sister," she said. "They relate to me. And I'm honored."
The Kardashian entourage headed out to the cosmetics floor, where she sat behind a desk and quietly autographed pictures XO Kim K with a fat black pen. As usual she sat very straight and seemed very calm, almost serene. There's a stillness about Kardashian that is compelling. She never appears anxious or restless; she's where she wants to be. That dual sense of ease and concentration is obvious to her fans. "I used to think, I have to be this or that or skinny, and now, because of the show, everyone is embracing just me, which has given me confidence," she told me later. "Now I'm like, Why did I ever give that feeling the time of day? I'm so mature now." She laughed. "I'm a grown-up version of myself now."
As every fan approached, Kardashian looked up and gave each one a picture. The group was diverse: racially varied and all ages but consistently worshipful. "I respect you so much," several women said. One man asked for a date. "I want to be just like you," a teenager confided. "You're beautiful." Kardashian, who has good manners and is unfailingly polite, handed out pictures for two hours. "I admire you," one woman said. "I think we'd be friends." Kardashian smiled. "We are friends," she said.
FOR THE FULL STORY, PICK UP THE NOVEMBER 2010 ISSUE, ON NEWSSTANDS NOW.