Kim Kardashian Pushes the Exposed Thong Trend Into Sci-Fi Territory
She's still finding innovative new ways to show off her curves.
---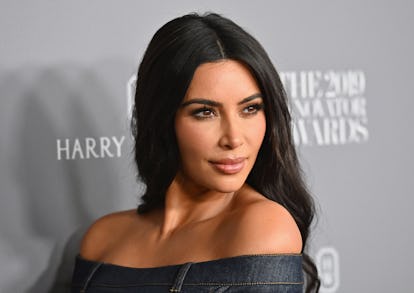 Photo by Angela Weiss /AFP/via Getty Images
Kim Kardashian's 2021 got off to a rough start after Page Six dropped the still murky rumors that she and husband Kanye West were rolling toward divorce. Then, to make matters worse, various bored TikTokers started all sorts of bizarre and apparently completely fictitious rumors about the couple's private lives (don't worry, Kris Jenner has her lawyers on the case and TikTok retractions have already been made). Still, all of that hasn't kept Kardashian away from the busy work of being a Kardashian. She still has social media platforms to update and her various companies and product lines to attend to, and promote.
With so many people tuned into her Instagram looking for signs of strife, why wouldn't Kim Kardashian use it as an opportunity to promote one of her products and wear something that will surely give them something else to talk about instead?
In an Instagram update, Kardashian announced the latest flacons set to join her KKW Hearts fragrance collection. Dubbed the "metallic hearts" collection, each scent comes in a heart-shaped bottle of either gold, rose gold, or silver. Posing with oversized bottles, Kardashian herself wore three coordinating leather jumpsuits by LaQuan Smith to really bring the whole "metallic" point home. Was it a nod to Kim's famous W photoshoot in which she wore little more than silver body paint? We're not entirely sure, but we'd like to think so.
Though, over on her Twitter, Kardashian uploaded some behind-the-scenes shots that showed the most interesting feature of the jumpsuits weren't actually featured in the promo shots. Indeed, the daring cutouts of the rose gold version have somehow found a new way to show off Kardashian's most famous assets.
We're not even sure what, really, to call this silhouette. It's sort of what we would imagine if a Star Wars character tried to get in on the suddenly reemerged exposed-thong trend, in which Kardashian herself has partook.
It's really quite something that after all these years, Kardashian is still finding innovative new ways to show off her curves.
As for those personal-life problem rumors, it seems like Kardashian is taking back that narrative in more direct ways, too. E! News proclaims that the couple remains "cordial" and are still giving counseling a shot.
"She wants to feel strong, mentally and physically," their source said. "She has been very busy with her business, which has been a blessing. She's really focusing on the kids and their happiness as well."
Related: The Exposed Thong Trend Has Suddenly Made a Comeback