Police Have Arrested 17 People in Connection With Kim Kardashian's Paris Robbery
DNA found at the scene led to the arrests.
---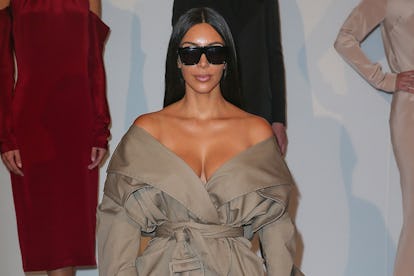 Pierre Suu/Getty Images
French police reportedly arrested 17 suspects on Monday in connection with the horrifying armed robbery of Kim Kardashian in October.
According to People, the arrests began at 6 a.m. in various locations in Paris and surrounding cities. The suspects had been under surveillance for weeks by investigators before being taken into custody. They can be held without being charged for up to 96 hours, though as of Monday morning, the suspects have already been brought before magistrates for questioning.
One suspect was allegedly identified using DNA found on one of Kim's stolen pieces of jewelry that the thieves apparently dropped as they made their getaway. A pedestrian found the jewelry and turned it in to police. A second suspect was identified using DNA found in the hotel after being matched with a person in France's national database, according to French newspaper Le Monde.
On Oct. 3, Kardashian, who was in Paris for Fashion Week, was bound, gagged, and locked in a bathroom by five masked, armed men who forced their way into her hotel room in early morning. The thieves made off with $10 million-worth of jewelry along with two cell phones. The incident prompted Kim to retreat from the spotlight, temporarily pausing the filming of Keeping Up With the Kardashians and taking a three-month long break from social media and public appearances.
Kim recently spoke out about the robbery in a new promo for KUWTK. In the clip, she recalls thinking, "'They're going to shoot me in the back. There's no way out,'" and adds, "It makes me so upset to think about it."