Kimberly Ovitz: Easy Rider
Kimberly Ovitz (daughter of Mike) makes her mark with a grungy, equestrian-inspired line
---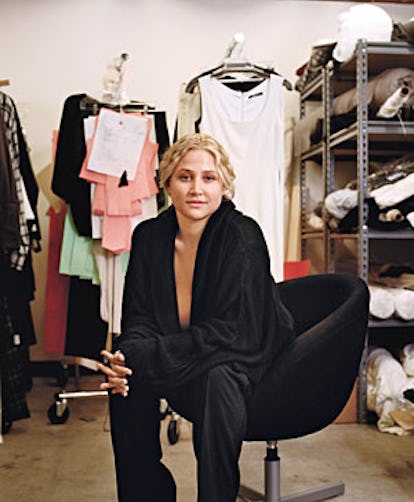 We're all up to speed on the rich-kid stereotype. Gossip Girl's preening Blair Waldorf, for example, or the Palm Beach teens of Privileged. But Kimberly Ovitz, daughter of the very famous (and at times infamous) Michael Ovitz, turns the notion of gilded offspring on its head. On this particular Manhattan morning at the downtown bistro Balthazar, there's no trace of any silver spoon upbringing. Ovitz, 25, is decidedly low-key, clad in jeans and a slightly rumpled oxford button-down, as she sits in a banquette grazing on scrambled egg whites and toast. Her hair is still shower-wet in that got-dressed-in-a-dash sort of way. Which is, one soon learns, exactly how her mornings usually transpire. "You should be able to throw something on in five or 10 minutes and be done," Ovitz remarks. "Less is more for me."
As first impressions go, this snapshot says plenty about Ovitz while also offering a nice window into the eponymous collection she's pitching at today's breakfast. Her new line of clothes—slouchy sweaters, hunter's plaid blouses—is effortless, grungy and nonchalant. She's her own best muse and customer.
Designing clothes is a gig Ovitz has considered since she was a kid. "I was cleaning out my room in my parents' house recently and found a career-day project I did in the sixth grade," she recalls later, during a phone interview. "This whole poster board; swipes from magazines. It was [about becoming] a fashion designer." Since then it has been a steady climb to get to the serious sartorial stuff. At 16, she had her first fashion internship, at J. Crew. A year after that she took a summer course at Parsons The New School for Design, which gave her the technical know-how. Then came the internships while at Brown University: at Harper's Bazaar; with the late photographer Herb Ritts; and at Chanel, in Paris.
"I've been around so much creative talent growing up, but when I met Karl [Lagerfeld], I couldn't stand up because I was in such awe," she says. "I didn't know what to do. I was so embarrassed, I wrote him an apology letter." (This coming from a girl who, during one of her parents' dinner parties, pulled Janet Jackson into her room to show the star her dancing skills.) Ovitz's postcollege career, meanwhile, taught her the nuts and bolts of starting and running her own fashion company: She worked at Imitation of Christ, YaYa and Twelfth Street by Cynthia Vincent, labels she chose for their relatively small sizes. "That meant I'd get more access," she explains. "[At a larger firm], you're not going to get as much hands-on experience." Ovitz is still keeping things small; aside from a production person, she notes that she's the only one behind the company and the collection, prices for which range from $170 to $700.
Two looks from Ovitz's spring 2009 line.
Her adolescence, however, provides the real clues to her line. Ovitz spent her youth riding horses, having taken up the sport at age nine. Thus, the subtle equestrian theme throughout. "I imagine my dresses on a woman riding sidesaddle and bareback," says Ovitz, who employs two crisscrossed riding crops for her company logo. "I wanted to build a brand around an equestrian American lifestyle."
Which is not to say the collection looks like a Ralph Lauren redux. Ovitz spins the horsey conceit in her own direction, less Mad Men's Betty Draper wielding a crop and more Patti Smith making a wrong turn at the ranch. There's a reason she christened spring's launch Ladies at the Country House Having a Punk Party and Raiding the Stable. "That one sentence completely defines everything my girl is. She's punky and edgy," Ovitz says. "She's not a sophisticated, stick-up-your-ass kind of girl."
Modern art is another major influence, accounting for the collection's clean and simple vibe. And though there's hardly a designer who hasn't mined the art world for ideas, how many can say they got the exposure Ovitz did as a kid? The Brentwood Park, California, home in which she grew up was equipped with its own glass-domed art gallery. ("I basically lived in a museum," she quips.) Ellsworth Kelly, Franz Kline, Sol LeWitt, Robert Ryman—Ovitz's father, a serious collector who sits on the board of the Museum of Modern Art in New York, has them all, and more, in his private collection. "My dad's into minimalist stuff, so my palette and silhouettes…I wanted it all to be very minimal, easy and classic," she says, noting that Jasper Johns's White Flag, also owned by her father, is the inspiration for fall 2009. "I was surrounded by all these masters of art every day of my life," she says. "I feel really fortunate."
"Fortunate" is a word Ovitz drops often. "Grateful" is another. "I wouldn't have had the opportunities I had without [my father]," she acknowledges. Not that Ovitz need apologize for having a rich and famous parent. As Rebecca Hoffman, daughter of Dustin, and Ovitz's close friend since childhood, says: "Everyone in life is going to use whatever you have to get to where you want to be. It's not something Kim's comfortable throwing around, but you can't deny your own birth situation."
Lisa Tobias, a college friend who works in Gossip Girl's costume department, notes: "She's lucky. She's able to have a line; she's young and can finance it. But it's a struggle for her too. She feels she has to prove herself more."
For every door opened, Ovitz has indeed had to endure the more trying moments of her dad's career—times when his face was plastered, in a bad way, all over newspapers and magazines. Once considered the most powerful man in Hollywood, Michael Ovitz saw his trajectory head south after he left CAA, the agency he cofounded, for a short stint at Disney. "The Vanity Fair article was tough," Kimberly says, referring to the no-holds-barred 2002 profile in which her father lamented the "gay mafia" in the entertainment biz.
"I want to define myself away from who my dad is," she continues. "I want to be Kimberly Ovitz. When I was first doing this, I thought about whether I should or shouldn't use my name and how that would affect people. I was finally confident enough to just say, 'This is my name; I'm going to use it.' People will have preconceived notions, but my clothes will back it up."
And they do. Just ask Debi Greenberg of Louis Boston, one of a number of retailers selling the collection. "If a line doesn't have intelligence to it, if it doesn't have a consistency, I wouldn't pick it up," Greenberg says. "I don't care who they are." In other words, it really does boil down to the clothes. "Yeah," Greenberg deadpans, "isn't that a shock?"
What makes Ovitz's collection stand out from the flurry of anonymously pretty contemporary frocks churned out by so many aspiring designers is its spareness. Ovitz learned this aura of restraint from longtime family friend Emily Scott, J. Crew's cofounder and former CEO. "I think a lot of times it's easy for designers to get lost and put too much in one collection. Emily helped me figure out how to edit and make my concept come to life," says Ovitz. "She's given me business and creative advice." Scott was Ovitz's childhood fashion idol and has had a big impact on the easy, androgynous vibe of her clothes (as well as on her personal style). "You know when you're a kid and you look at all these people and are finally like, That's who I want to be? That's the moment I had when I met her," the designer says. "She'd wear a men's shirt, black pants or jeans and, like, combat boots."
"Kim had her own way of doing things and a lot of confidence about it even back then," says Scott, who claims her input amounted to narrowing the line's focus.
"I was always just a little rebellious," Ovitz remarks. Indeed, come prom time at Harvard-Westlake, she wore a men's suit. It doesn't get more preppy-punk than that.