Inside King, the New Women-Run Restaurant Taking British Fare Beyond Fish and Chips
Heralding from the River Cafe and The Clove Club in London, Clare de Boer, Annie Shi and Jess Shadbolt bring pared-back British cooking to their first restaurant in Soho.
---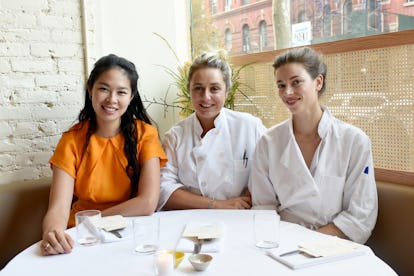 Danielle Adams
On the corner of King Street and Sixth Avenue in Manhattan sits a pretty green building with ivory awnings and potted plants surrounding its entrance. It's subtle and sparse, much like the food served inside by Londoners Clare de Boer, Annie Shi and Jess Shadbolt.
The restaurant is called King, and de Boer and Shadbolt share the responsibilities of the kitchen, drawing from their experiences at London's River Café and Ballymaloe Cookery School in Ireland. Shi, who most recently worked at The Clove Club, runs the front of house.
While the London food stereotype consists of bland meats and fish and chips, this trio is making the case that it's a new foodie destination – and bringing it stateside. "I think it's my favorite food city in the world right now," de Boer said. "It's so subtle, so pared back…"
"When you dig a little bit deeper there are some amazing restaurants doing some amazing things, like Rochelle Canteen and Sardine," Shadbolt added. "They're doing the same kind of thing we do, with the focus on ingredients."
They picked the location of King in part because of its proximity to the Union Square Market – where they shop everyday before they write the menu.
"We've always been taught that you never go to the market with a shopping list. You go to the market to see what's great that day," Shadbolt continued. "That's the way we want the restaurant to run, with that spontaneity, and reacting each day. It's not season to season for the sake of it; it's very much daily. And also, with our mood – its like, what do you fancy for lunch today?"
When shopping for a recent dinner for Lauren Bush Lauren's FEED Suppers (a month-long initiative that encourages people to host dinners to raise money to feed others), they found dandelion greens, and first-of-the-season butternut squash for the antipasto plate. Also on the menu? Malfatti with sage butter and parmesan, veal shin slow-roasted in soave with coco beans, and concord grape granite. The food tastes as decadent as it sounds, but it's offset by the unpretentious setting and atmosphere.
The space, in fact, was designed by de Boer's mother, with the goal to feel unobtrusive – she left the original tin ceiling, and continued the palette of earth tones that are found on the exterior. "We want this to feel like our dining room at home," de Boer said, pointing to the fact that the kitchen is on the ground floor, practically in the dining room. "As cooks we don't want anyone in the basement because every emotion we have leaks onto the plate. And if that's joy and it's sunlight, I do believe the customers can feel it."
Though the women are roughly the same young age – Shi is 26 and de Boer is 27; Shadbolt coyly said she's "a few years older" – they have turned out an impressively polished first restaurant together, especially one entering a food scene as competitive as New York. As Shi put it: "The city really does encourage people to have crazy dreams."
Calling Card The pared-back green exterior with ivory awnings and potted plants.
The Door Reservations accepted.
The Crowd Lauren Bush Lauren recently hosted a FEED event there, with Athena Calderone, Caroline Murphy, Amy Astley, and Garance Dore in attendance.
Food & Drinks Appetizers start at $12; entrees range from $26 to $36 for provencal fish stew with lobster, clams, fluke and saffron aioli. Cocktails, including a pisco, lavender and orange cordial, range from $13 to $14.
The Basics King, 18 King Street Mon – Wed, 5:30 p.m. – Midnight. Thurs. – Sat, 5:30 p.m. – 1 a.m. Closed Sundays.
Look Inside New Restaurant King
Courtesy of King Restaurant
Lauren Bush Lauren's FEED Supper at King restaurant.

Danielle Adams
Annie Shi, Jess Shadbolt and Clare de Boer.

Danielle Adams
Athena Calderone and Lauren Bush Lauren at Lauren's Feed Supper at King restaurant.

Courtesy of King.
Courtesy of King Restaurant.
Annie Shi, Jess Shadbolt and Clare de Boer.

Courtesy of King.