King Krule: 6 Feet Beneath The Moon
Love it or hate it, this teenage musician has found his voice.
---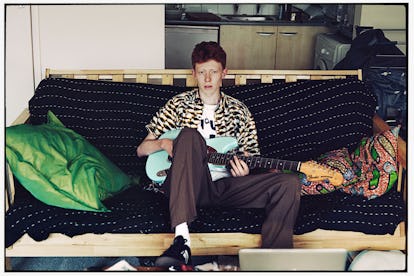 It's been a while since a voice has divided music fans, but King Krule's teenage moan dares you to dislike it. Yet as with, say, Bob Dylan, if you're not an immediate devotee, repeat exposure will surely make you a convert—just ask fans Beyoncé, Frank Ocean, and Tyler, the Creator.
"It's just something that comes out," says the 19-year old Londoner, née Archy Marshall, of his deep, deadly drawl. "But I've been influenced by Eddie Cochran and Roy Orbison, by punk singers and hip-hop MCs." It's a voice that sums up the lethargy, despair, and low-level depression of a certain type of youth—only ramped up in the studio using "strange filters to make it treble-y and distorted."
King Krule's "Easy Easy"
King Krule's debut album, 6 Feet Beneath The Moon (True Panther/XL), will be released August 24, when he turns 19. "A running theme throughout the album is this lost and hopeless feeling," he explains. "I don't know where I'm going, where my future lies, what my aspirations are, what I believe in, what I look up to. It's a clear documentation of 19 years." Yet the bleak, beautiful songs will appeal to anyone who deals in uncertainty, whatever their age.
Photo: Jamie James Medina