King Princess Rips Open the Last Seams of a Buttoned-Up Industry
Ahead of releasing her new album in 2021, the Brooklyn musician talks making the "PAIN" video and quarantining with girlfriend Quinn Wilson.
Photographs by Lea Winkler
Styled by Sean Knight
---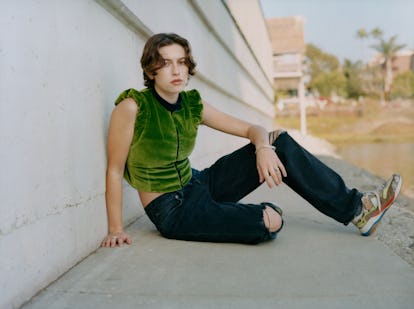 King Princess wears an Ann Demeulemeester vest; Agolde jeans; Gucci sneakers; her own jewelry.
"I just wish I'd spent less time watching Grinch porn last night and more time promoting the new single," says Mikaela Straus—known as the artist King Princess—with a playful sigh. It's late morning and sunlight is filtering into the 21-year-old musician's childhood bedroom, where she's perched on a yoga mat in the middle of the floor. She's midway through her description of the new single (it's about her "obsession with mean, evil women") when she realizes that it's dropping in ten minutes.
The festive pornography in question, which she later offers to share via a link in our Zoom chat, never materializes, but the single does—a synth-heavy track called "PAIN" that channels the frayed, one-off sound of a nightclub remix and marks a notable turn from the self-described "sad lesbian" oeuvre that Straus has cultivated over the past few years. "Clubs are these places of camaraderie," she says, "and we're all missing that now. I wanted to make songs that I would've absolutely gagged over if I'd heard them on a dance floor." The music video, a sultry ode to punch-drunk love, dropped yesterday afternoon as a final teaser before the new album, which Straus has been hard at work on throughout quarantine, and will roll out in 2021.
Straus is back in Brooklyn for an ad hoc Thanksgiving that will inevitably involve the microwave ("Honey, I don't do domestic," she says). Her family home is soon to be rented—the narrow bedroom is empty save for two suitcases standing in the corner and a white piano against one wall. She conducts a brief tour—past the kitchen where her girlfriend, the filmmaker Quinn Wilson (known for her work as Lizzo's creative director) is fiddling with the toaster, and down the staircase to what used to be her father's recording studio, Mission Sound. The operation moved a few streets over after her parents' divorce—Straus has been making the short commute religiously since her return for the holidays.
It's fitting that Straus should discuss her burgeoning career from this bedroom in South Williamsburg where, in fact, she has spent the bulk of it. Straus was a permanent fixture at Mission Sound, where her father recorded early-2000s diet rock outfits like The All-American Rejects and Taking Back Sunday as well as post-punk fixtures including The National and The Arctic Monkeys. A young Straus, pretending to be absorbed by her homework, would track the every move of musicians in various states of inebriation, gleaning vocal and guitar tricks from veterans whenever she could and making note of poor technique: "The bad ones really informed the shit I did not want to do. My dad and I would watch someone record backup vocals and look at each other like, 'This guy fuckin' sucks!'" She laughs. "Sometimes he'd have me re-record them later so that they were at least on pitch."
In the last few years, Straus's career has taken off: she broke through in 2018 with "1950"— an unhurried, melancholic pop gem—and followed up the next year with her debut album, Cheap Queen. The album's heady mix of raspy rock songs and velvety, R&B-inflected ballads—at once viscerally tender and compulsively catchy—signaled Straus's unflinching emotional vulnerability and gleeful sexual indulgence, not to mention a reserve of heartache beyond her years. Cheap Queen made Straus a rising star, even allowing her to crack the Top 20 on Billboard's Top Alternative Albums list. But it was King Princess—with all her bawdy, winsome rock n' roll charm, prowling the stage each night in a semi-transparent white tank top—who made Straus an industry darling overnight. Within months of the album drop, Straus released the mournful track "I Know" with Fiona Apple and announced a spring 2020 tour with Harry Styles. She became an artist's artist, a scrappy beacon of old school rock grandeur who immediately set about ripping open the last fraying seams of a once tightly buttoned up industry. "A lot has changed in the last few years, but to be honest, I've been preparing for this my whole life," she laughs. "I sat in this bedroom as a kid and planned out all my Saturday Night Live performances and Grammy speeches."
It may have thwarted her touring plans, but Straus maintains that the pandemic couldn't have come at a better time. She is a gifted entertainer both onstage and off, a skill—developed to justify her presence in her father's testosterone-heavy work environment— that's difficult to curtail. "I was very much a 'make 'em laugh' kid" she says, feigning jazz hands and with a playful arch of the eyebrow. "It's something I use to this day."
Before the swell of acclaim that accompanied Cheap Queen swept her out to Los Angeles (where she now has a house), Brooklyn was the heart of Straus' musical universe. "Now I can actually sit down at a piano and do my job, instead of partying like an asshole all the time." When Straus' second album comes out sometime in the next year, it will include a couple of songs about her return to the fold after a year of blurry-eyed hedonism. "I spent 2019 just blowing off my closest friends to party with randos. People act like getting bigger doesn't change you. Of course it fucking does!" she crows with a wave of her Juul. "There's this weird ego trip that comes from being on a stage every night. When you get home from touring you're like, 'Oh, nothing's about me anymore?'"
At 21, with one SNL performance under her belt, Straus' show kid confidence has morphed into a kind of heartthrob's bravado: equal parts disarming sincerity, scathing wit, and tousled hair. She flits from saucy to earnest in a single breath, coupling Gen-Z irreverence ("I haven't used a pen in, like, two years?") with the droll raunchiness of an old Broadway dame, all in a haze of flavored vapor. "I was rude," she says with conviction, a seasoned comedian's glint in her eye, "at the coffee shop today. My girlfriend was like 'dude, you were just dismissive to that barista,' which I denied. She was like 'yes you fucking were!' so I went over and chatted with her. I'm not better than anyone, and I never want to treat people poorly." For Straus, locking down has provided an opportunity to reconnect with the parts of herself that were dwarfed by the whirlwind of the last couple of years. "I can be an asshole sometimes," she says with a smirk and a flourish of her dark polished nails, "but I've always been an asshole. Post-tour life is about getting back to that base state of asshole again."
Straus may be a little cocky, but she'll tell you that part herself. What becomes clear from talking to her is the depth of her obsession with—and her trade knowledge of—the less glamorous side of the industry. She's a gearhead who spirals easily into enthusiastic soliloquies on the majesty of an out-of-production guitar amp or the artistic genius of a certain chewed-up session musician. Straus has a long list of the engineers and producers she's wanted to work with since she was a tween, and these days she's burning through it. "The truth is," she jokes, "I only planned up to here." Even after topping her own childhood expectations, the pressure to deliver release after release can be hard to manage. "This kind of career is so addictive, and if you're after success you'll only fail. But getting to work with all these insane people has reminded me that there is quite literally no wrong way to do this. I just want to constantly improve on my craft."
Photography by Lea Winkler, styling by Sean Knight. Cinematography by Jimmy Nyeango. Produced by Michael Beckert. Hair by Tiago Goya, makeup by Sara Tagaloa using Gucci Beauty.
Related: Arlo Parks's Music Captures the Angst and Agony of Growing Up