Risque Business
Having experienced firsthand the unintended consequences of a latex dress, Caroline Weber cautions: Fall's fetishistic look can be about a lot more than just style.
---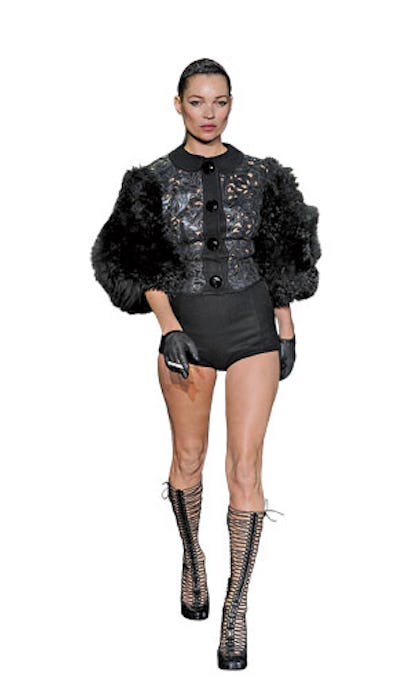 "When Correctly viewed," singer Tom Lehrer once noted, "everything is lewd." With designers this fall conspiring to make kink the new black, the latest styles ask—demand!—to be seen from the dirtiest possible perspective. Seldom for the faint of heart, fashion now caters to the out-and-out fetishist, featuring offerings such as leather Valkyrie halters and lace-up platform boots (Alexander McQueen), fur-covered glasses and bags (Givenchy, Alexander Wang), tough-as-nails leather trenchcoats (Jean Paul Gaultier, Mugler), nipple-revealing sheers and molded breastplates (Gaultier, Stella McCartney), and odd fuzzy helmets crowned with pointy horns or animal ears (Givenchy, again). For my money, these last pieces rank among the season's perviest standouts, in that they resemble required headgear for an unusually chic convention of "plushies"—people whose preferred sexual partners are stuffed animals and/or fellow humans in animal-mascot uniforms.
Not ready to rock a kitten hat? How about Hermès's most unusual new confection: leather pants and riding boots cut from just one large sheet of leather. Available only in bespoke (bien sûr), the boots sprout seamlessly and disturbingly from the pant legs, rather like the breasts and toes that extrude from the frilly white dress and sensible brown shoes in René Magritte's 1947 surrealist painting, Philosophy in the Boudoir. (As if to stress the fetishistic value of this image, the artist borrowed its title from an infamous sex treatise by the Marquis de Sade.) Its high-culture connotations notwithstanding, Hermès's uncanny creation lacks any obvious precedents in the fashion world, leaving wide open the question of what one should call it. My editor likes the vaguely scatological coinage "poots" (pants plus boots), whereas I have been lobbying for "begs" (boots plus legs). My rationale is that nothing can beat (ahem) "leather begs" in evoking the brutal degradations practiced and preached by the aforementioned notorious libertine, who not only gave his name to "sadism," but who once reportedly bound one of his tomes in human skin.
Decadence also cracked the whip at the Louis Vuitton show, which Marc Jacobs announced was inspired by "disciplines"—of the strictest S&M variety, that is. From see-through mackintoshes to diamond handcuffs, corsets in high-gloss leather to French maids' collars in plasticized lace, sex-club staples abounded on the dimly lit, shiny black runway. While Naomi Campbell and Karolina Kurkova strutted their stuff in fuzzy police caps decorated with plastic Zorro masks, vodka shots flowed freely in the audience. The fact that it was 10 a.m. only heightened the mood of no-holds-barred naughtiness, which climaxed when Kate Moss appeared in the last, all-black ensemble. Dragging languidly on a cigarette and affecting a hardened, world-weary mien, she sauntered out in strappy lace-up boots, a fitted jacket with skin-baring cutouts and fur sleeves, leather gloves, and a pair of tight, high-waisted briefs that left nothing to the imagination—including the bit of uncharacteristic extra poundage she appeared to be carrying. And this very "fatness" (I use quotation marks here to remind us all that a fat day for Moss is still a superskinny day for everyone else) may well have been the most daring display of all. Why? Because she pulled it off with the unblinking nonchalance of a seasoned dominatrix—one who would beat you silly not because she wanted to (she's been there and done that, more times than she cares to count) but because you were asking for it. "You looking at my pudge?" she seemed to say. "You'll look at it and like it. Now fall to your knees and beg for mercy before I pull this Zorro mask down over my eyes, push up my huge furry sleeves, and put this cigarette out on your naked, tender, trembling…"
I realize, dear reader, that you don't need me to finish this thought for you. However, your ability to complete it on your own raises an issue that anyone considering a walk on fall fashion's wild side should contemplate. Which is that, even if you choose these trappings on the basis of style, others will interpret them on the basis of sex—a truism that, alas, I can corroborate through personal experience. Once upon a time, a younger, sillier woman than I am today was on a pub crawl with girlfriends in New York's East Village. En route from one bar to another, we happened to walk past one of that neighborhood's famed fetish boutiques and trash-talked one another into venturing inside. There we were greeted by a middle-aged sales associate clad in an oversize cloth diaper—a man who, for reasons that I can only chalk up to my height (five feet eleven), my looks (Teutonic), and my luck (terrible), singled me out of the group for a full-on erotic makeover. Before you could say "mistress mine," he pulled me into a changing room, stripped me naked, doused me with cornstarch ("So the rubber won't snag on your skin"), and jimmied me into a black latex minidress no more substantial than a dishwashing glove. While I scowled woozily in the mirror at the resulting sausage-casing effect, my pals confiscated my street clothes, handed the adult baby a credit card, and announced through peals of laughter that I would now have to spend the rest of the evening thus attired.
Outfoxed and humiliated, I complied, but concluded that only blind drunkenness was going to get me through the ordeal. At the next bar, I duly downed several tequila shots purchased for me by a dark-haired, shifty-eyed stranger. Even more recklessly, I agreed to let him cook me dinner at his place the following evening. "You're having a rough night," he purred. "Let me wait on you hand and foot." To their credit, my now remorseful girlfriends urged me to decline the offer—to no avail. "The creepy dude was right!" I yelled. "I am having a rough night, and it's all your fault! Fine, so I don't know him from Adam, but what harm could come of a nice, home-cooked meal?"
As I learned the next night, if my new suitor had any say in the matter, a whole world of harm would come of it—harm to himself, that is. My naïveté and my hangover, though, prevented me from realizing this right away. I didn't figure it out when he greeted me at the front door of his town house not with "Hello" or "Nice to see you," but with a curiously vehement expression of disappointment at my not having worn "that hot rubber thing again." Nor did I read between the lines of his subsequent patter, despite the incongruous leer that played on his features while he talked. ("I slaved all day to make this chicken for you"; "I'm such a bad boy—I didn't add enough salt!"; "So, you're a professor? Are you really hard on your students?") And I definitely wasn't prepared for him, after we had finished eating, to violently sweep all the glasses and dishes onto the hardwood floor, hurl himself down amid the broken shards, unzip his fly, and entreat me to "punish" him by trampling on his "wiener." At that point, I fled the scene. But I had learned an invaluable lesson: Sometimes a black rubber dress is not just a black rubber dress. Correctly viewed, that thing was lewd.
THE HISTORY OF FETISH WEAR is rife with precisely such misunderstandings. The Austrian novelist and nobleman Leopold von Sacher-Masoch's Venus in Furs (1880), for example, established an elaborate, intensely eroticized dress code for dominant-submissive interactions: tall black boots, fitted black bodices, satin and lace negligees, diaphanous wraps, black ribbons and hoods, tight leather pants, menacing whips, and piles upon piles of rich, sumptuous furs. While these items, largely due to the book's cult success, have since become shorthand for sexual cruelty, by Sacher-Masoch's own admission it was purely by chance that they took on this connotation in his mind. As a child, he had a crush on an aunt who loved sable cloaks and extramarital sex. On one fateful occasion, he hid behind a clothes rack in her bedroom and watched her beat her husband with a leather whip for having dared to interrupt a tryst with her lover. As soon as she realized that her nephew had witnessed the entire scene, she "disciplined" him as well. "I must admit," the author reflected years later, "that while I writhed under my aunt's cruel blows, I experienced acute pleasure." Forever afterward, he would associate this pleasure with pain—whence the term "masochism"—but also, just as crucially, with furs, leather, and other key pieces from his aunt's wardrobe.
A generation later, Sacher-Masoch's compatriot Sigmund Freud reached much the same conclusion in his own musings about erotically charged feminine adornment. In Fetishism (1927), Freud argued that any man with a strong sexualized attachment to a certain item—fur, velvet, leather, lace—developed this proclivity when he was a baby and, crawling underneath his mother's dress, happened to look up. In this moment, the boy (the protagonist in Freud, as in Sacher-Masoch, is always male) made an awful discovery: His mother lacked the body part that he had already experienced as a source of supreme personal pleasure. Terrified that he, too, might one day lose this precious organ, the child averted his traumatized gaze and refocused it on the nearest other object in sight—which was usually, given his position on the ground beneath her, the leather of her shoe, the lace of her underwear, or the fur- or velvet-trimmed hem of her skirt. (Fur and velvet trim being distinctly retro adornments, we might wonder what items from our own era will one day feature in the fetishist's repertoire: Spanx? Fit-Flops? Ankle tattoos?) This object would hereafter function in his unconscious mind as a sexually reassuring substitute for the "missing" maternal phallus. Like Sacher-Masoch, Freud's fetishist falls in lust with an article of clothing that the woman herself did not don for that purpose.
Rihanna
Nowadays, of course, everything is different. Sacher-Masoch's and Freud's thinking has so thoroughly infused modern sexual culture that the totemic objects they discussed are more or less synonymous with unconventional, prop-based sex. Whether in high-brow erotica, such as the 1954 French classic Story of O (in which the masochistic heroine's outfits play a starring role), or low-brow Internet porn, like "Blonde Jana Gets Kinky With Leather and Fur" ("Jana's playdate couple likes to see her in a luscious fur jacket, latex stockings, and gloves…"), kink's costuming practices are extraordinarily consistent, and for good reason. Contemporary bondage and sadomasochism rely on a well-defined sartorial code to separate insiders from outsiders. To adopt this code is to identify oneself as a member of the club; it is to say, as the fetishistically tricked-out ­Rihanna does in her 2010 song "S&M," "Whips and chains excite me."
So let the buyer beware: The dominatrix uniform cannot be worn innocently. But that, as kinky initiates know, is exactly why it's fun. To test this proposition, I recently dug up a minidress that, because of its close resemblance to the black rubber number, I had avoided wearing ever since the creepy-dude debacle. I paired the dress—a tightly fitted, black leather Marc Jacobs shift from the mid-Nineties—with a pair of black felt, over-the-knee Azzedine Alaïa boots of similar vintage. Then I pulled my hair back into a naughty-librarian bun, clipped my dog onto a leash, and took her and my ensemble out for a stroll. Sadly, the experiment yielded no obvious X-rated results. No passersby begged me for a beating, and the few double takes I attracted could have just as easily been due to my outfit's incongruity (with a 40-year-old woman walking her ancient, arthritic sheepdog) as to its sexiness. Still, the ensemble felt sexy. The sleek tightness of the leather made me stand up straighter; my stride automatically grew longer and more powerful in those high, clomping boots; and there was something deliciously wanton about the low, rustling whisper my felt-wrapped calves made as I walked. In my own mind, I had morphed into a seductive, tyrannical tormentor of men—a creature who, if handed a whip, would not have hesitated to use it. For one brief, shining moment, I was a believer. However much or little my kink wear did for anyone else that day, it was definitely good for me.
Some of the kinkiest looks from the Fall 2011 runways.
Top row: Alexander McQueen; A.F. Vandevorst; Givenchy by Riccardo Tisci. Bottom Row: Pedro Lourenço; Mugler; Jean Paul Gaultier.
Angelina Jolie in Mr. & Mrs. Smith, 2005
Alexander McQueen S/S 2003
Britney Spears at the VMAs in 2002
Alexander McQueen F/W 2002
Yves Saint Laurent S/S 2000
Thierry Mugler haute couture F/W 1998
Thierry Mugler haute couture S/S 1997
Madonna takes to the runway for Jean Paul Gaultier in 1992
Cindy Crawford in Versace circa 1992
Vivienne Westwood in London circa 1977
Charlotte Rampling in The Night Porter in 1974
Sophia Loren in The Millionairess in 1960
Kate Moss Runway: Maria Valentino