'Game of Thrones' Actor Kit Harington Reflects on Season 6, Jon Snow's Death and More
As season six of Game of Thrones concludes, the actor recalls how he got the part of Jon Snow, and how he kept it.
---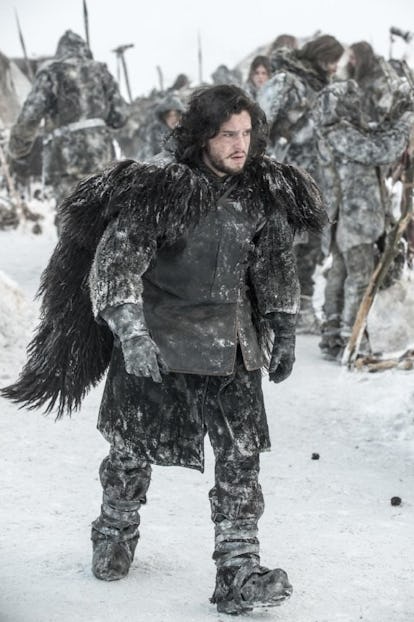 Jon Snow's supposed death might have been the worst-kept secret in Westeros. At the close of season five, the Game of Thrones character, played by Kit Harington, was betrayed and brutally knifed by his peers among the Night's Watch, left to bleed out on the frozen landscape. But months later, the actor — still working the shoulder-length hair style of his character — was spotted filming in Northern Ireland, prompting audiences to wonder if Jon Snow could really be dead.
For a moment, Harington wasn't sure of his character's fate, either. "Maybe this is it," he told W Editor at Large Lynn Hirschberg. "And then I was told… I had to keep this massive secret from everybody — friends, family." Still, despite his best efforts, Jon Snow's supernatural revival at the beginning of season six was greeted with little surprise (and much relief) among the show's fans. He's brought back after two episodes by the priestess Melisandre, but he plays dead for a good two hours of television — and behind the scenes, that meant playing dead for weeks of filming.
Here, Harington talks about auditioning for the role of Jon Snow in Game of Thrones, why he gets frustrated by his birthday, and more.
On his audition of Game of Thrones: Harington's character is subjected to his share of violence on screen, so perhaps it makes sense that he caught the attention of the showrunners with a black eye during his audition. He had been in a fight the night before, he explains — he entered a McDonald's with a woman, sitting down with another couple. The man proceeded to hurl abuses at Harrington's date, and Harrington leapt up to defend her, challenging the man to a fight. "Of course, he'd been sat down the whole time," Harington recalled. "He got up — and he just kept going," he added, lifting his head skyward to demonstrate the other man's height. "I got battered," he confessed, adding that he credited the man with helping him get the job out of the hundreds of men auditioning for the role. Jon Snow might not be seen with any black eyes, but the character definitely requires a bit of grit.
On coming back from the dead: "I fell asleep in the middle of a scene," he said. "You know when you wake up and you don't know quite where you are? … There's nothing scarier than waking up in the middle of Game of Thrones world." It took "thousands upon thousands of takes," he said, to nail the scene where he finally sits upright with a gasp. "They wanted that over and over again," he explained. "I had to kind of say, 'I don't know how else to do it.'"
On his birthday: "My birthday is the day after Christmas, so it's always the same. My whole family just descends on my birthday and I get no attention," he said. "And I like attention. So, I always end up getting really grumpy and selfish on my birthday."
Watch the full video interview with W Editor at Large Lynn Hirschberg here: