Klaus Haus
Artist Andrea Zittel creates sculpture, furniture and habitats that reflect on the human environment. Here, curator Klaus Biesenbach's stripped-down Manhattan apartment inspired her to conceive a series of images that investigate domestic and urban life and one man's design for living.
---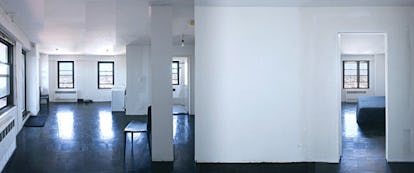 One day a few years ago, while Klaus Biesenbach was staying in a hotel in Mexico City, the housekeeping staff was alarmed to discover that he'd stolen everything in his room. The telephone was missing, along with the TV remote control and the pictures on the walls; even the curtains had disappeared. It turned out that Biesenbach, a top curator at the Museum of Modern Art, hadn't actually taken anything. He'd simply gotten annoyed with all the clutter and decided to strip the room bare. The items were hidden in a closet, organized in neat little stacks.
Click HERE to see the full house tour.
"Small objects make me nervous," says Biesenbach, 42, looking around his apartment on New York's Lower East Side, which is notable for its lack of not only small objects but also large ones. The living room has no sofas, tables, pillows, books or lamps; the kitchen has no countertops, cookware or appliances, apart from a $99 mini fridge. As for beds, there is a mail-order mattress in the bedroom, but Biesenbach prefers to sleep on the one on the outdoor terrace, weather permitting.
Of course, Biesenbach, who is known to possess one of the keenest eyes in the art world (along with a large wardrobe of perfectly tailored Jil Sander suits), could easily be inhabiting a predictably glamorous, art-filled Chelsea loft, but he offers up a few reasons he's not. Some have to do with his background in Germany, where he was part of an early wave of settlers in Berlin just after the fall of the Wall.
Raised in a small town in the West German countryside, Biesenbach was enrolled in medical school in 1990 when he decided to move into an abandoned margarine factory in East Berlin and establish the arts colony Kunst-Werke. Now an internationally recognized contemporary arts center, Kunst-Werke started out as a free-form creative space where artists from various disciplines came to work, often living in the complex's small apartments. (Susan Sontag camped out there for a while, overlapping with Hedi Slimane.) In 1996 Biesenbach relocated to New York part-time for a curatorial job at P.S. 1 Contemporary Art Center, but in 2004 he bought a Berlin pied-à-terre near the iconic TV tower on Alexanderplatz, in one of the massive state-built complexes that still exist throughout the former German Democratic Republic. He spent six months renovating the place, obsessing over appliances and concrete finishes—and ultimately, he now believes, wasting a lot of time. "I put in a new kitchen, and then realized that I never cook," says Biesenbach, speaking in a Teutonic monotone. "In the end I thought I should have just taken the wallpaper down and left it at that."
The building that houses Biesenbach's New York apartment, on Grand Street near the entrance to the Williamsburg Bridge, also has echoes of midcentury socialism: First-time visitors often mistake it for a public housing project. It's one of those monolithic brick towers from the late Fifties that are now commonly regarded as gloomy, pseudo-modernist knockoffs. "I used to think that this type of architecture was a failure," Biesenbach acknowledges. But in Berlin, he says, "I realized how great it actually feels to live in a building like this. There's a simplicity that's incredibly liberating."
That simplicity has very little to do with the kind of pristine Minimalism that has often dominated the design scene in recent decades. When Biesenbach bought the Manhattan apartment in 2007—after seeing it listed in The New York Times online classifieds—he took out a few walls and refinished the dark wood floors, but he left most of the place untouched, not even bothering to repaint the living room walls. (You can still see faint outlines where the previous owner's pictures hung.)
Clearly it's an approach that allows him a break from the countless aesthetic judgments that his day job requires. As MoMA's chief curator of media, Biesenbach oversees the museum's fast-growing collection of multimedia installations and video and performance pieces. (He co-organized last year's Olafur Eliasson survey, curated the current Pipilotti Rist exhibit and is preparing upcoming shows of Marina Abramovic and Tehching Hsieh.) "Normally I have to make so many decisions about the tone of white and the tone of gray," he says. "And should this be a half an inch higher, and to the left? So I actually think this space is about making no decisions."
Biesenbach doesn't have a single painting or photograph in his apartment. He wonders whether people who live with static artworks look at them enough. The "ephemeral" pieces he generally favors—performance, video, film—tend to demand far more active engagement. On the floor of his living room Biesenbach has an old InFocus video projector, which he uses to display a movie or a video piece on the wall. (He'll sometimes move the mattress from the bedroom to sit and watch.) Mostly, though, he likes to keep the projector turned off because it distracts from what he considers the apartment's main attraction: the mesmerizingly cinematic view from the 340-square-foot terrace.
"When I first walked out here, I said, 'Wow, this is like a movie,'" says Biesenbach, pointing out his favorite elements of the hyperkinetic urban tableau: boats cruising the East and Hudson rivers, commercial jets on their way to and from the area's three major airports, subway cars snaking out of a tunnel to cross the Williamsburg Bridge. On the ground, the teeming streets, sidewalks and handball courts are like the giant set of some deconstructed epic film that's on permanent loop. The apartment is on the 18th floor—low enough to make Biesenbach feel almost a part of the action but high enough to afford some distance from it. From up here, he says, it sometimes seems as if you could see the curvature of the earth. "Of course you can't," says Biesenbach, "but it feels as if you can."
Biesenbach, who lives alone, spends most of his time on the terrace, where the sights of traffic jams and the sounds of police sirens conjure memories of Kojak and other American TV series that he grew up watching. "There is great sympathy for what you see, but you also feel very disconnected," he says. "And you're constantly hearing this sound, but it's not really a feedback into reality—it's a feedback into fiction."
The view from the terrace is also what inspired artist Andrea Zittel, who conceived the images on these pages, which were photographed by Dean Kaufman. Zittel has been a friend of Biesenbach's since the mid-Nineties and is perhaps best known for her sculptures and inhabitable installations that double as experiments in living. Biesenbach, she notes, "has his own personal ideology wrapped around the way he's chosen to live."
A big part of that, Zittel says, is his stance as a perpetual observer, and she sees the terrace as the ultimate curator's perch. "As a curator you sort of roam around and look at everything, trying to take it in," she says. "Klaus's apartment feels so much like that too. It's this base where you're poised to go out at any minute and meet somebody on the street, and when you're not, you're watching someone."
Biesenbach recently took the radical step of adding some lush plantings to the terrace—leafy thickets of bamboo and potted palms. His intent was not to prettify but to enhance his sense of the deck as a precipice in the wilderness. "I think the terrace feels a little bit like a cliff or a rock," he says. "It feels more like nature than city. You're very aware of the climate and the seasons." In passing, Biesenbach mentions that he plans to make further changes to the interior, in order to make it more livable. But he's not yet ready to commit to anything specific.
"Once I have the time, I will get furniture," he says. "I will have chairs. I think it would be nice to have a stove. It just doesn't seem urgent."