Kobe Bryant Dies in Helicopter Crash at 41
His daughter, 13-year-old Gianna, was reportedly in the helicopter and is believed to have been killed as well.
---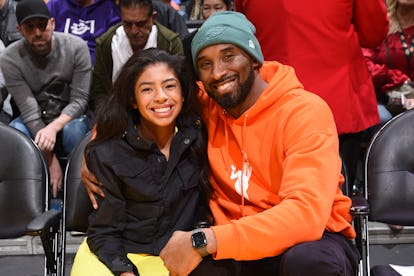 Kobe Bryant, the NBA legend who played on the Los Angeles Lakers for his entire 20-year career, died on Sunday morning in a helicopter crash. He was 41 years old.
His second-eldest daughter, 13-year-old Gianna, was reported aboard the helicopter and is believed to have been killed as well.
The two were said to be on their way to a basketball game with seven other passengers when the helicopter crashed in Calabasa, Calif., according to The Los Angeles County Sheriff's Department. There were no survivors.
The Federal Aviation Administration identified the helicopter as a Sikorsky S-76, which is the model of aircraft that Bryant, a licensed pilot, owned. The aircraft went down in the hills of Calabasas just before 10 a.m.; a fire subsequently broke out from the crash, making it difficult for first responders to reach the helicopter.
Initial reports suggested former Lakers player Rick Fox, who was on the team with Bryant from 1997 to 2003, was another casualty on the aircraft, but updates suggest Fox was not aboard.
The news broke minutes ahead of the 62nd Annual Grammy Awards—which are being held this year at Staples Center in Los Angeles, where Bryant played over 1500 games during his time on the Lakers.
Bryant, a five-time NBA champion and two-time Olympic gold medalist, is survived by his wife, Vanessa, and three daughters: Natalia, Bianca, and 7-month-old Capri.
Gigi and Bella Hadid and Kylie Jenner, (all Los Angeles natives,) former president Barack Obama, Naomi Campbell, and more celebrities shared their disbelief and sadness on social media Sunday afternoon.