Shape Shifter
Konstantin Grcic's retrospective at the Vitra Design Museum gives a peek inside the designer's mind and process.
---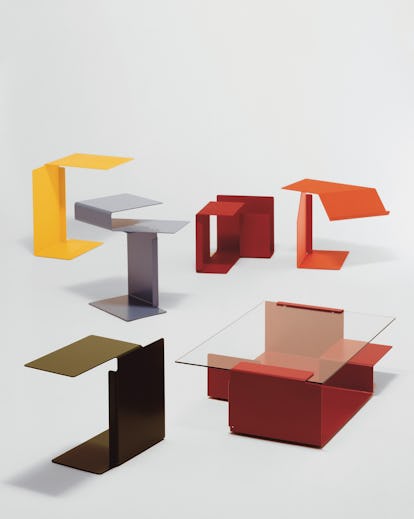 Konstantin Grcic is known for pieces like the angular Chair One for Magis and the workshop-chic Mayday light for Flos. But every time you think you have him pegged for an industrial-design wonk, he throws you a curve, as demonstrated by the sports-logo-themed Champions tables he did for Galerie Kreo in Paris and the elegant wood and aluminum chairs he created for the Parrish Art Museum in Water Mill, New York. Now, with Konstantin Grcic—Panorama, on view March 29 through September 14 at the Vitra Design Museum in Weil am Rhein, Germany, a very large window into the designer's process is about to open. The show includes large-scale installations—a residential interior, a design studio, and an urban environment—and a 98-foot-long panorama depicting "an architectural landscape of the future." The focus isn't on design as problem-solving but as a way to incorporate the latest technologies into the messy, human business of everyday life.
Diana A–F side tables, 2002. Courtesy of KGID.
KGID studio. Courtesy of KGID.
Champions, table, Galerie Kreo, 2011. Courtesy of Galerie Kreo.
Design study for Panorama exhibition by Konstantin Grcic. Courtesy of KGID.
Chair_One, Magis, 2004. Courtesy of KGID.