How "Fergalicious" Is the Perfect Example of Kraftwerk's Huge Influence on Music
Following the passing of Florian Schneider, we look back at his surprising influence.
---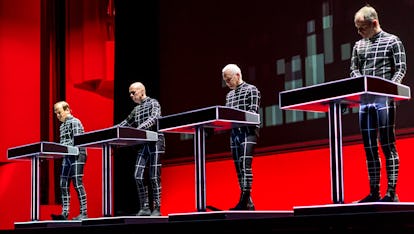 Photo from Raph_PH's Flickr | Used under Creative Commons 2.0 license
When the sad news of Kraftwerk co-founder Florian Schneider's passing at 73 years old due to complications associated with cancer was announced yesterday, one might not expect mid-Aughts pop singer Fergie to spring to mind. Yet, within an hour that's exactly where my mind went. You see, the singer's biggest hit, "Fergalicious," serves as the perfect example of how pervasive Kraftwerk's influence on modern music as we know it is. Musically, the band is what the 2002 Oscar de la Renta collection is to Andi's lumpy, cerulean sweater in The Devil Wears Prada.
You've probably been dancing to Kraftwerk beats all your life, even if you don't know it.
For the uninitiated, Kraftwerk started in the late 1960s, when its two main members, Schneider and Ralf Hütter, met at a German music conservatory and begin kicking around the "Krautrock" scene. The band put out three experimental space rock-informed albums, but Schneider's interest in synthesizers continued to grow. Their fourth album, Autobahn, put electronic instrumentation front and center, and became an international phenomenon (it even peaked at number five in America). Predominantly electronically-created music was viewed as something of a novelty at the time, but Autobahn presented (no pun intended) a road forward. Later albums leaned into both technology and the band's tight rhythms. Kraftwerk isn't just the godfather of electronic music, the band practically created a brand new musical vocabulary in the process.
As mass-produced synthesizers, samplers and drum machines became obtainable in the '80s, all sorts of musicians turned to Kraftwerk's playbook. The bands influence in the form of samples, tributes, interpolations or just straight up rip-offs are littered across the early years of techno, house, hip-hop and new wave.
Which brings us back to the time that Fergie defined "Fergalicious" as an adjective denoting a tendency to "make them boys go loco."
While the singer's 2006 album The Dutchess was her first solo record, she was still under the production auspices of Black Eyed Peas bandmate Will.I.Am. The producer's whole thing at the time was finding some forgotten '80s anthem or club track, stripping it for parts, and turning it into radio-friendly pop songs. Though, with "Fergalicious" he really outdid himself. He mined not one but two different '80s classics, and crafted them together to form the basis of "Fergalicious" like a musical Frankenstein.
The first is Afro-Rican's Miami Bass classic "Give It All You Got." That song itself is chock full of samples, but is primarily built around two other songs. The first is James Brown's "Night Train" (fittingly, James Brown is one of the few artists in musical history who has definitely been sampled more than Kraftwerk), while the second is Kraftwerk's own "It's More Fun to Compute" off their Computer World album. This isn't a surprise. Miami Bass was sample-heavy music, and Kraftwerk snippets are plentiful in the genre. DJs in the 305 had a particular gift for turning the band's factory-inspired German rhythms into block-rattling booty shakers. In "Fergalicious," "It's More Fun to Compute" comes through particularly prominently in the beat underneath Will.I.Am's rap verse. That sound which can almost be described as a rolling laser beam? That's pure Kraftwerk.
"Fergalicious"' other main component is J. J. Fad's landmark hip-hop anthem "Supersonic." The song was the first by a female rap group to be nominated for the Grammy for Best Rap Performance, but actually performed higher on the dance charts—likely owing to its inspiration.
This gets a little bit trickier, as "Supersonic" doesn't directly sample Kraftwerk, but its beat is widely accepted as having been lifted heavily from the band's track "Numbers."
The track's co-producer Arabian Prince has never been shy about admitting to the fact he's been inspired by the German band.
"Most rap and the history of rap was partly defined by Kraftwerk. All of the early rap was mostly dance music, electronic dance, and it came from Kraftwerk," he told a Milwaukee radio station last year.
"Yeah, people won't admit to that sometimes, but if you go back and listen, you'll hear Kraftwerk in a lot of early hip-hop." Indeed, you can hear Kraftwerk's influence across multiple tracks on J. J. Fad's debut album.
So, there you have it, one of the biggest guilty pleasure pop anthems of the '00s wouldn't sound the same if two nerdy German music students didn't start getting really into the artistic possibilities of drum machines in the '70s, if it existed at all.
Of course, the song is far from alone in owing a huge debt to Kraftwerk. Producer Stuart Price has admitted that the beat from Madonna's "Music" was heavily inspired by the sound of the Trans-Europe Express album. Coldplay lifted a melody from "Computer Love" for the guitar riff in their track "Talk." Early Detroit techno outfit Cybotron's marquee song "Clear" reimagines the arpeggio from Kraftwerk's track "Hall of Mirrors." Missy Elliot then sampled that track heavily for her Ciara duet "Lose Control." Ciara's own single "Promise" features a sample of "Tour De France." Jay-Z has rapped over Kraftwerk-sampling beats at least four times in his career. LCD Soundsystem's catalog has a few prominent samples of the band. Even My Morning Jacket has managed a Kraftwerk sample.
That's why tributes to Schneider almost seem like an understatement. His work alongside Hutter has basically written itself into the code of modern music, and will continue to pop up in the oddest places for years to come.