Stirling Barrett's New Orleans
A guide to the Big Easy from the founder of Gigi Hadid and Kendall Jenner's favorite New Orleans eyewear brand.
---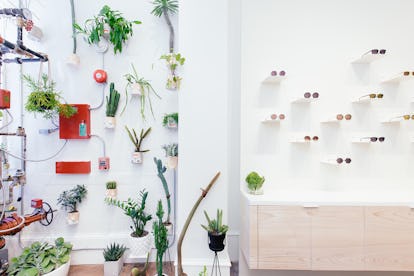 Krewe du Optic founder Stirling Barrett may run the French Quarter's sleekest new concept store of Gigi Hadid, Kendall Jenner, and Kate Hudson-approved shades, but first and foremost, he's a loyal New Orleanian and vocal champion of local fare. With the holidays fast approaching and winter travels to be planned, who better to ask for an off-the-beaten path guide to The Big Easy?
Where to Start Your Day:
800 Common Street, Central Business District (CBD)
"Merchant is woven into the KREWE story. Christopher Brancato and the Merchant team have been our partners and collaborators since we opened our first retail location, the Sunroom, at 800 Common Street. It only seemed natural for Merchant to team up with KREWE for our in-store espresso bar at our flagship in the French Quarter. Go to Merchant for their amazing cappuccino, crepes, breakfast fare, sandwiches and salads. They're also an authentic Illy coffee provider, so you're going to get a great caffeine kick too. If coffee isn't your thing, they also make the best matcha lattes in town."
1829 Sophie Wright Place, Lower Garden District
"My morning stop for a jolt of energy with cold brew coffee and fresh, cold pressed juices. Sometimes I'll also go for their killer Morning Glory muffin or Coconut Dream bars. The perfect spot for coffee and conversation in a relaxed setting."
Where to Eat:
625 Chartres Street, French Quarter
"My favorite restaurant since moving back to New Orleans. I've always been a huge fan of the perfectly curated vibe—it's an authentic place that is a reflection of the people who run it. A go-to spot for drinks before a night out or a dinner in the beautiful courtyard. It's a destination where both locals and tourists can feel at home, where you can be yourself and enjoy amazing food, drinks and atmosphere—something that's harder to come by than one would think in the Quarter."
Where to Sample the Local Delicacies:
538 Hagan Avenue, Mid-City
"Everyone has their go-to place for po' boys, Parkway is mine. The secret is to sit at the bar—it's full-service and you don't have to wait in line. Go for the Parkway Surf and Turf po' boy or if you're in town on a Monday or Wednesday try the fried oyster. It's a place where the people remember your order, New Orleans comfort food at its best."
Where to Spend a Lazy (And Bookish) Afternoon:
900 Camp Street, Contemporary Arts Center (CAC)
"A great place to browse an impressive selection of art, architecture, design and photography books curated by French transplant Emilie Lamy. I stop by whenever I'm in need of a book for my own collection or for the perfect gift. I've been a fan of Emilie's since she had a pop-up in Sterling Provisions, a favorite vintage furniture shop in the Marigny. She's kindly put together a special little library for KREWE at our flagship on 809 Royal Street."
Where to Shop:
2115 Magazine Street, Lower Garden District (until end of January 2016) *Moving to 600 Carondolet, CBD in February 2016
"The owner Parker has done an amazing job curating a cool selection of independent menswear brands including Our Legacy, Saturdays Surf NYC, Cuisse de Grenouille and others. My wardrobe is pretty much split between Friend and Billy Reid pieces. We're excited to see how the store and selection evolves as they move into the CBD in February."
Where to End Your Day:
1201 Magazine Street, Lower Garden District
"I call it 'home bar' because it's like a second living room, and only three blocks from where I live. Not surprisingly, the owners of Sylvain also run BP so it's not a shocker that I love this place. I go here for their extensive whiskey collection, for great snacks by Little Bird and their homemade beef jerky. When I take meetings, I usually like to do whiskey or coffee so this is my go-to place when the former option is preferred."
Where to Spend the Weekends:
St. Claude Second Saturday Artwalk
St. Claude Avenue, Marigny and Bywater
"If you want to check out local New Orleans and international artists, artisans and creatives producing original work outside of the traditional arts institutions, this is the place to do it. A fun and engaging showcase of creative events from dance, music, art and photography to design along a stretch of two of NOLA's most vibrant neighborhoods, Marigny and Bywater."
Sunday Funday
New Orleans On a Bike
"This one is not so much a destination as much as it's an experience—a way to enjoy the city for all its unique character and welcoming charm. On Sundays I love to grab a couple of friends and embark on a 'Funday' on bikes—weaving through the city on wheels, hopping from our favorite bars and restaurants. It's the perfect way to experience the spontaneous and relaxed nature of NOLA. I find myself traveling so much now that I try to take advantage of these days as much as possible when I'm home."
42 E 3rd St, Kenner, LA 70062
"My wholesale succulent distributor by the airport. We got all the plants for 809 Royal here and best part is you don't need a wholesaler license. I find myself going when plants are needed and when they're not."
Photos: Stirling Barrett's New Orleans
KREWE du Optic. Photo by Hunter Holder, courtesy of KREWE du Optic.
Barrel Proof. Photo by Rush Jagoe.
The Stacks. © Frank Aymami.
Sylvain. Courtesy of Rush Jagoe.
Parkway Bakery & Tavern. Courtesy photo.
KREWE du Optic. Photo by Hunter Holder, courtesy of KREWE du Optic.
Sunrise Trading Company. Photo by Alec Quig.
Barrel Proof. Photo by Rush Jagoe.
Merchant. Courtesy photo.
KREWE du Optic. Photo by Hunter Holder, courtesy of KREWE du Optic.
Sylvain. Courtesy of Rush Jagoe.