Chanel Muses Kristen Stewart and Willow Smith Get Busy at Their Day Jobs
Kristen Stewart makes her directorial debut with a short at next year's Sundance. Willow Smith debuts new music. All in a day's work for a Karl Lagerfeld muse.
---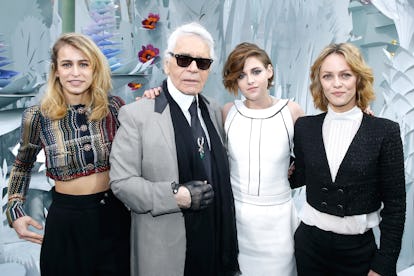 Getty Images
Browne, Thom "I'd like people to either really love it, or really hate it," designer Thom Browne says in a new documentary series for Made to Measure, Art of Style, by Lisa Immordino Vreeland. The notoriously meticulous designer, who creates entire worlds with his collections, reveals his small-town influences, the films that inspire him, and why he's not afraid to provoke.
Carey, Mariah With her new reality series Mariah's World, Mariah Carey reveals herself, lounging, wine-drinking, diva-in-chief, as the realest reality star ever.
Greenery Pantone's Color of the Year — a far more noble award than either the Grammys or Time Magazine's Person of the Year. Hard to wear? Not for Julianne Moore.
Hadid, Gigi Taking a month off from Instagram. All in the name of self-defense.
Kawakubo, Rei Rei Kawakubo's designs for Comme Des Garçons are coming to the Met. How will the Met's Costume Institute contend with one of the most avant-garde, innovative designers of her generation?
Smith, Willow Earlier this week, Willow Smith opened the Chanel Métiers D'Art show not as a model, but as a musician: She played her track "November 9," a guitar-driven ballad she released last month. On Wednesday, she dropped a new three-song EP, Mellifluous, full of the same kind of low-fi, politically motivated guitar music.
Stewart, Kristen Making her directorial debut at the 2017 Sundance Festival. The short, Come Swim, is also soundtracked by the musician St. Vincent, herself a burgeoning screen director (and, not least, Stewart's girlfriend).
Tillmans, Wolfgang The legendary German photographer, now turned techno musician, released an '80s club kid album for a post-Trump age, starring Hari Nef.
See W's most popular videos: