Why Are Models and Pop Stars Obsessed with Kristian Aadnevik?
With model clients like Kendall Jenner and Jourdan Dunn, Kristian Aadnevik might be the most famous design duo you've never heard of.
---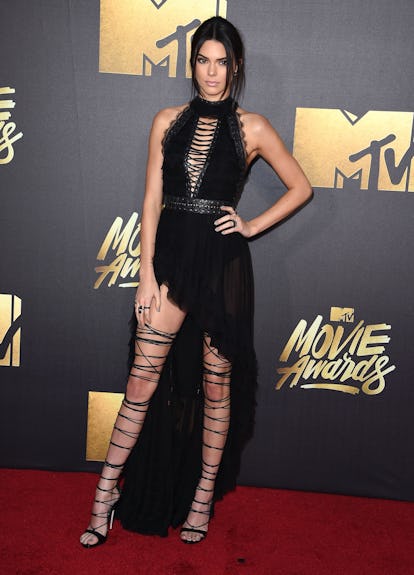 Donatella Versace has a knack for discovering talent. Her most recent protégé, Anthony Vaccarello, departed her sister label Versus Versace in order to take up Hedi Slimane's mantle at Saint Laurent. Before that, Christopher Kane, another Versace select, won the British Fashion Awards prize for Womenswear Designer of the Year in 2013, the same year his label was acquired by Kering (incidentally, also the parent company of Saint Laurent). Yet as much as Vaccarello and Kane have become household names, there's one Versace disciple who's managed to fly under the radar: Kristian Aadnevik, the namesake label of a London-based Norwegian designer and his wife, Hila.
In 2007, Versace selected Aadnevik as part of the Australian Wool Innovation's Protégé Program, for which he designed a merino-based capsule collection for her brand. Since then, Aadnevik's designs have appeared on It girls, models, and musicians like Madonna, Rihanna, Kylie Minogue, Taylor Hill, Chanel Iman, and, most recently, Kendall Jenner at the MTV Movie Awards. And yet his name doesn't ring nearly as many bells as those of the women he dresses.
The Versace gig might have been his big break, but even before that, he had cut his teeth at Alexander McQueen while studying at the Royal College of Art in London. "Working at his studio at the early stage was the best sort of experience I could ever have," he says.
Aadnevik's been in London ever since — it's there that he launched his eponymous label in 2004 and met Hila in early 2012. The couple began working together under his name, which had already become somewhat established in the London fashion community.
Luxe, tactile materials — feathers, chiffon, leather, fur — are all at play in Aadnevik's designs, which feature corseted, sheer, often daringly short silhouettes that play to the classic bombshell vision. "It's full of glamour and sensuality, but with a sense of rock 'n' roll that makes it very contemporary," Donatella herself told WWD, describing Kristian Aadnevik, in 2008.
It's also what's earned him celebrity stylist fans such as Monica Rose, whose clients include Kendall Jenner, Chanel Iman, and Gigi Hadid; Nick Nelson, who works with many of the Victoria's Secret models including Taylor Hill and Candice Swanepoel; and Karen Raphael, who styles Ariana Grande, Gina Rodriguez, and Holland Roden.
"They kind of have the punch of Versace, the sort of brashness of a Balmain," Nelson says. "But then there's … a sort of girliness to it too, so it's this interesting juxtaposition of tough, sexy, kind of in-your-face, but then there's a pretty thing to it." Nelson had just started dressing his cadre of Victoria's Secret regulars when he spotted Kylie Minogue in several Kristian Aadnevik designs and started bringing the looks to his clients.
Raphael offered a similar story. She proposed a Kristian Aadnevik design to Roden in 2013. "She loves very feminine, flirty," Raphael said of her client. "But she always likes to add an edge or something that's a bit unexpected." The dress she wore paired pale pink-and-beige chiffon with studded leather trim, topped off with a braid wreathing her head and rose-gold Stuart Weitzman heels.
"She knows who she is," Hila said of the quintessential Kristian Aadnevik woman. "They know what they want, they know how they want to look, they know exactly how things should fit on their bodies."
For all their celebrity appearances, Kristian Aadnevik is a tiny operation: around 20 people work in the studio on an average day, and the Aadneviks interact with every garment that passes through their atelier. They produce and manufacture all of their designs made-to-measure through in-house hand-craftsmen and couturists. Even their public relations operation is internal, and they rely heavily on social media — the brand regrams images of high-profile red carpet and stage appearances, broadcasting the look to the brand's 227,000 Instagram followers. (A shot of Kendall Jenner on the red carpet, wearing a dress that had previously appeared on Lara Stone and Lily Collins, means more than any press release, after all.)
While this couture ethos limits their reach, they've expanded far considering the constraints. In addition to their roster of It girls, they have a thriving business of private clients and a few commercial stockists as well, across France and scattered around the near east. Their short gowns start at around £2,500, the longer ones around £4,200 (they aren't yet stocked in the United States). Each season, several couture pieces range from £15,000 to £50,000.
Even so, Kristian Aadnevik has become the go-to designer for certain savvy stylists. "That's a big cachet for me, that I can bring something to the table that not every other person's pulling," Nelson says. "Now it's getting a little bit out of hand. Kendall Jenner just wore it. I'm sure every stylist and their grandmother's going to be pulling it now, but they were kind of like a little secret."
Photos: Why Are Models and Pop Stars Obsessed with Kristian Aadnevik?
Kendall Jenner in Kristian Aadnevik at the MTV Movie Awards in Burbank, California, April 2016. Photo by Getty Images.
Lara Stone in Kristian Aadnevik at London Fashion Week, February 2016. Photo by Getty Images.
Jourdan Dunn in Kristian Aadnevik at the Elle Style Awards in London, England, February 2015. Photo by Getty Images.
Chanel Iman in Kristian Aadnevik at the New Era Super Bowl Party in San Francisco, California, February 2016. Photo by Getty Images.
Kylie Minogue in Kristian Aadnevik at the closing ceremony for the Commonwealth Games in Glasgow, U.K., August 2014. Photo by Getty Images.
Shakira in Kristian Aadnevik at the 49th annual Academy of Country Music Awards in Las Vegas, Nevada, April 2014. Photo by Getty Images.
Jennifer Morrison in Kristian Aadnevik at the Billboard Music Awards in Las Vegas, Nevada, May 2013. Photo by Gety Images.
Kristian Aadnevik Spring 2016.
Kristian Aadnevik Fall 2016.
Kristian Aadnevik Fall 2016.
Kristian and Hila Aadnevik with their son Silver at the Kristian Aadnevik Fall 2016 presentation. Photo courtesy Kristian Aadnevik.