Kristina Bazan: It Girl, It Trend
The blogger and Instagram star moves into music.
---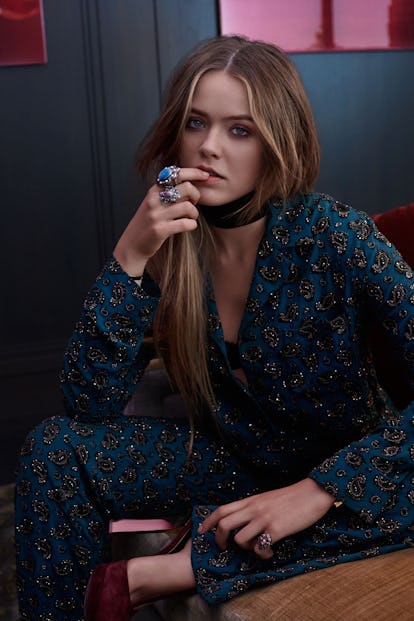 Photographer: Hugh Lippe Stylist: Sophie Pera
Kristina Bazan, the creator of the fashion-and-travel site Kayture (a mash-up of her nickname, "Kay," and "couture"), is the first to admit that blogging is often for the self-absorbed. "I constantly show my face and tell people what I'm wearing. The nature of it is very narcissistic," says the 21-year-old, who boasts more than 1.7 million followers on Instagram. In the small Swiss town of Begnins, where Bazan grew up, "everybody wants to be discreet and just blend in. I wanted to stand out," she says. And so, in 2011 she founded Kayture with her then-boyfriend, James Chardon, who is now her business partner. Within two years, she was cast in a wildly popular Louis Vuitton digital campaign, and other brands like Hugo Boss, Piaget, and Cartier soon came calling. But fashion isn't the be-all and end-all for this native of Minsk, Belarus. She recently moved to Los Angeles to pursue a music career and hopes to debut an "edgy pop" EP in 2016. "People think of me as a bubbly, smiley person," says Bazan, who plans to continue Kayture but with a focus on her music. "They will see another side of me that's much darker and more vulnerable."
Photos: Kristina Bazan: It Girl, It Trend
Kristina Bazan wears Michael Kors Collection shirt, $4,995, and pants, $4,495, michaelkors.com; Gucci rings, $310, $360, and $410, gucci.com; Emilio Pucci pumps, $920, Emilio Pucci, New York, 212.230.1135.

Photographer: Hugh Lippe Stylist: Sophie Pera
Sergio Rossi pumps, $725, Saks Fifth Avenue, New York, 212.753.4000.
Vintage silver, gold, and diamond ring from Stephen Russell, New York, price upon request, stephenrussell.com. Antique gold, sterling silver, amethyst, and diamond ring from Kentshire, New York, $28,500, kentshire.com
Valentino Garavani clutch, $4,395, Valentino, New York, 212.355.5811
Kimberly McDonald one-of-a-kind gold, sapphire, and diamond earrings, price upon request, Bergdorf Goodman, New York, 212.753.7300.
Dries Van Noten skirt, $1,845, Opening Ceremony, New York, 212. 219.2688.
Chanel bag, price upon request, Chanel stores, 800.550.0005.
Olivia von Halle pajama top, $535 (sold with matching pants), Neiman Marcus, Beverly Hills, 310.550.5900.
Giulietta pants, $975, Giulietta, New York, 646.455.0359.
Salvatore Ferragamo dress, price upon request, Salvatore Ferragamo stores, 866.337.7242.
Hair by Owen Gould for Sachajuan; Makeup by Ozzy Salvatierra for Cle de Peau Beaute at streeters; Manicure by Kiyo Okada for Dior; digital technician: Michael Tessier; photography assistants: Jordan James, Jamie Strachan; fashion assistant: Dylan Hawkinson.