Kristine Froseth Breaks Out With Hulu's Looking For Alaska
Kristine Froseth leads a life that has already come full circle.
---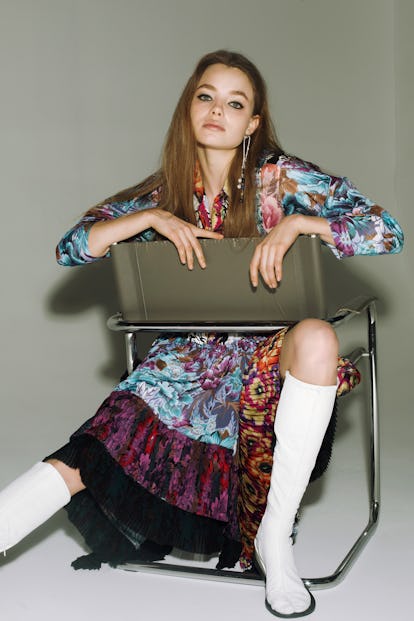 Photograph by Rebekah Campbell; Styled by Jasmine Hassett. Hair by Blake Erik for René Furterer at Forward Artists; Makeup by Lisa Houghton for Chanel at Home Agency; Manicure by Michina Koide for Chanel Vernis at Art Department; Set design by Mat Cullen at Lalaland Artists; Photography assistants: Allison Brooks, Sasha Frolova; Fashion assistant: Julian Mack; Production assistant: Bayley Resetar; set assistant: Eliza Sanchez.
In 2014, Kristine Froseth—who is Norwegian but spent large chunks of her childhood living in the suburbs of New York City, due to her father's finance career—was approached by her modeling agent about auditioning for the titular role of Alaska Young in the film adaptation of the YA megastar John Green's first book, Looking for Alaska. Though she'd never so much as headlined a school play, she jumped at the chance. She read for a casting director, sent multiple rounds of tapes, and was ultimately flown to Los Angeles for a read. Soon after, the project fell apart—however, over the course of the casting process, Froseth had both found a manager and set her sights on a career onscreen. She enrolled in a Meisner technique–intensive class in New York and began getting roles right away. There was a Patrick Dempsey–fronted crime miniseries, a music video for the Weeknd, and last year's Netflix high school drama Sierra Burgess Is a Loser, in which she plays a mean girl with a hidden kinder side. Her interest in human behavior led her to her current role, as a privileged teen left to fend for herself in the Lord of the Flies–esque Netflix series The Society. "I love to read about biology and how it controls or doesn't control our actions," she says. "And that's really what the show is all about." While filming, she got the news she'd been ­waiting five years for: Looking for Alaska was coming back around, this time as a Hulu miniseries helmed by The O.C. creator Josh Schwartz and writer Stephanie Savage. "I told my agents, 'I need to meet Josh and Stephanie now!' " Froseth remembers. " 'We have to find a way to make this happen!' " And so they did. Before she knew it, Froseth was in Louisiana, filming the show opposite Charlie Plummer. "The whole thing has been pretty magical," says Froseth. "I still can't quite believe it happened."