Exclusive: Kurt Cobain's Original White Sunglasses Have Been Re-Issued
The iconic look by Christian Roth is now a favorite of rappers, models, It girls and celebrities alike.
---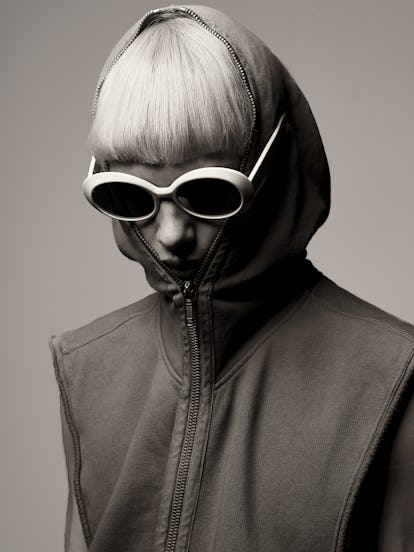 Dustin Arnold
In 1993, the photographer Jesse Frohman captured a young Kurt Cobain of the grunge band Nirvana wearing white sunglasses, a leopard-print coat, and a flying hat with a flipped-up bill. In one image, he smokes a cigarette, showing off his punk painted nails. Together, the now-iconic photographs convey Cobain's unique style and attitude, and to this day they're still being referenced by young musicians and fashion icons alike—many of whom weren't even alive when the photos were taken.
23 years after Cobain's tragic death, his round white sunglasses are perhaps the most recognized totem of his persona, and in 2017 are a favorite accessory of everyone from rapper Lil Yachty to It girl (and music royalty) Sofia Richie. It is for this reason that the original maker of these specific sunnies, Christian Roth, has decided to reissue the style that's been knocked off so many times. The style, the Series 6558, comes via Christian Roth, along with Eric Domege in their first collection under the DITA Group. In addition to the famous frames, the brand will also be releasing an archive collection of the most subversive frames originally designed during the 1980's and into the 90's. Soon to be available styles include the Series A from 1984, a pair marked by floating lenses and Andy Warhol, lens-in-lens, which debuted in 1986. The archive collection will be released this month, with the Cobain-inspired pair available at DITA SoHo and retailing for $300.
And judging from their newfound popularity, they won't be around for long. On Monday night at the Met Gala, the three members of Migos hit the red carpet in Versace, Versace, Versace—of course. But Takeoff took his look one step further with a pair of round white sunglasses, which looked just like Cobain's. It was a subtle punk rock nod for an event that dared every guest to go as avant-garde as possible. But Takeoff's choice for fashion's biggest night out solidified a trend that's been brewing since brands like Saint Laurent, Acne Studios, and Supreme brought it back these past few seasons.
Visually, white sunglasses are a hit for the Instagram generation—just ask Richie, whose posts featuring them have garnered almost 100,000 likes. They're also evidence of a bubbling resurgence of the '90s boldest styles. But it's also no coincidence that rappers like Lil Uzi Vert, Lil Yachty, and Wiz Khalifa have been spotted wearing them the most, as the look is also an embodiment of the rebellious, genre-bending, gender-fluid attitude they're trying to convey with their careers.
In sum, these white sunglasses are literally called the "alien" style, so to wear them means that you're not afraid to stand out in a crowd—something that Cobain certainly wasn't.
Migos, Rihanna, and More Modern-Day Rockstars Are Wearing Kurt Cobain's Iconic White Sunglasses
Takeoff of Migos wears white sunglasses to the "Rei Kawakubo/Comme des Garcons" Costume Institute Gala at the Metropolitan Museum of Art.

Ray Tamarra/Getty Images
Sofia Richie is seen on March 02, 2017 in Los Angeles, California wearing white sunglasses styled casually with a t-shirt and jeans.

BG011/Bauer-Griffin/Getty Images
Lil Yachty attends TIDAL X: 1015 on October 15, 2016 in New York City wearing round white sunglasses under his braids.

Larry Busacca
Pharrell Williams performs onstage with Hans Zimmer during the Coachella music festival wearing round white sunglasses and a yellow Adidas sweatshirt.

Frazer Harrison/Getty Images
Wiz Khalifa performs onstage during the Spotify Best New Artist Nominees celebration at Belasco Theatre in Los Angeles, California wearing white sunglasses.

Charley Gallay/Getty Images
Rihanna is seen arriving at the Carlyle Hotel before the Met Gala wearing white sunglasses, white boots, and a blue fur stole.

Roy Rochlin/Getty Images
Lil Uzi Vert attends the MDW Day Party at Compound in Atlanta, Georgia wearing white sunglasses with a Goyard bag.

Prince Williams/Getty Images
Pixie Lott wears white sunglasses to contrast her bright pink hair while stepping out at BBC Radio in London, England.

SAV/Getty Images
Emily Ratajkowski is seen in Paris, France wearing Raen's white square lens sunglasses with a white overcoat, floral top, and jeans.

Marc Piasecki/Getty Images
The former vlogger and model Amanda Steele is seen wearing white sunglasses and a bandeau top by the pool this spring.