Part of a $1 Million Kusama Installation Damaged by Probable Selfie Accident
Yet another very expensive incident in a museum.
---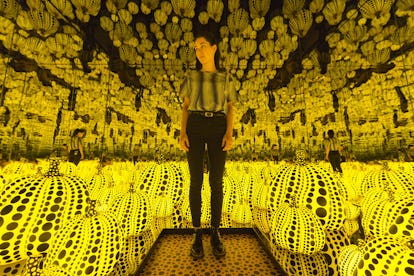 Ray Tang/Anadolu Agency/Getty Images
Every bad stereotype about selfie culture played out in horrifying fashion at the Hirshhorn Museum in Washington, D.C., on Saturday. There, a room of the new Yayoi Kusama installation, Infinity Mirrored Room—All the Eternal Love I Have for the Pumpkins, was damaged and forced to temporarily close after a visitor reportedly tripped onto the sculpture and shattered it while attempting to take a selfie.
The gourd sculpture's damage was confirmed by The Washington Post, which notes that how the break actually occurred is a bit more suspect. The installation setup instructs that no security be in the room when visitors come through. Instead, visitors (one to four people at a time is recommended) get 30 seconds alone in the room, according to museum spokesperson Allison Peck. Peck told the Post, "When you go in there, you close the door, so we can't speculate on what happened."
The selfie narrative comes from the Washington City Paper art critic, who reported visitor accounts of the selfie-gone-wrong.
Given the installation's design, which features narrow walkways, transparent barriers, and plenty of darkness, the selfie theory isn't exactly far-fetched. Indeed, one of the known draws of Kusama's work, which often uses mirrored walls to create a series of endless reflections, is its compatibility with selfie aesthetics. It's unclear how much monetary damage was done, as the gourd is only one facet of the larger installation, but Artnet News reports a similar-looking Kusama piece, sold as a standalone work, went for around $800,000 at auction in 2015. An entire "Infinity Room" installation was valued at just shy of $1 million on the primary market in 2015, according to Bloomberg.
Infinity Mirror Room reopened Tuesday, after the damaged pumpkin was removed and the room was rearranged to accommodate its absence. Meanwhile, a replacement pumpkin is expected to arrive courtesy of Kusama's studio in a couple of weeks, according to The New York Times. No arrests were made or disciplinary action taken toward the responsible guest. As Peck told the outlet, "It was very much an accident."
Yayoi Kusama's Glass House Takeover: Go Behind the Polka-Dot Scenes: