Kusama Speaks! Behind the Scenes of the Artist's Polka-Dot Takeover of the Glass House
See an exclusive time-lapse video of the 87-year old artist Yayoi Kusama's newest project.
---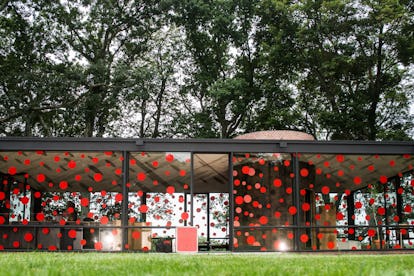 Teddy Wolff
"There is basically nothing to worry about," said Yayoi Kusama from her home in Japan. These days, the 87-year old artist is limited from traveling by her age and health, but that does not stop her from entrusting her studio to meticulously execute her vision all over the world. The latest installation, up this month at Philip Johnson's Glass House in New Canaan, Connecticut is a riot of Pepsi-red polka dots all over the glass-skinned structure to accompany the 1,300 stainless steel orbs that floated around the estate's pond all summer. Kusama, who first met Philip Johnson when she moved from Japan to New York in the 60's, considers it an honor to have her work installed in one of his "masterpieces": "The repetition and recurrence add a different color to the amazing architecture which reflects the sky, the water, the green, and the landscape," she said. See the installation process play out via a time-lapse video by Matthew Placek, here.