Kylie Jenner and Stormi Webster Got a Million Likes in 8 Minutes on Instagram
At six months old she's already a social media star.
---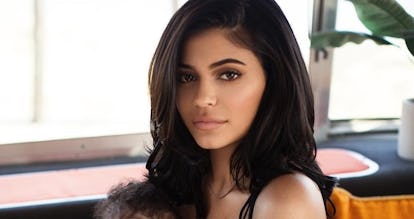 instagram.com/kyliejenner
After announcing that she would not be sharing photos of Stormi Webster for awhile, Kylie Jenner and her six-month-old daughter resurfaced on social media to much fanfare. Specifically, 1 million likes on Instagram—in the span of eight minutes.
"Bringing in my birthday tonight with my most special gift," she wrote in the caption of the photo that amassed that many likes. "What was life before you, Stormi. I love you my little angel." Jenner shared a second photo of her and Stormi, writing, "my heart."
Back in June, Jenner told a fan on Instagram, "yeah I cut my baby out. I'm not sharing photos of my girl right now." At the time, a source close to her explained the decision to People, saying, "Kylie felt so protective of her baby when she was pregnant. This is why she didn't share any bump pictures while she was pregnant. After Stormi was born, Kylie was the proudest mom…She couldn't wait to show off Stormi to her fans. She posted pictures, because she was so excited to be a mom. Unfortunately, social media is a crazy place. People have been making nasty comments…Kylie is shocked and doesn't want her daughter's pictures to be a part of something negative. She might reconsider in the future, but for now, she won't post any more photos of Stormi's face."
Jenner recently opened up about the obstacles of motherhood, telling her sister Kim Kardashian West for The Standard, "Of course there's hard times and stuff…even in the beginning, just not sleeping, the nights, like, baby blues…and all the ups and downs."
Ultimately, though, she says she's become a better person for dealing with it. "Everyone says you change completely when you become a mom, but I really feel the same, just better. So I don't know what really has completely changed my world, besides her, of course. But I feel like it's only gotten better…I feel like it's just been so amazing, and so much fun. I'm learning so much more about myself and life, and it's been such a great experience."