Kylie Jenner Shares a First Look at New Docuseries Life of Kylie
"There's an image that I have to keep up with. Then there's me, Kylie."
---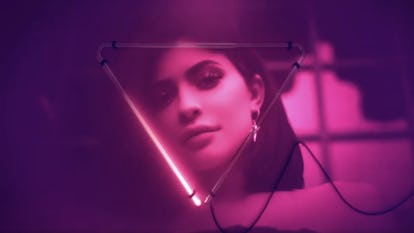 kyliejenner/Twitter
When it comes to Kylie Jenner's life you think you know, but you have no idea. Or, as Jenner herself puts it in the first teaser for her upcoming docuseries Life of Kylie, "When you grow up on camera, everybody feels like they know you … but they don't. "
The clip Kylie posted to Twitter begins with a lit neon sign depicting—what else—her signature lips. Viewers are then treated to a mini-montage of Kylie through the years, as Jenner suggests that we perhaps don't know the real her as well as we think. Jenner also acknowledges her mammoth social media following in the teaser (175 million-plus followers is nothing to stick your nose up at), while also hinting that her upcoming series will reveal more than what we typically see from the 19-year-old on her famed Snapchat and Instagram accounts.
"Nobody has a perfect life," Jenner says in the video. "Now I can find what really is going to make me happy. There's an image that I have to keep up with. Then there's me, Kylie."
Jenner is hardly the first member of her famous family to become the star of their own spinoff series. Past extensions of the KUWTK brand include Kourtney & Kim Take Miami, Kourtney & Kim Take New York, Khloé & Lamar, Kourtney & Khloé Take the Hamptons, and Rob & Chyna. People recently reported, however, that although her siblings are excited for Jenner's moment in the spotlight, it has been a source of drama among the brood.
"Overall, everyone is really happy about it," a source told People. "But of course, there's some jealousy that comes along with all the attention that Kylie is getting."
Life of Kylie premieres on July 6 on E!.
Related: Kylie Jenner, Non-Professional Athlete, Dared to Be Photographed in Fitness Attire
Get Up Close With Kendall Jenner: