Kylie Jenner's "Billionaire" Status Was Rebuked by Forbes
She's still worth about 15,000 times what an average family makes in a year, though.
---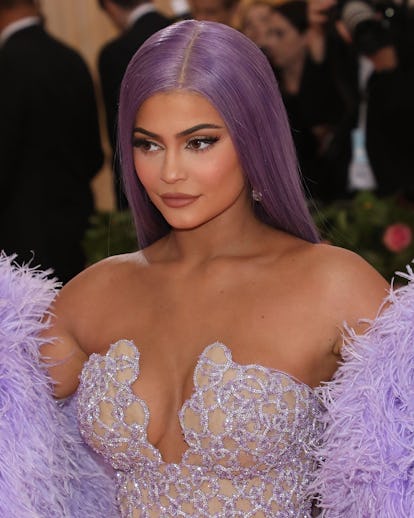 Getty Images
Forbes, the financial magazine that used to proudly call itself "The Capitalist Tool," has appointed itself the unofficial keeper of the list of the world's billionaires, but its methods of actually verifying private net worths have always been a bit opaque and up to question. Now, in a rare rebuke, the magazine has retracted its claim that Kylie Jenner is officially a billionaire.
The magazine now believes that the 22-year-old beauty mogul is worth only $900 million.
Forbes writers detail a long campaign by the Kardashian-Jenner Industrial Complex to get Kylie's success with Kylie Cosmetics featured in the magazine shortly after her older sister Kim Kardashian was featured on the cover in 2016. At the time, her reps claimed the youngest Jenner sister had personally earned $110 million in 2016. Jenner's tax returns were even provided, but the magazine was originally skeptical and eventually estimated her earnings that year to be about $42 million. The magazine claims it consulted with analyst and beauty industry insiders before deciding on the number.
Fast-forward to August 2018, and Forbes had put Jenner on the cover triumphing the fact that they now believed she was worth $900 million and on track to become the world's youngest ever "self-made" billionaire. What changed? Well, the magazine now decided it did believe Jenner's previous tax returns, and listened to analysts who believed her claims could actually be correct. By early 2019, the magazine stated that Jenner had actually crossed the $1 billion mark based on the estimated value of Kylie Cosmetics. When Coty Inc. purchased 51 percent of the company in November of 2019 for $600 million it seemed like those projections were in the ballpark of being correct.
Forbes now believes (but does not have conclusive proof) that they may have been misled about both the company and Jenner's personal finances. They also believe (though did not conclusively prove) that Kris Jenner actually owns a small but significant stake in the company through a trust, thus devaluing Kylie's total stake. Add in the fact that the COVID-19 pandemic has put financial strain on the entire beauty industry, and Forbes believes Jenner is no longer a billionaire, if she ever truly was in the first place.
This would not be the first time a public figure has tried to allegedly influence the magazine to publish figures juicing their net worth. Donald Trump has long been obsessed with his placement on Forbes' various wealth lists, even going so far as to impersonate his own fictional publicist "John Barron" to try and influence the magazine's research.
Of course, this all underlies the fact that any estimate of a public figure's supposed net worth is shaky at best, absent an individual opting to open all their accounting books.
Perhaps more seriously, it also illustrated high net-worth individuals' obsession with wealth-hoarding for the sake of status and power.
Of course, $900 million is now a small fortune. Sure, it's just 1/161st of Jeff Bezos's net worth, but it is still roughly 15244 times what an average American family makes in a year.
Related: Kourtney Kardashian Calls Out "Kylie Billionaire Jenner" for Her Entitlement