Kylie Jenner Says Her Pregnancy Quarantine Was Just Coronavirus Social Distancing Prep
When Kylie Jenner managed to hide her pregnancy until Stormi Webster was born, it was all just practice for social distancing during a coronavirus outbreak.
---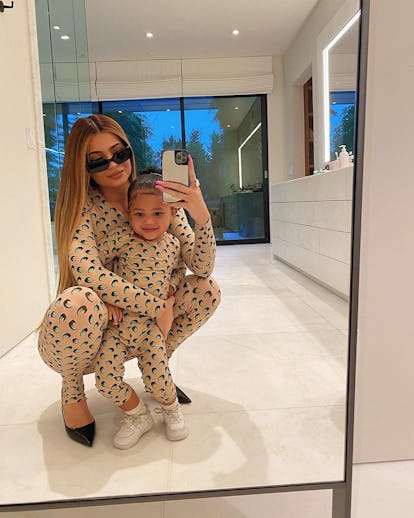 Photo courtesy of @kyliejenner.
Remember when Stormi Webster was just a twinkle in Kylie Jenner's eye? Back then, no one was isolating themselves in their homes to prevent the spread of the coronavirus, but Jenner herself was practicing social distancing in order to not let a soul in on the secret that she was, in fact, pregnant.
As of this moment, all of the Kardashian and Jenner sisters are doing their self-quarantining separately, according to Kim Kardashian, who revealed that fact on Instagram. "It's hard but we have to do this for our safety and for everyone else's. PLEASE do not ignore the severity of the warnings to stay inside to stop the spread of this virus. We will all get through this!" she wrote.
And since we're all stuck on Instagram all the time now, as we continue our safe social distancing practices of working from home and slowly going insane as celebrities and non-celebrities alike keep making the decision to go live on Instagram, that is exactly the platform where Jenner revealed that she has already practiced self quarantine.
"Another daily reminder to take this social distancing seriously and self quarantine," Jenner shared with her 166 million followers on Instagram Stories. In a follow-up snap to her story, she added, "I'm on day 8. My pregnancy prepared me for this. 😩 I didn't leave the house for months."
And as silly as it may sound, Jenner does have a point. She managed to appear on Keeping Up with the Kardashians and pose for a Calvin Klein ad with a strategically placed quilt throughout her pregnancy, while the rest of us remained in the dark about the truth. Despite constant scrutiny, for a whole nine months, she never let her guard down, and never revealed the fact that she was pregnant until a few days after her daughter was born.
So just remember, if Jenner can handle being inside for months on end (with help from an army of people she pays to do things for her), then we all can.
Related: Margaret Atwood Didn't Know Kylie Jenner Existed Until Her Handmaid's Tale Birthday Party
A Look Back at Kylie Jenner's Many, Many Hair Transformations
Kendall Jenner and Kylie Jenner pose for a photo at the "Keeping Up With the Kardashians" viewing party at Chapter 8 Restaurant on October 16, 2007 in Agoura Hills, California. Photo courtesy of Getty Images.

Getty Images
Kylie Jenner attends the release party for the new album "Kiss & Tell" by Selena Gomez and The Scene at Siren Studios on September 30, 2009 in Hollywood, California. Photo courtesy of Getty Images.

Getty Images
Kylie Jenner attends the premiere of Screen Gems' "Easy A" at Grauman's Chinese Theatre on September 13, 2010 in Hollywood, California. Photo courtesy of Getty Images.

Getty Images
Kylie Jenner arrives at the Los Angeles premiere of "The Twilight Saga: Breaking Dawn Part 1" held at Nokia Theatre L.A. Live on November 14, 2011 in Los Angeles, California. Photo courtesy of Getty Images.

Getty Images
Kylie Jenner hosts a meet and greet with fans at Kardashian Khaos store inside Mirage Resort and Casino on December 15, 2012 in Las Vegas, Nevada. Photo courtesy of Getty Images.

Getty Images
Kylie Jenner arrives at the 2013 American Music Awards at Nokia Theatre L.A. Live on November 24, 2013 in Los Angeles, California. Photo courtesy of Getty Images.

Getty Images
Kylie Jenner arrives at the premiere of "The Hunger Games: Catching Fire" held at the Nokia Theatre L.A. Live. Photo courtesy of Getty Images.

Getty Images
Kylie Jenner attends the 2014 Billboard Music Awards at the MGM Grand Garden Arena on May 18, 2014 in Las Vegas, Nevada. Photo courtesy of Getty Images.

Getty Images
Kylie Jenner arrives at the 2014 American Music Awards at Nokia Theatre L.A. Live on November 23, 2014 in Los Angeles, California. Photo courtesy of Getty Images.

Getty Images
Kylie Jenner attends Kylie Jenner Announced As Brand Ambassador For Nip + Fab at W Hollywood on December 15, 2015 in Hollywood, California. Photo courtesy of Getty Images.

Getty Images
Kylie Jenner arrives at the 2015 American Music Awards at Microsoft Theater on November 22, 2015 in Los Angeles, California. Photo courtesy of Getty Images.

Getty Images
Kylie Jenner attends the grand opening of Sugar Factory American Brasserie on September 16, 2015 in New York City. Photo courtesy of Getty Images.

Getty Images
Kylie Jenner attends WSJ Magazine and Forevermark Host a Special Los Angeles Screening of "Paper Towns" at The London West Hollywood on July 18, 2015 in West Hollywood, California. Photo courtesy of Getty Images.

Getty Images
Kylie Jenner attends Prabal Gurung Spring 2016 during New York Fashion Week: The Shows at The Arc, Skylight at Moynihan Station on September 13, 2015 in New York City. Photo courtesy of Getty Images.

Getty Images
Kylie Jenner attends a photocall in her role as ambassador for Nip+Fab at Westfield London on March 14, 2015 in London, England. Photo courtesy of Getty Images.

Getty Images
Kylie Jenner attends the 2015 MTV Video Music Awards at Microsoft Theater on August 30, 2015 in Los Angeles, California. Photo courtesy of Getty Images.

Getty Images
Kylie Jenner attends SinfulColors and Kylie Jenner Announce charitybuzz.com Auction for Anti Bullying on July 14, 2016 in Los Angeles, California. Photo courtesy of Getty Images.

Getty Images
Kylie Jenner attends the Vera Wang Collection Fall 2016 fashion show during New York Fashion Week: The Shows at The Arc, Skylight at Moynihan Station on February 16, 2016 in New York City. Photo courtesy of Getty Images.

Getty Images
Kylie Jenner attends Harper's BAZAAR Celebrates "ICONS By Carine Roitfeld" at The Plaza Hotel on September 9, 2016 in New York City. Photo courtesy of Getty Images.

Getty Images
Kylie Jenner attends REVOLVE Desert House on April 17, 2016 in Thermal, California. Photo courtesy of Getty Images.

Getty Images
Kylie Jenner arrives for the NBCUniversal's 74th Annual Golden Globes After Party at The Beverly Hilton Hotel on January 8, 2017 in Beverly Hills, California. Photo courtesy of Getty Images.

Getty Images
Kylie Jenner attends the Alexander Wang February 2017 fashion show during New York Fashion Week on February 11, 2017 in New York City. Photo courtesy of Getty Images.

Getty Images
Kylie Jenner arrives at Marie Claire's Image Maker Awards 2017 at Catch LA on January 10, 2017 in West Hollywood, California. Photo courtesy of Getty Images.

Getty Images
Kylie Jenner attends the PrettyLittleThing x Paper Magazine on April 14, 2017 in Palm Springs, California. Photo courtesy of Getty Images.

Getty Images
Kylie Jenner attends the "Rei Kawakubo/Comme des Garcons: Art Of The In-Between" Costume Institute Gala at Metropolitan Museum of Art on May 1, 2017 in New York City. Photo courtesy of Getty Images.

Getty Images
Kylie Jenner on August 19, 2018 in New York City. Photo courtesy of Getty Images.

Getty Images
Kylie Jenner attends the Heavenly Bodies: Fashion & The Catholic Imagination Costume Institute Gala at The Metropolitan Museum of Art on May 7, 2018 in New York City. Photo courtesy of Getty Images.

Getty Images
Kylie Jenner is seen on May 3, 2019 in New York City. Photo courtesy of Getty Images.

Getty Images
Kylie Jenner arrives for the 61st Annual Grammy Awards on February 10, 2019, in Los Angeles. Photo courtesy of Getty Images.

Getty Images
Kylie Jenner attends the 2019 Met Gala celebrating "Camp: Notes on Fashion" at The Metropolitan Museum of Art on May 6, 2019 in New York City. Photo courtesy of Getty Images.

Getty Images