Dispatches from the Olympics, and from the Back Seat of Kylie Jenner's New Car
Rio 2016 gets underway, Kylie Jenner gets another new car, and Winona Ryder makes a comeback.
---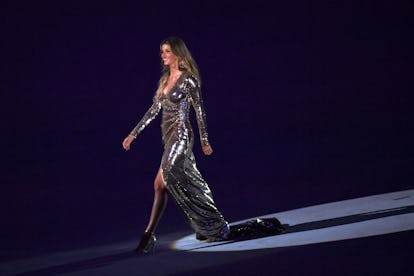 AFP/Getty Images
Bündchen, Gisele Along with Ambrosio, Alessandra and Lima, Adriana, the Brazilian model turned out for the opening ceremony of the 2016 Summer Olympics in Rio De Janeiro. And they're not the only fashion presence among the Brazilians — the whole team was outfitted for the ceremony by Rio-based designer Lenny Niemeyer, best known for her swimwear.
Dornan, Jamie Stars alongside Cillian Murphy in the new World War Two drama Anthropoid — and it's anything but Fifty Shades.
Jenner, Kylie Really living up to her reputation as the Jay Leno of the Kardashians — Tyga bought her a Benz with a big red bow inside for her birthday.
Lindbergh, Peter Legendary fashion photographer — and even more so for his refusal to retouch his images. A new exhibition of his work opens in Rotterdam next month.
McArthur, Casil The model who landed a 16-page spread with Steven Meisel in W's September issue wants to be a role model for transgender teens.
Olympics, Rio Fully underway since the opening ceremony Friday evening. Women's rugby will play a match this afternoon, the US team still thriving in the first rugby contest in 92 years. Get to know the team, here.
Ryder, Winona Making a comeback with Stranger Things and taking on the naysayers head-on.