Kylie Jenner's Pop-Up Cosmetics Store Looks Insane
Coming soon to your feed: Wall of Lip Kits selfies.
---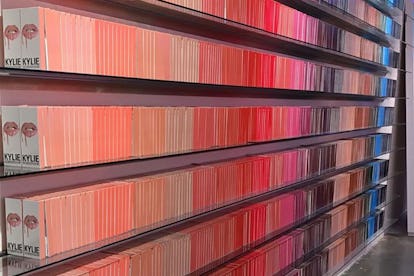 dillonpena/Instagram
While most of us are ready to forever wave goodbye forever to 2016 (Kim and Kanye, in particular), one person who will be looking back on it fondly is Kylie Jenner. She's not only "realized stuff," as she predicted she would, she's seriously profited from it. The reality TV star turned entrepreneur has spent the past 12 months building her hotly coveted Kylie Cosmetics brand, starting a merch line, designing for her joint line with sister Kendall Jenner, and serving as the face of PUMA. She's also opened a brick-and-mortar cosmetics store—her first pop-up—in the Topanga Westfield Mall, which, from the first looks at it, is an Instagram palace.
Naturally, Kylie Jenner Instagrammed her first cosmetics store, which drew thousands of fans to the Kardashian homeland of Calabasas. Some camped out the night before; others endured amusement park-length lines. Most walked away with a Wall of Lip Kits selfie—that is, a picture in front of an ombre wall which houses all 24 shades of Jenner's staple that would please even the most discerning aesthete who color coordinates their bookshelves.
It's the next best thing to a selfie with Kylie, though many fans were able to grab those as well while waiting in line.
Kylie can take all of the credit for the pop-up store's design since she reportedly came up with the concepts for it herself, which also includes a Christmas tree done up with ornamental lip kits that customers can buy. Chances are though, the store's merchandise won't even last until the final days of last-minute holiday shopping as the pop-up is only remaining open until December 23 or until supplies last—given the pandemonium before doors even opened, it will be the latter.