SoCal Cool
Move over, New York. Thanks to a recent run of museum and gallery openings, Los Angeles is going from art-world upstart to established star.
---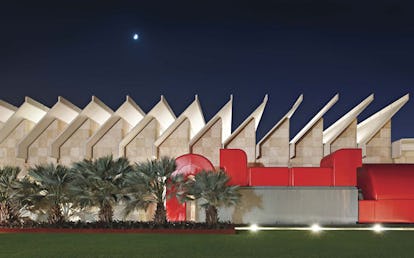 The hottest new gallery in Los Angeles doesn't even exist yet. The words l&m arts are affixed to the facade of a historic brick power plant in Venice, but inside the building, which is being refitted and expanded by Tadao Ando protégé Kulapat Yantrasast, the exhibition spaces are empty except for stray tools, and the only functioning office on-site is the contractor's modular unit, which looks like a double-wide Porta-Potty. That hasn't slowed down the summer chatter on the L.A. art scene about the so-called new L&M space—legendary L.A. gallerist Irving Blum, for one, admires it—even though invitations to the inaugural exhibition of new work by Paul McCarthy won't be printed for weeks to come.
The gallery is the first out-of-town expansion from a pair of New York dealers, Dominique Lévy and Robert Mnuchin, best known for their museum-quality historical shows in an Upper East Side town house. And it's one of a spate of projects in Los Angeles that is quickly changing the shape of the local art world, and perhaps even subtly shifting the balance of power on the American art scene.
"I've felt for two or three years an incredibly strong creative energy from Los Angeles," says Lévy. "I felt that the old, postwar pole of Paris–New York had become Berlin–Los Angeles."
Of course, cultural geopolitics is not the only explanation for L&M's move, Lévy admits. It stems primarily from the gallery's strategic business decision to move into the lucrative market known as "primary sales," which means works fresh from the artist's studio rather than the secondhand art Lévy and Mnuchin handle in New York. Since Manhattan's crowded gallery scene was already "saturated," says Lévy, she first looked to Europe before deciding that L.A. had become a "new cultural hub" capable of returning dividends on L&M's large gallery investment.
Matthew Marks, the merchant prince of New York's Chelsea gallery district, recalls facing a similar decision—and reaching a similar decision—when he was considering what to do next. Marks had already opened four spaces in New York (three of which he continues to operate), and had the cash flow to fund an expansion wherever he wanted, thanks to a lineup of artists that includes Jasper Johns, Ellsworth Kelly, Brice Marden, Robert Gober, Nan Goldin and Andreas Gursky. After years of keeping an apartment in London with an eye toward opening there, Marks instead decided to go west, trading his London flat for a house in the Hollywood Hills. Why? "It's a feeling," he says. More tangible reasons include the obvious fact that L.A. is closer than New York for those rich collectors and museums scattered across the western half of the continent, from Mexico City to Seattle.
"Brice Marden has never had a one-person show in L.A.," Marks says with a rising tone that demonstrates what he takes to be the absurdity of this fact. "Got it? There's enormous potential."
Despite the recession, which has made fundraising difficult in many parts of the country, the Los Angeles County Museum of Art, under the energetic direction of Michael Govan, is about to unveil a Renzo Piano–designed pavilion surrounded by artist Robert Irwin's Palm Garden. And further out on the horizon is a new downtown museum to house philanthropist Eli Broad's significant private collection.
"Everything seems to be rising," says Blum & Poe co-owner Tim Blum (no relation to Irving), citing former dealer and art adviser Jeffrey Deitch's recent appointment as director of the Museum of Contemporary Art. "It's not just a coincidence. By and large, s—'s on fire."
Longtime observers might note that what's now "on fire," in Blum's estimation, has been smoldering for years, and some cynics might even say that the fire has flared up before in Los Angeles, only to sputter out again. "How many people have said that L.A. is always in the process of becoming?" asks Govan, who ran the Dia Art Foundation in New York from 1994 to 2006 and watched Chelsea replace SoHo as the city's premier arts district. "I came here with the sense that L.A.'s cultural infrastructure was not living up to its artistic potential, or was even representative of the number of artists living here. But now there is a statistical reality to statements like 'L.A. is hot.'"
Govan cites the sheer number of L.A.–based artists whose work is included in such exhibitions as the Whitney Biennial and the Venice Biennale. And, while many cities around the country have been busy building cultural infrastructure in the past 15 years, the current L.A. expansions are part of what Govan calls "right-sizing." The new galleries are simply catching up with the large number of working artists and active collectors in the city. In addition, the major local museums have finally gotten close enough to middle age—LACMA was built at its current site in 1965 and MOCA turned 30 last year—to command the respect of their institutional peers.
The reason why so many artists and dealers are moving to L.A. is obvious, says Hammer Museum director Ann Philbin, who blazed the trail from Manhattan's downtown art scene to the west side of Los Angeles 10 years ago. "Real estate is absolutely one of the prime motivators, no question about it," she says. "It used to be that after graduating from art school, young artists hightailed it to Manhattan. Not anymore. For the last decade Los Angeles has been the destination, and when a city is a nexus for emerging artists, that's what makes an art scene happening and that's what makes a city vibrant."
Even without the influx from the rest of the country, L.A.'s local art schools—which include USC and UCLA as well as Pasadena's Art Center College of Design and nearby California Institute of the Arts—churn out a steady stream of graduates. An increasing number of them choose to stay local, and it matters, says Sidney B. Felsen, the dapper cofounder of famous print shop Gemini GEL, which has been a studio-away-from-home for Robert Rauschenberg, Roy Lichtenstein, Willem de Kooning and Ed Ruscha. Felsen has watched the incremental changes in L.A. for decades, and he describes the current rapid growth as part of an evolution, rather than an isolated event—akin to the actor who's an overnight success 15 years in the making. "Seemingly all of a sudden," says Felsen, "the great important art scene we always thought was happening really happened."
That scene has also been driven by the steady growth of hometown galleries, ever since Irving Blum founded the legendary Ferus in 1957. It's easy to forget that Larry Gagosian is an L.A. native who began his career selling posters near UCLA. (Govan notes that recently Gagosian has been "very proud" of his L.A. roots.) Regen Projects has been an important presence for nearly two decades, and in 2007 owner Shaun Caley Regen expanded into a gorgeous second gallery space with a Charles Ray show that attracted international attention.
First among the other local galleries to have gone big-time is Blum & Poe, established in Santa Monica 15 years ago. The charismatic Blum and his partner, Jeff Poe, were pioneers when, in 2003, they moved to a desolate stretch of La Cienega Boulevard, where local amenities included coin-op laundries and taco stands. Other galleries followed and the buzz about the area soon coalesced into the full-blown arts neighborhood known as the Culver City arts district. By early 2008 Blum & Poe, which represents such artists as Takashi Murakami and Mark Grotjahn, purchased a 27,000-square-foot former manufacturing facility surrounded by nearly an acre of land. The supersize edifice, almost as large as Fred Segal's shopping emporium and similarly glamorous, was dubbed "the House that Murakami Built" by a partygoer at its opening last October, in recognition of the gallery's top moneymaker.
The nearly universal opinion is that the audacious expansion, pulled off during the economic slump, catapulted Blum & Poe into the top ranks of L.A. art dealers. "Opening in the midst of all that gave people a jolt of confidence," says Blum. "Seven months later, it's on people's maps." The new building, he says, has also helped the gallery bring new talent into its stable. He describes the first exhibition by New York painter Carroll Dunham as a "great coup," and adds pointedly: "His last show was at Gagosian."
Blum & Poe's Culver City neighbors Honor Fraser and Susanne Vielmetter have also expanded significantly in the past year, with Vielmetter moving into a former pool hall refurbished by local architect Peter Zellner. As it happens, Zellner is also designing from the ground up for Marks, who is opening in a nondescript section of West Hollywood so far away from any established gallery district that the artsiest vibe around emanates from the nearby Whole Foods. Zellner's plan is for an understated 3,000-square-foot building inspired by the bland stucco and masonry warehouse architecture of the area. "Remember, I opened in Chelsea before there was anything there," says Marks. "I'd never be in Beverly Hills. I don't want to be next to Gucci."
Besides, Beverly Hills is already established Gagosian territory. In the past year, the megadealer took over the hair salon next door to his Richard Meier–designed gallery on North Camden Drive and brought Meier back to punch a door through the wall. The new building nearly doubles Gagosian's square footage, and includes a rooftop terrace for displaying sculpture and an impressive showroom that looks as expensively restrained as the Meier original next door.
With all this activity taking place, the question of who will buy enough art to pay for all the expensive expansions naturally arises. A probable source of purchasing power is Hollywood. Art has become a cause célèbre among the celebrity set, and aspiring young players in the agency world now see an art collection as the next status symbol after a leased Range Rover. Role models include top CAA agent Beth Swofford, who has been on ARTNews's list of the top 200 collectors; mega-attorney Alan Hergott, who has escorted his client Brad Pitt through Art Basel; and actor Tobey Maguire, who with his wife, Jennifer Meyer, is actively buying and regularly appears at MOCA events. (Deitch, in return, has already shown his affinity for Tinseltown: The museum's secondary gallery space at the Pacific Design Center was the setting for an episode of General Hospital, starring James Franco as a successful young painter preparing for an upcoming show—at MOCA.)
And, as it happens, the name of the man arguably most responsible for making art part of the Hollywood conversation, former agency overlord Michael Ovitz, has once again been on many lips. Ovitz is putting the finishing touches on his vast new art villa designed by L.A. architect Michael Maltzan on a knoll overlooking Beverly Hills. The house is literally stuffed to the rafters with a remarkable collection that includes the old (Ming furniture, Picasso, de Kooning), the comparatively new (Johns, Rauschenberg, Warhol) and the upstart, including L.A.'s hot art stars Sterling Ruby and Thomas Houseago.
The only equally impressive new building in the city is over at LACMA, where private viewings have begun for Piano's 45,000-square-foot Resnick Exhibition Pavilion, named after a $45 million gift from collectors Lynda and Stewart Resnick. Like L&M in Venice, the building is becoming a landmark even before the construction dust has settled. Its official debut is at a September gala, but art fans with strings to pull have tried all summer to get in to see "The 2000 Sculpture," a temporary, closed-to-the-public installation by Walter de Maria, which consists of 2,000 cast-plaster polygons, created in 1992. "Once the building was completed, I wanted to test it out," says Govan, who borrowed the de Maria from a Swiss collector.
From the outside, the Resnick appears immense, since its entire square footage is spread across a single level—almost an acre of ground. Still, Piano's signature elegant touch is visible in its form, and it goes some distance to counteract the boxy shape of Piano's previous effort for LACMA, the adjacent Broad Contemporary Art Museum.
And then there are the palm trees, which Robert Irwin has planted around the two new buildings and scattered across the north end of the LACMA campus like a forest of exclamation points. Govan says that he turned to the artist, who designed the gardens at the Getty Center and worked with Govan on the landscaping of Dia:Beacon, because LACMA "hadn't looked like L.A." and Irwin was the ideal artist to rectify that problem.
"I grew up here and I have every one of L.A.'s bad habits," says Irwin, who is now 82. "I can tell you the long story about L.A.—how it has no history and no culture. That's exactly the reason I stayed here."
Irwin decided not to go to New York in the Fifties to avoid the overpowering creative influence of de Kooning and Pollock. Living in L.A. at that time meant being part of "no scene at all," and that obscurity allowed him to nurture his own artistic tendencies. One might think the old-timer would now feel vindicated—pleased to know that he lived long enough to see the New York art world turn its attention west.
Far from it.
"We're about to be invaded," Irwin says in a loud, declamatory voice. "We artists are about to become beside the point. Which is why I have moved to San Diego."
Art & Design: Los Angeles Art
The Lynda and Stewart Resnick Exhibition Pavilion at the Los Angeles County Museum of Art.

Photographed: Jason Schmidt
Photographed: Jason Schmidt
Susanne Vielmetter Los Angeles Projects

Photographed: Jason Schmidt
Photographed: Jason Schmidt
Photographed: Jason Schmidt
Cherry and Martin Gallery

Photographed: Jason Schmidt
Maloney Fine Art and Bradford Stewart

Photographed: Jason Schmidt
Tim Hawkinson's Orrery, 2010, at Blum & Poe

Photographed: Jason Schmidt
Shana Lutker's H. Y. S. T. et al., 2010, at Susanne Vielmetter Los Angeles Projects.

Photographed: Jason Schmidt
Photographed: Jason Schmidt
Nancy Rubins's Work for New Space Stainless Steel, Aluminum, Monochrome I, 2010, at Gagosian Gallery.

Photographed: Jason Schmidt