La La Land May Become a Live Stage Show
The original musical that was "impossible" to make maybe easily become an adapted touring stage show.
---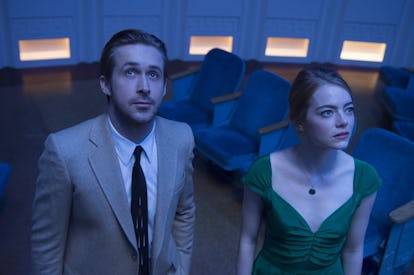 Dale Robinette/Summit Entertainment.
For a movie that everyone involved seems to think was impossible to make in the first place it seems that nothing is now impossible for La La Land. In fact, the film's studio, Lionsgate, is already publically talking about plans of adapting the film into a live stage show despite the fact the movie hasn't even reached its peak wide release yet.
Which is sort of ironic considering the fact that, as director Damien Chazelle pointed out in his Golden Globes acceptance speech on Sunday, it's rare that Hollywood make a live-action musical that wasn't a hit stage show in the first place. La La Land may very well flip the script.
Though, the plan isn't to bring the L.A. freeway dance numbers of the film to New York's Broadway, but rather to stage it as a national touring act.
"If we want to do a stage show, we can do a stage show," Lionsgate Motion Picture Group co-president Erik Feig told investors on Tuesday, according to The Hollywood Reporter.
Lionsgate is also the studio behind the never-ending dance franchise Step Up, and that movie was recently turned into a state show in Dubai. Feig sees similar possibilities for La La.
Of course, so much of the praise for the film is wrapped up in the performance of its two leads, Emma Stone and Ryan Gosling. Both took home Golden Globe awards for their roles on Sunday, and Stone, in particular, is considered a favorite in the best actress Oscar race. Can the story stand up without the charisma of Stone and Gosling helping to bring it to life? Lionsgate is willing to find out.
Though, we might be getting a bit ahead of ourselves. Large portions of the country haven't gotten a chance to see the film yet. Sure, it's already racked up over $55 million at the domestic box office so far, but it's been a slow roll out. It opened in Los Angeles and New York on December 9th and went wider on Christmas Day. Though, Lionsgate has held off on pushing the film to maximum theater saturation. The film will finally play in its largest amount of cinemas on January 22nd, a date that will coincide with the announcement of the Oscar nominations. The studio obviously hopes the film score big (which, well, seems to be an easy bet at the moment) and that movie-goers will rush to the theaters to see it.
And then, maybe one day in the future, rush to see it again as a live experience at their nearest performing arts center.
The idea is part of Lionsgate's broader push to expand its business beyond simply motion pictures. Step Up, for example, will also be the basis of YouTube's first original drama series.
Which means, maybe one day in the distant future at the rate things are going, it might not be surprising to hear the news that YouTube is streaming an adaptation of La La Land into its first live television musical.
Watch Emma Stone admit to sucking her thumb for way too long: