La La Land Trailer Gives a Glimpse of Why Emma Stone is the Oscar Favorite
Emma Stone and Ryan Gosling shine in the trailer for La La Land, a jazz musical that's a throwback to Hollywood's golden days.
---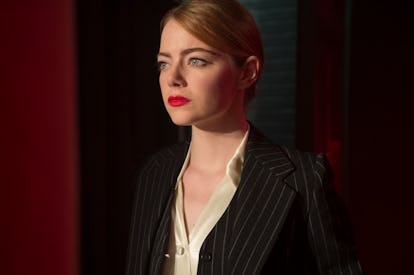 Image Courtesy of Lionsgate Entertainement
To hear the awards season prognosticators tell it, Emma Stone is the odds-on favorite to take home the Best Actress Oscar next February. (Well, that is, if you discount the Oscars handicappers who say Viola Davis is the odds-on favorite to win the Oscar.) Her La La Land performance as an aspiring actress who settles for a gig as a barista at a movie studio coffee shop has wowed critics on the international festival circuit, but most people won't get to see the performance for themselves until the film debuts on December 9.
Following a teaser trailer release earlier this year, Lionsgate dropped the official full-length trailer for the flick today and it's easy to see why La La Land has generated so much buzz.
Though the film is set in the present day, the trailer can't help but have a sort of old school Hollywood vibe about it, probably because this is an original jazz musical meant explicitly for the screen. That's the kind of genre Hollywood hasn't really touched in a major way for decades. In fact, writer and director Damien Chazelle had to go way back to the '40s, '50s, and '60s to find his inspiration. A pair of French musicals, The Umbrellas of Cherbourg and The Young Girls of Rochefort, served as the film's inspiration starting point, but Chazelle's flick is also imbued with the spirit of Hollywood classics like Singing in the Rain and Fred Astaire and Ginger Rogers films.
Stone reteams with her Crazy, Stupid, Love and Gangster Squad castmate Ryan Gosling. He plays a struggling jazz musician, and the plot follows the pair as they fall in love as nobodies and then strive for success in that crazy world of La La Land. All of which is punctuated by elaborate musical sequences (which were shot using 1950s-era CinemaScope lenses). John Legend, Finn Wittrock, Rosemarie DeWitt and J.K. Simmons co-star.
Gosling, Chazelle and the film itself have all generated serious buzz to the point where they're almost all at "sure to be nominated" status. It should also not be a surprise if more than one of the song's original songs gets recognition in the Best Original Song category. Yet it's Stone who has emerged as the most likely to walk away with an award.
It's sort of a funny that an actress America was first introduced to as a leading lady through her butchered shower rendition of "Pocketful Of Sunshine" in Easy A is now in line for her best actress coronation for a musical. Though, she certainly paid her dues to get here.
Chazelle had been trying to make the movies for years and had through of other actresses for the part (including Emma Watson) but became convinced that Stone could tackle it during her Broadway run as Sally Bowles in Cabaret.
The fact that Stone has shared the screen with Gosling so many times before made it all the better. The pairing itself is quickly becoming a throwback to the frequent onscreen teams of olden days like Ginger and Fred, Bogie and Bacall, and Tracy and Hepburn.
Though, nothing is ever for sure in La La Land, and Stone could still face serious competition from Davis, Natalie Portman's portrayal of a grieving first lady in the somber Jackie or perhaps the breakout actress of the awards season, Ruth Negga in Loving. But for now, Stone seems like the one to beat.
Watch a video interview with La La Land star Emma Stone: