Marrakech's La Mamounia Spa
When Marrakech's most iconic hotel, La Mamounia, reopened in 2009, after a 3-year, $176 million renovation, an explosion of press coverage was triggered, breathlessly documenting the star-studded grand reopening party (Jennifer Aniston, Gwyneth Paltrow and...
---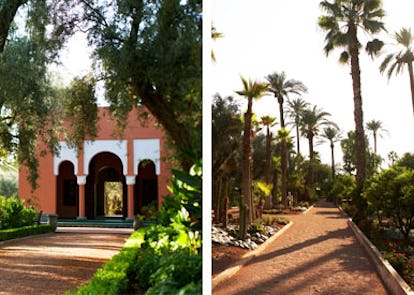 Visitors will be as impressed by the spa's unique aesthetic appeal as its selection of traditional treatments—Garcia insisted on treating the interior as seriously as the rest of the hotel, creating a warren of interconnecting rooms that opt for seriously moody sex appeal, instead of a stereotypically soothing white aerie. The color palette centers around majorelle blue, lining the floors and walls with traditional Moroccan tiles, while another visual highlight comes courtesy of the central room's decorative 'cooling' pool, a reference to a feature of often found in palaces, lined with oversized Moroccan white-and-red glass lamps.
The treatment menu isn't too shabby either. Across the property, the Mamounia has partnered with some of the world's most accomplished talents to create bespoke experiences (from Michelin-starred chefs overseeing the gastronomic restaurants to custom fragrances that scent public spaces) and the spa is no exception. Here, guests can choose from treatments incorporating two brands, marocMaroc and Shiseido, which take different approaches to wellness. The Royal Hammam is the most luxurious treatment on offer, beginning with a visit to the steam room (which feels like a sexy, extremely humid alien planet, with dim lighting and thick clouds of steam), followed by the traditional black soap, made from pressed olives and salt, then an intense scrubbing (not for the sensitive-skinned), and a soothing mud body mask. After a break in one of the relaxation rooms, you head off to another treatment room for a deeply-moisturizing Tadelakt massage, which makes use of argan balm, along with an amber honey scrub and ultra-rich rose cream, all by marocMaroc. If you're feeling more Zen, you can opt for a Shiseido Japanese bathing ceremony, with a bath ritual, body scrub, hydrotherapy bath and your choice of massage.
Aboveground, the rest of the hotel's property exhibits a synergy for those guests on a wellness-centric mission. Mamounia has its own private gardens, which span almost 20 acres, with 100 year-old olive, palm and fruit trees, roses, bougainvillea, geraniums and other species. The far end of the park is home to an organic vegetable and fruit garden, which supplies many ingredients to the hotel's restaurants, including 15 varieties of tomatoes, as well as fine lettuces, white and red carrots, black radishes, rhubarb and more. The fragrance of fresh orange blossoms permeates the entire space, courtesy of 700 orange trees spaced across the landscape.
And if, during your visit, you happen to tire of the healthy life, just outside the hotel sits the Mamounia Casino, the perfect place to indulge your hedonistic urges. You can smoke, drink and gamble until you've had your fill, then book a detox treatment for the next morning and wash your sins away.
Photos: Anson Smart