Everything You've Ever Wanted to Know about Luxury Skin Care Brand La Prairie
The director of strategic innovation behind the cult favorite brand La Prairie explains exactly what makes that Skin Caviar so expensive.
---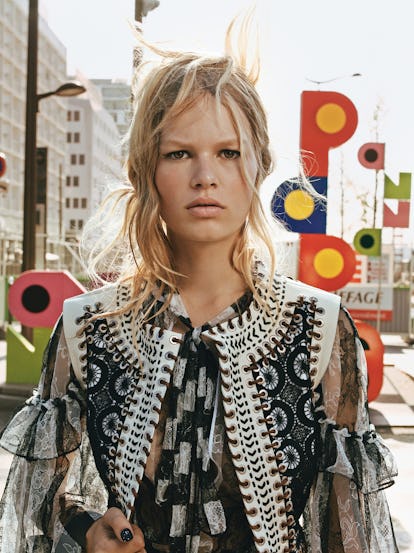 Craig McDean
"Pollution will be the new UV."
Scary, isn't it, city slickers? But when Jacqueline Hill says it in her dulcet Swiss-British accented voice, you can't help but feel she's there to protect you. It'll just cost you over $1100. And that's because Hill is the director of strategic innovation and science at La Prairie, one of the world's top luxury skin care lines. A little more affordable is this interview with the good doctor, in which she discusses all the science behind the coveted brand.
How did you get to La Prairie? I was at a company that developed and manufactured skin care products for a brand called CRB, Centre de Recherches Biocosmetiques that was based in Puidoux, in the French-speaking part of Switzerland. We'd done some consultant work with La Prairie on their Platinum collection, which was how I know the people there. At some point, they offered me a job and I thought, "Wow, this is super exciting!"
Do you remember growing up knowing about the brand? Yes, because it's one of the most famous luxury brands in Switzerland. It's not what my mom used to use because it was a bit more expensive, but it was something I knew about. Also, I grew up in Vevey, which is about 8 kilometers from Montreux, where the Clinique La Prairie is.
Was that where all the fancy rich people went? The spa on the hill? Yes, well, the spa by the lake. A friend of mine was actually a receptionist there at one point, around the time I was at university.
So, did you get to wander those hallowed halls? No, I didn't. It was very tempting, but I didn't think that I'd be allowed to.
There isn't a connection between the spa and the brand anymore, correct? There was. It's our roots, our inheritance, our heritage. We were born from the spa, but now it's separate.
But the skin care line is based on the spa's ethos, correct? Exactly.
What would you say is the La Prairie skin care mission statement? We want to be a leader in skin care and to offer women the most precious gift of all, which is time. That's not only what we strive to do, but I think we do a good job in getting the actual results.
Is there a "money is no object" freedom when you're creating the products? I'd say that's the case and that's what our formulators enjoy: to be able to decide on ingredients based on what is the best, rather than what can we afford. That's a wonderful freedom for us.
And sort of along the same lines, your customers seem to be wiling to pay any price because the trust is there. I think that's part of it. How we can position the products at the prices we position them, and we feel that we're offering them the best. And they also get that understanding.
What are the La Prairie's customers' top concerns? Aging, generally. That includes fine lines, wrinkles, pigmentation. Some populations also want generally lighter, whiter skin. But lifting, firming, smooth, glowing skin. Broadly speaking, aging concerns. We don't focus much on acne.
That leads me to my next question. As we see icons of beauty change, i.e. Kim Kardashian, I wondered if the number one skin concern has shifted with these changes? We are opening ourselves up, aiming to bring in younger customers. And in order to do that, one of the things that was done relatively recently was to put our Skin Caviar Luxe Sheer into the market. It's a lighter version of our Luxe Cream, with similar benefits—lifting, firming—but with a lighter texture, so it's suitable for a younger customer, as well as customers in certain parts of the world where the climate is humid and so they have slightly oilier skin.
Is Skin Caviar really made from actual fish eggs? Yes, it is. In most of the Skin Caviar collection, we use caviar extract, which is obtained through an extraction process. We take the caviar beads—I call them beads because they're round—and we mix a hydro-glycolic solvent in with the eggs. I can't give you too many details because the procedure is confidential. But to obtain the extract, the solvent essentially pulls out all the components of the eggs. And then we filter it, and that's what we use in all the Skin Caviar collection products.
So, the first Skin Caviar was the one made in actual bead form to basically spoon feed (pardon the pun) to customers that it contained the actual stuff? Yes, I would say that. It was a picture showing the reality that it is.
I was hesitant to ask because when I think of La Prairie, I'm always envisioning ingredients derived from plants that survive in the Swiss Alps. I never think about ingredients that are active from the ocean. My bad! It depends on the collection. The Platinum collection is based on platinum. The Gold Radiance products contain gold. Then anti aging is more eclectic, because it's more state of the art, about the anti-wrinkle ingredient of the moment.
Is technology allowing you to use the caviar extract in new ways? Yes. Along with caviar extract, our new Essence in Lotion also contains caviar water, which is also from caviar eggs, but it's obtained through a steam distillation process. It's complementary to the caviar extract, which is one of the reasons why we developed this new method.
Does it kind of double the potency? I would say it complements it, because it's bringing us elements that we'd lost through the process of the extraction.
What do you think are the worst things we can do to our skin? Sun exposure, of course, is number one, no? Lack of hydration is also bad, then there are things you do from the inside, like bad nutrition, smoking. What we say nowadays is that pollution will be the new UV. In places that are highly polluted, this is going to be an especially strong problem for skin in the future, even for people currently living there in big cities now. And more and more people are. Cities in China, for example.
I was about to say Beijing. Actually, labs use Beijing when they want to test what pollution is doing to human skin. We know it's obviously bad for your health, generally, but the heavy metal particles in pollution, that's all very bad for your skin. One of the things where there have been very clear links is its effect on skin pigmentation. Living in a big city for years brings on age spots faster.
Oof! Why don't you come to Switzerland? It's really nice.
I just might have to! Do you create products to work with cosmetic dermatological treatments? Do you presume your customer is a regular at the derm's or plastic surgeon's? I would say some of them most certainly are, so we're bringing non-invasive products to complement that. I think you get different results than from a doctor's visit. The dermatologist can do some very specific things, but your skin still needs the daily care–the moisturization, the protection, the nutrition and all the things that topical skin care can bring.
What products do you use? I change quite a bit, especially during product developments. If I'm trying a new cream out, I'll try it with different serums. But among what's already out, I really like the Skin Caviar Luxe Sleep Mask and some of the Swiss Ice Crystals collection. The Cellular Swiss Ice Crystal Dry Oil and the richer Ice Crystal Cream I really like. The skin caviar eye lift cream is also beautiful.
Describe a typical working day. I've got two main parts to the job. One is product development, working with the team in Switzerland on the development of active ingredients, testing the active ingredients, hunting for new technologies and new opportunities for the brand to be able to launch the best technologies. Also, following up on different projects and their various states of maturity. And once a month, I come to New York for creative development meetings.
Do you talk to the marketing team about what's needed in the line? Do they beg you for what's needed in the line? That conversation goes both ways. They might come to me and say, "We really need an essence in lotion. It's missing in our routine and we really see the benefits of bringing this step in." Then we look at what the customer wants in terms of formulation, texture, etc. But it can also come from us. "We really think this is a future trend." Or we can say we found this wonderful active ingredient we never thought we needed, but it could be great in this new …maybe we'll talk about that in January next year.
Ha! You almost divulged, didn't you? Is there one active that you're still hoping to capture? Well, there's one active we do use already, but we're actually discovering more benefits to it as we go along and that's the Active Cellular Complex. It was developed quite a few years ago, but as new technologies turn up, we're finding that it's got even more benefits than we first realized.
So you can study actions you might not have been able to test before? Yes, technology has vastly improved over the last 20 years or so.
What's the coolest testing gadgets you get to use? Some of the gene array testing is pretty in-depth science.
What does the gene array testing seek to find out? It seeks to find out what influence an ingredient has on the gene expression. So what the gene is going to express, more or less based on the external influences. We can also age skin cells deliberately so you can see how a product works on aged cells.
How do you age a cell? You put it in a specific broth. To simplify matters, if you want to grow the cells normally, you put them in an ideal broth to give them all the food they need in the right proportion. But if you want to age them, you'd change the broth, which gives them harsher conditions to their growth, so they'd grow older much faster.
How fast? In three weeks, we can take 20-30year old cells to 50+.
Yowza. Keep that broth away from me! How do people react when you tell them you make products for La Prairie? Generally, it's "Wow!" Or "Can I have samples?" And "Your skin looks so good." People often say that. I'm assuming it's true. I'm an optimist.
Do you also walk down the street and think, "Oh, you could look so much better if you tried this La Prairie product…" I think it's very rude, but yes, I have thought that.
But you've never actually approached anyone. NO!
I guess that's kind of pushy. I mean, it's not exactly something everyone can afford.
Have you ever given a stranger a sample to try? No, I haven't. I quite like the idea, though.