Ladies, Justice's New Album Is For You
The French electronic duo Gaspard Augé and Xavier de Rosnay will release Woman — their first album in five years — on Friday. And it's worth the wait.
---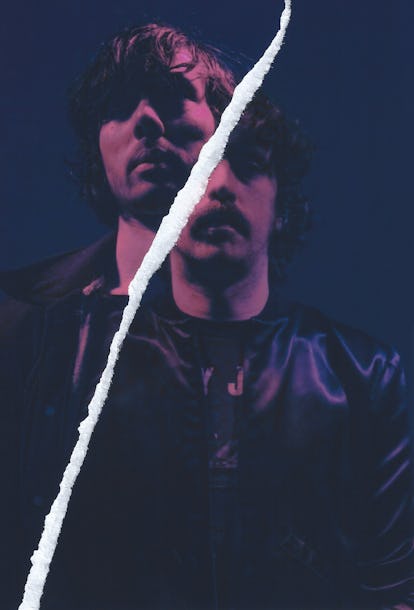 Driely S. Produced by Biel Parklee. Art Direction by Haris Fazlani. Photography Assistant: Sam Dole.
When you've been making a record for four years, like the French electronic duo Justice have, there will hopefully be moments of breathtaking virtuosity to justify the wait. On the single "Alakazam!", from their new record Woman (out Friday), Gaspard Augé, 37, and Xavier de Rosnay, 34, lay down a fast-paced beat accompanied by glitchy record skips, which sound like a woman gasping for air. The beat builds and builds, working toward a climax. And then suddenly, silence. A pause. The woman snaps her fingers, and there is a grateful release. It's a demonstration of the precision and control Augé and de Rosnay exercise, but also the introduction of a new protagonist: a woman pulling the strings.
"We picked 'Woman' because it makes us think of is a sense of power and strength," said de Rosnay of the album's title. He was calling from Paris, where he'd just wrapped the album's second video shoot. "This is for many reasons," he continued. "We both grew up with and are still surrounded by very strong female figures. And the symbol of Justice is a woman with a sword. There's also this sense of being able to originate life, which is a God-like power."
De Rosnay, who does the talking on behalf of the group, first met Augé at a party in 2003. They were both working as graphic designers at the time, but started making music together on the side, and eventually moved into the same flat to focus entirely on their craft. That same year, they were signed by Ed Banger Records; they've since become the label's most successful group to date. It was their hit single "D.A.N.C.E" from their album, † ["Cross"], in 2007 that catapulted them into the mainstream, as it was remixed by everyone from the Canadian duo MSTRKRFT to Mos Def and Spank Rock.
Today, the duo still mix everything together in Xavier's living room. "We like to make music and cook at the same time," said de Rosnay. "It's homemade." And when one is stuck on a melody, the other swoops in to finish. "The struggle of trying to impress the other one actually makes us better," said de Rosnay.
Justice came up in the wake of Daft Punk, who paved the way for EDM in the late 90's, and who also happened to be managed by the founder of Ed Banger, Pedro Winter. A lot has changed though since they both first emerged, namely the technology used to make the music itself. Meanwhile, culture moves at a faster pace than Justice's methodical album-making, and as their audience grows older, these 30-year-olds are already considered godfathers of the game. Often, they are asked about their retirement. (De Rosnay declined to give a definitive answer.)
"An album is such a precious thing, so we work at a very slow pace," said de Rosnay. "Our music is very dependent on time and what's happening around us. For example, it's really easy to date a record depending on how the drums sound."
When a band releases an album every four years or so, it serves as a marker in the timeline of their fans' lives. I can still remember the feeling of losing my mind to "D.A.N.C.E" at sweet sixteens in high school. It was a freedom I hadn't felt before. The vocals sounded like a chorus of kids my own age, and the drums just as unburdened. And when Audio, Video, Disco came out in 2011, I was in college, and the prog rock and dramatic drums with cymbal clashes felt in sync with my own angst, as well as a growing self-confidence.
Like Daft Punk, who recruited supreme session musicians to lay down their hit 2013 album Random Access Musicians, Justice has expanded the scope of their sound. The voices from "D.A.N.C.E" have matured into the form of the London Symphony Orchestra, which is featured extensively on Woman. "We wanted to make a choir record," said de Rosnay, which is unsurprising given the group's religious iconography. "We normally manufacture the sounds of an orchestra," he continued. "But the real, live choir brings a fluidity and warmth to the technical details on Woman."
Justice also chose to work with the London Symphony because they're one of the youngest orchestras in the world, with most of the musicians in their twenties. "They are one of the first generations of classical musicians who also grew up listening to pop music," added de Rosnay, which he believes translates to the way their voices carry.
In comparison to Justice's earlier records, the sound of Woman is rawer and more ethereal, ascending to new heights sonically and emotionally. "For this record, we wanted you to feel the drums more than you can hear them," de Rosnay explained.
"Randy," for example, is an upbeat, "self-motivation" track according to de Rosnay, who also said that the name was intended not to be naughty but in fact gender neutral. There are also songs like "Love S.O.S.," which is a cautionary romance accompanied by the screeching sound of a siren, that tackle new emotional territory for the group. And the record ends with "Close Call," which features the choir once more for a final, spiritual ascension, accompanied by an electronic church organ that sounds both questioning and ominous. Woman arrives at its conclusion uplifted but not absolved.
"We hope it's empowering," said de Rosnay. "That's the main feeling we've wanted to convey with our music since the beginning. But there are different ways of expressing empowerment. Sometimes being aggressive and sort of unpleasant can be empowering. Or sometimes it can come from harmonies or lyrics. Woman is a blend, though, between empowerment and melancholia. It's the bitter victory, you know? We used to say this as a joke, but I think it's true: We want our music to sound like you've won the war, but lost some friends during the battle."