Meet Lady Amelia Windsor, Britain's Hottest Young Royal and Fashion's Newest Darling
Ahead of London Fashion Week, Lady Amelia Windsor—cousin to Princes William and Harry—models some of the best British designers.
Photographs by Ryan Lowry
---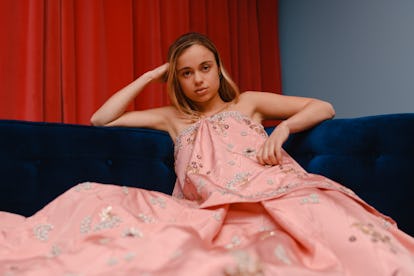 London Fashion Week officially kicks off on Friday, and perhaps no one is more excited than Amelia Windsor.
"London fashion is epic," she said earlier this week, while in New York for the city's own shows. "I love Molly Goddard, Ashley Williams, Preen, Christopher Kane, Burberry, Peter Pilotto, Penelope Chilvers, Mimi Wade…"
The 22-year-old spouted off the list of historic brands and up-and-comers with ease in her refined, lady-like English lilt—a befitting accent, given that her full name is Lady Amelia Sophia Theodora Mary Margaret Windsor. As the daughter of George Windsor, Earl of St Andrews, Windsor is currently 36th in line to the British crown, and a cousin of Princes William and Harry. In 2016, she was declared 'The Most Beautiful Member of the Royal Family' by UK publication Tatler—and with bright hazel eyes, a full pout, and perfectly tousled blonde hair, it's easy to see why. But while she may be royal by blood, the It Brit is quickly becoming fashion royalty in her own right, as both an in-demand model signed to Storm Model Management, the U.K. agency that discovered Kate Moss, and a behind-the-scenes creative with internships at Alaia and Bulgari under her belt.
But fashion wasn't always her focus. Windsor grew up outside of London in Cambridge (her mother is a professor at the university), with her sister Lady Marina Charlotte Windsor and brother Edward Windsor, Lord Downpatrick. (Windsor has a tattoo of three bear cubs to symbolize her siblings.) "We went to a really lovely day school where we had a lovely group of friends," Windsor said of her childhood. "Everyone cycled everywhere, and all used to play musical instruments that never lasted very long. There is just so much beauty in Cambridge. It's wonderful."
Windsor is currently in her third year at The University of Edinburgh, where she is majoring in French and Italian. "I originally went to Edinburgh for Latin, which I love and the literature is incredible, but then I suddenly realized that languages are so crucial for working in the fashion industry and it is wonderful when you can communicate with everyone," she added.
When she's not mastering foreign languages, Winsor has also joined the ranks of many other fellow beautiful people with a famous last name and entered the modeling industry—a side job she said happened "quite randomly, really." Since signing to Storm in 2017, Windsor has walked for the likes of Dolce & Gabbana during Milan Fashion Week, and appeared in a fashion film for footwear designer Penelope Chilvers. "I really enjoy it," she explained. "It was never really something I thought I'd go into. I don't take myself too seriously and just have fun with it. It's a great opportunity to meet incredible, epic photographers and stylists and get to wear beautiful clothes that you'd never get to wear ever again. You feel super lucky."
But it's the more behind-the-scenes side of the fashion industry that really appeals to the young royal in the long term. "I think it was listening to Grace Coddington's autobiography [that inspired me] most because she had such an amazing journey to get where she was," Windsor said. "She's been in so many parts of the creative process, from being a model to working at Calvin Klein and then British and American Vogue. She's worked in all the parts of the industry. She's a real inspiration for what I'd eventually like to do."
As for what exactly that is, the young model is still figuring it out."I would love to work in content and digital media. I think that is a lot of the future of fashion right now, and it is very crucial," she shared. "Imagery and themes and editorial; just to look at the collection and think, 'How are we going to broadcast this to the public?'"
In the meantime, Windsor is spending the semester in Rome, where she is interning in the heritage department at Bulgari. "I never thought I'd go and work in a jewelry company but now I have an it's just, wow. It's a whole other universe," she said. "I am trying to learn as much as possible about their history and how much it takes for one jewelry collection to come out. I was so likely to visit the gem laboratory just outside of Rome last week, which was unbelievable. All the craftsmanship and tiny little details that go into the jewelry; it takes five months to make just one piece of jewelry it's incredible."
Last semester—which she spent in Paris—Windsor completed another internship that would make any fashion obsessive weak in the knees, working with the late fashion designer Azzedine Alaia. "It was incredible," she said. "I worked with him for a few weeks, and it is a time of my life that I'd never forget. I mean, he really was just so welcoming. I was like, 'You are a legend, and yet you are still so kind to everyone.' He had lunch for his team every day and we sat in the kitchen. It was such an amazing atmosphere."
Her internship also happened to coincide with the legendary designer's surprise passing. "It was very surreal," Windsor said. "I take my hat off to [the team] for carrying on. I can't even imagine how difficult it was. I think it came as such a shock. I really was in admiration with how they dealt with it and knew that they wanted to carry on his amazing work in his memory because that is what he would have wanted."
When asked if she would consider styling or designing herself, Windsor offered a diplomatic answer worthy of a royal. "I would love to join a team and to collaborate on a creative team, and give my input," she explained. "I was watching the Dries van Noten documentary and I love that he is very equal with everyone on his team and he is very much open to people's suggestions. Obviously he is part of the Antwerp 6 and he's epic, but at the same time he listens to other people's opinions."
While her own style is not as painstakingly monitored by the press as, say, Meghan Markle or Kate Middleton, it's no less noteworthy. Windsor has been photographed wearing everything from sheer, ethereal gowns to leopard print miniskirts and leather jackets. "I don't really have a specific style, it changes every day depending on who I am with, or the place I am near," she said. "In London, it's a bit more punk. There is such a fun freedom that everyone has to express themselves. You don't have to have a specific style. It can enhance how you want to feel on a specific day. There is nothing better."
Watch: The 15 Best-Dressed Royal Kids Around the World