British Beauty Guru Lady Carole Bamford Is Bringing Her Brand of Organic to Miami
Not content with limiting her organic empire to England, Bamford recently opened a Haybarn in Miami, at 1 Hotel South Beach, a swanky new hotel and residence.
---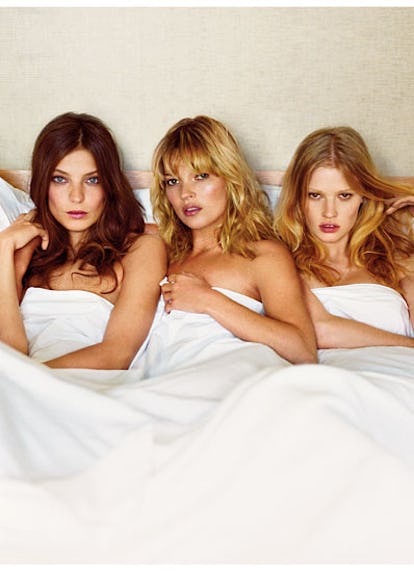 If anyone can manage to combine crunchy with glamour, it's the UK-based Lady Carole Bamford, jet-set founder of the Bamford organic beauty and lifestyle brand, Daylesford Organic cafes and farm shops, (beloved by green-juice-swilling, avocado-toast-nibbling trustafarians) and her chic collection of Haybarn Spas. Not content with limiting her organic empire to England, Bamford recently opened a Haybarn in Miami, at 1 Hotel South Beach, a swanky new hotel and residence.
Tell us a bit about the Bamford brand, how it started, and how it has developed? Is it all organic? Where are ingredients sourced? Bamford is a way of life. We create beautiful clothing, body and skincare products that are natural and artisan made. I created Bamford because I believe in making natural products using the best artisans from around the world. It's about the simple pleasure of quality. I believe that what goes on the body is as important as what goes in it. We only use the finest natural fibers for our clothing and the purest organic and botanical ingredients for our body and skincare.
Our bath, body and skincare collections are all made in the UK and are used in all our treatments. They do not contain any parabens, artificial colorings or mineral oils. Our collection is made with naturally sourced and wherever possible, certified organic ingredients that nourish and re-energize the soul. Our organic products are certified by the Soil Association, the UK's leading certifier and the highest standard for organic beauty. Our organic products contain over 80 percent organic ingredients. What will differentiate the US spas from your properties in the UK? At home, in the beautiful Cotswolds, I love to go for long walks with my family and dogs; a great deal of my inspiration comes from nature. We've tried to bring a little bit of the home of Bamford Haybarn Spa in the Cotswolds, to the US. At the 1 Hotel in Miami, the treatment rooms, the shop and the relaxation room, which is called The Woodland Room, have been inspired by the English countryside–we want to evoke memories of woodland walks. Through the use of tree trunks, branches, logs and wood slices, we believe this creates a sense of calm within a beautiful rustic and contemporary space. The Woodland room is the perfect haven to relax and features a bespoke water feature that adds a sense of tranquility to the spa space. Guests are welcome to enjoy this peaceful area before and after their treatments.
What is your favorite Bamford treatment? The Bamford Jade Hot and Cold Stone Treatment is my favorite. This is a calming massage with organic oils combining warmed and cooled stones, a unique and profoundly relaxing experience. Jade is a symbol of purity and serenity. Its chemical composition lends itself to retaining heat and conduct energy.
What are your own personal beauty secrets? I like to start the day with a cup of hot water with lemon, I find it refreshing and cleansing and of course drinking water throughout the day is important. As I said earlier, I believe that what you put on the body, is as important as what you put inside. In the morning and evening I like to use our Bamford Organic skincare and body products, maybe I am biased but they really do work and leave my skin feeling nourished. It is often said but I also believe it is important to make sure you have good quality sleep.
Do you meditate? Yes, I love to meditate and really feel the benefits. I first learnt to meditate in India many years ago and it is something I practice often. What is your exercise routine? When I am at home, I like to start the day walking my dogs and then I either practice yoga with Vettri Selvan from the Bamford HayBarn Spa at Daylesford, in Gloucestershire, or go to the gym. When by the sea, swimming or walking on the beach is the best exercise. Where is your happy place? India. Every time I return, it balances me and makes me feel grateful. I always learn something new and am inspired by the people, their skills and crafts and way of life. You travel a lot. How do you keep your skin and hair so healthy looking? Where and whenever possible, try and keep to the same routines as you have at home. Use the same products, eat well, exercise and try and get the same amount of sleep–this can be challenging when in different time zones but all of this will help your body when traveling. Are you a vegetarian or meat eater? I love vegetarian and eat meat once or twice a week. I like the meat I eat to be organic. For me this is very important because organically raised animals will have eaten a natural diet and allowed to live in their natural habitat and will not be given antibiotics routinely. It is a better for the animals, for us and our planet. What is your favorite Miami restaurant? I really enjoyed going to Matthew Kenny's restaurant. He is a brilliant vegan, raw food chef, who cooks with seasonal local produce using innovative methods. It's exciting that he will be opening a restaurant in 1 Hotel in the spring.
What is your secret food weapon? My secret food weapon is to eat in step with the seasons – this will mean the produce is fresh, full of goodness and is full of flavor. Along with being passionate about organic food, this is the philosophy on which we founded Daylesford Organic our farmshops and cafes in the UK. Cocktails or mock-tails? Both. During the summer we developed cocktails for The Old Spot restaurant at Daylesford Organic and the Wild Rabbit pub in the Cotswolds, using fruit, vegetables and herbs from the Market Garden at Daylesford. This gave a true taste of the English summer and if you are looking to create a mock-tail you can replace the alcohol with a natural fruit juice.
You have a successful wellness and spa brand… what's next? I am always looking for inspiration on my travels for Bamford. It's the little details that inspire me to develop the ideas that make Bamford such a cherished brand. We are launching our first spa on a train in April on board the Royal Scotsman in Scotland, and there are some exciting new products launching in 2017. A secret for now, though!
Legendary supermodel Kate Moss opens up in a rare video interview: