The Marchioness
A member of the fabled and complicated Guinness family by birth and marriage, Lindy, the Marchioness of Dufferin and Ava, presides over Clandeboye, an astounding 2,000-acre estate in Northern Ireland.
---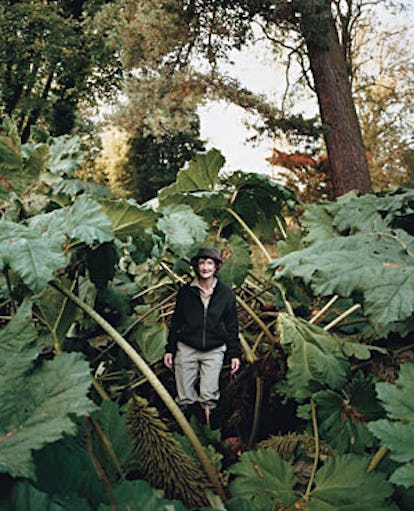 On a meadow deep within Clandeboye, her magnificent 2,000-acre estate in Northern Ireland, a tempest has just lashed her mass of curly hair and splattered mud about her, but Lindy, the Marchioness of Dufferin and Ava, doesn't so much as ask for a brush when it's time to take her portrait. Instead, the sprightly Lady Dufferin frets about her 130 heifers, some of which are also due to be photographed. "I've ordered the cows to be washed," she explains. "Where's Willow?" she asks a gamekeeper somewhat nervously. "Is she ready?"
Willow, it turns out, is the bovine Miss Universe—Ireland's Supreme Champion, Cow of the Year, and the undisputed star of the Clandeboye Herd, voted No. 1 in all of the UK in 2007.
Dufferin, 67, has traditionally guarded her privacy and never fully opened her home, or herself, to the press. But cow pride—and perhaps some newfound business savvy—seems to have softened her reserve. "Tears," she says, when asked of her reaction to the top herd honor. On the heels of this award, she has just launched Clandeboye Estate Yoghurt from the milk of these fine beasts, an artisanal product that the UK's leading supermarkets, Sainsbury's and Tesco, vied for the honor of carrying first. When asked which one she was likely to choose, Dufferin confessed to a reporter that she "[hadn't] a clue," because she'd never been to a supermarket, prompting the British press to make predictable fun of her. Still, the very p.c. New Statesman admitted that the "hideous unfairness" of the class system had nonetheless produced "some wonderful eccentrics," namely Dufferin.
Her lack of familiarity with the pantry aside, Dufferin has labored valiantly throughout four decades to keep Clandeboye—one of Ireland's largest and oldest estates—intact. During the course of her often tumultuous life, the property has served as an anchor and a refuge—a subject she broaches once we escape the inclement weather following Willow's portrait (a difficult sitting, as the 1,700-pound Holstein, like most beauty queens, proves temperamental).
"I'm not remotely interested in being posh or chic," announces Dufferin, sitting down to tea and just-baked crumpets in Clandeboye House's vast library, a richly paneled and gilded room. Yet she then proceeds to rave about Nicky Haslam's much chronicled ball two nights earlier in London, where she danced until four, primarily with Picasso biographer and old friend John Richardson. According to several stunned observers, the pair flung themselves about with ferocity.
A tall woman who seems constantly energized, Dufferin is a product of Ireland's fabled Guinness family twice over. Her father, Loel Guinness, a dashing sportsman, came from the so-called banking branch of the clan, and in 1964 she married a distant cousin from the brewing side, Sheridan Hamilton-Temple-Blackwood, the Fifth Marquess of Dufferin and Ava.
Her own childhood was at times lonely and confusing. Growing up with one brother in various castles and villas and on yachts in England and on the Continent, she saw more of nurses and nannies than of her parents. In 1951, when she was nine years old, her father divorced her mother, Lady Isabel Manners, a daughter of the Duke of Rutland, and married Gloria Rubio, the exotic Mexican beauty. Dufferin remembers being "fascinated" but rather mystified by her new stepmother. "She was so beautiful," she recalls. "She moved like a cat."
But there was an upside, such as the winter—when Dufferin turned 14 and her father removed her from school—that she spent in Palm Beach with her father, stepmother and a houseguest, Truman Capote, one of Gloria's best friends. "He was so wicked. I loved him," she says. Loel was less enchanted by Capote but put up with him because, as she recalls, "he liked to keep his women amused." A devoted yachtsman and pilot­­—as a child, Lindy learned to fly a helicopter on his lap—he was said to be cold and distant. "I sometimes think he was better with machines than he was with women," she says.
Adolescence was often "turbulent," Dufferin admits. "As the child of a powerful family, you learn to keep as low a profile as possible. When the storm goes over your head, you just hunker down. But it sort of builds character, doesn't it?" Yet such a life was exciting, too. "We were always on the move. One never knew what was going to happen next," she remembers. Once, when she was on the deck of the family boat off Antibes, she was startled by a great gurgling in the water, from which emerged a man in a fantastic helmet and wetsuit—Jacques Cousteau. Guinness later financed the purchase of the oceanographer's ship the Calypso, as well as his Oscar-winning film, The Silent World.
While a debutante, Dufferin fell in love with her cousin, and her life changed abruptly. They bonded, she recalls, over their common background. "The Guinness family is fairly big," she says, "but we all have the sense of us being from the same team." Certainly, Sheridan had grown up with his share of great wealth and drama. His father, Basil, was descended from one of Northern Ireland's oldest aristocratic families, the Blackwoods, and married Maureen Guinness, then one of Britain's wealthiest and liveliest heiresses. He was killed in Burma in 1945, in the closing months of the war, making six-year-old Sheridan the Fifth Marquess of Dufferin and Ava. But the famously formidable Maureen continued to rule over her son—and the roost­—for some years.
After their wedding before 2,000 people in Westminster Abbey, Lindy and Sheridan divided their time between London and Clandeboye, where Maureen was still very much in charge for the first few years of the marriage. (Dufferin recalls her as "fantastic" yet "incredibly naughty.")
Though the estate had been in the hands of the Blackwood family since 1674, the present house on it dates from 1801, when Robert Woodgate, a pupil of the great English architect John Soane, designed an enormous classical-style mansion for the second Baron Dufferin. His grandnephew Frederick, born in 1826 and later made the First Marquess of Dufferin and Ava, significantly expanded the property. One of the Victorian era's most brilliant ambassadors, he was posted to Italy, France, Russia, Canada and India, where he served as viceroy from 1884 to 1888. From these countries Frederick shipped back to Clandeboye boatloads of treasures and curiosities. In the mid-18th century he built a substantial wing on the west front of the house to showcase his dazzling assortment of items, ranging from monumental Egyptian granite sculptures and colorful Burmese wood carvings to heavy armor, stuffed grizzly bears and rhinoceros heads.
Though Lindy remembers initially finding the house "awe inspiring," she was not put off by its size, since she had grown up in even bigger places, including her mother's monumental family seat, Belvoir Castle. Maureen had pumped masses of Guinness money into Clandeboye, but the newlyweds still had considerable work to do to restore the place to its original glory, which entailed buying fine Irish furniture and pictures to replace pieces that had been damaged or sold off during the two world wars. And they meticulously cared for and cataloged the First Marquess's vast collections and archival materials. As a result, Clandeboye today is a unique house—a frozen-in-amber reflection of the British Empire at its peak. "'Empire' is a dirty word now," says Lindy with some nostalgia. "But I think it's important to face up to the fact [that] at one point Britain ruled the world."
Yet, even as the young couple worked to preserve this time capsule, they emerged as central figures in the contemporary art scene in London, a contrast that husband and wife found energizing. Sheridan, a "colossally charming and immensely cultivated" man, according to Richardson, became an avid collector of artists including Francis Bacon and Lucian Freud (who had married Sheridan's sister, Caroline, in 1952). In 1963 he cofounded the Kasmin Gallery, where he showed David Hockney and Anthony Caro, among others.
The Dufferins' Holland Park mansion was party central for London's aristo- bohemian set throughout the swinging Sixties and Seventies. "We used to give endless parties," she says. "They had this kind of innocence and openness about them. There was no sort of formality."
Lindy recalls Bacon quite fondly. "He was perfectly brilliant and funny and could tell unbelievable stories," she says. But her brother-in-law Freud was "terrifying" to her: "He had very black humor, like my sister-in-law. I don't think he particularly liked me. I was too healthy for him." Her favorite of the group was clearly Hockney: "He is absolutely enchanting, completely original in how he looks at life. He takes life by the short and curlies and gives it a shake." The two remain close, speaking on the phone nearly every month. Hockney rang her a few weeks ago, after reading about her supermarket conundrum. "'I don't believe I've ever laughed so much in my life,'" she recalls him telling her.
In the late Eighties, Lindy's life took a grim turn when, at age 49, Sheridan died of AIDS. The couple had no children, and Sheridan bequeathed Clandeboye (and, according to published reports, 15 million pounds) entirely to Lindy. But he left a letter telling her that if, after three years, the estate proved to be a burden, she should sell it.
Lindy was predictably daunted at first, particularly as the Troubles in Northern Ireland were raging. As a highly visible bastion of the Anglo-Irish gentry, Clandeboye might well have been an IRA target. But the widowed Marchioness dug in her heels. "Many of my English friends were deeply concerned about my security but understood I had total confidence about being both a Guinness and a Dufferin and [was] proud of both these cross-border Irish connections," she says. In the mid-Eighties, prior to Sheridan's death, she had asked an environmental group, Conservation Volunteers, to open its first branch in Northern Ireland on the estate, where locals could come to learn the basics of tree planting and preservation. "I set upon this idea of working with the environment because I realized [the issue] crosses the divide between Catholics and Protestants," she explains. "And I thought this was a way to bring the estate back to its historic position of being the center of the community." The organization has since planted several million trees and become one of Northern Ireland's leading charities.
In September Dufferin inaugurated her latest endeavor to keep the estate lively, the Ava Gallery—a commercial gallery and exhibition space in a converted stable that will show British and European art from Post-Impressionism onward. But its specialty, under the direction of its bright, young, Courtauld-trained director, Dickon Hall, will be contemporary artists from Northern Ireland. "I get unbelievable pleasure out of being able to help young people develop their talents," she says.
The goal is to keep Clandeboye going without turning it into the Disneyland that many another great British estate has become. No thank you to that, she says: "You end up building shops and tearooms and loos, so you might as well be a shopping center." At Clandeboye, the public is not allowed in the house but can access the grounds en route to the gallery. "Everyone who comes here has to be learning something in some way," adds Dufferin somewhat sternly.
In recent years, her personal creativity has also blossomed. As a girl, she was a serious painter who went on to study under Oscar Kokoschka. Prior to that she was a protégée and close friend of Bloomsbury artist Duncan Grant, whom she met at a country house party. Grant—"the nicest, most lovable creature ever on legs," she says—didn't teach her technique so much as attitude. "For him, painting was just a part of life," she says. "And he lived only in the present. When someone started to ask him about Virginia Woolf, he just closed his eyes." Although Dufferin's figurative pictures were much praised by Grant and others, she felt overshadowed by the great artists in her social circle and considerably reduced her output in the Seventies. In the past decade, however, she has taken up the vocation again passionately, and her pictures­—many of which depict Clandeboye's interiors and landscapes—have been enthusiastically received. "She's a very sensitive painter," says Richardson. "You feel her enormous energy and vitality in her brushstrokes." This April a show of her work opens at the blue-chip Browse & Darby Gallery in London. Meanwhile, one of her oil paintings—of her beloved cows—can be seen all across Ireland adorning the containers of her Clandeboye Estate Yoghurt.
Early sales projections have been so encouraging that Dufferin believes the product might tip the scales and finally make the estate self-sustaining. A longtime dream, but one Lindy seems almost wary to contemplate. "Of course, it would be embarrassing if it started making money," she says with typical British upper-class restraint. But she might as well get used to it.