Lady Gaga and Brad Pitt Might Make a Movie (and Probably Tabloid Headlines) Together
We can imagine the Us Weekly covers now.
---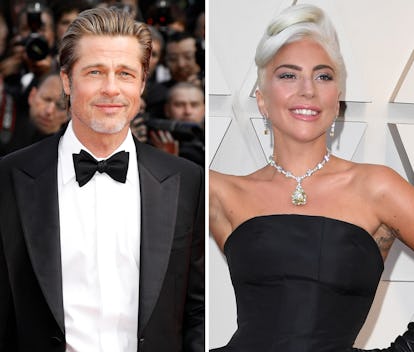 Which news angle is more exciting to you: Lady Gaga making an action film or Lady Gaga starring in a film with Brad Pitt? We are willing to bet top dollar that the editors of America's tabloid media are decidedly over the moon about the latter. Imagine how many baseless "are Lady Gaga and Brad Pitt dating?" stories they'll get out of that one.
In any event, yes, Gaga is in talks to join the expansive cast of Pitt's upcoming flick Bullet Train, which is already in production. David Leitch, the man behind the John Wick franchise, Charlize Theron's sexy thriller Atomic Blonde, and Deadpool 2 is directing the film, so it's not a rumor that the film will be a true action movie.
The film is sort of like Murder on the Orient Express meets, well, Mr. and Mrs. Smith. Five top-tier assassins find themselves individually assigned to do a job on a bullet train speeding through Japan only to realize that their missions are all intertwined. Pitt will play one of the hitmen codenamed "Ladybug" (cute!). Gaga's possible role remains a mystery.
Though, Logan Lerman, Joey King, Brian Tyree Henry, Aaron Taylor-Johnson, Michael Shannon, Zazie Beetz, and Masi Oka have also signed on. The film is an ensemble, so if Gaga does sign on the dotted line it certainly won't put her in the same intimate co-starring arrangements she shared with Bradly Cooper. For all we know, she could end up sharing more scenes with Zazie Beetz than she does with Pitt (and we'd be just as excited about that).
That probably won't stop the gossip columns from at least attempting to circle around the situation. Rumors of a Gaga-Cooper romance followed A Star is Born all throughout its promotion cycle, right up until Oscars night, despite not one single shred of evidence anything romantic had taken place.
Pitt, meanwhile, has joked that the tabloids will link him to any woman he happens to stand next to.
For the record, as of last update, Gaga is still happily dating a businessman named Michael. Pitt, however, just reportedly got out of a few-months-long fling with a German model.
In any event, the news is perhaps more interesting when it comes to updates to Lady Gaga's IMDb page than her "Who Dated Who?" page. While the singer-turned-actress is still attached to stars in the real life crimes-of-fashion film Gucci, production hasn't begun. If she did join Bullet Train, it would likely be her first film released after Star. Though, technically it wouldn't be her first action film. She did have an ensemble part in Machete Kills back in 2013.