Lady Gaga, Noted Trump Foe, Will Sing National Anthem at Biden-Harris Inauguration
Jennifer Lopez will also join Gaga for the swearing-in ceremony.
---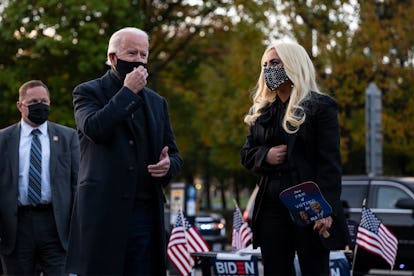 Photo by JIM WATSON/AFP via Getty Images
Lady Gaga and her four octaves will sing the national anthem at Joe Biden's inauguration ceremony, reports Variety. After joining Biden during his final campaign push in Pennsylvania (much to Donald Trump's chagrin), Gaga was tapped to kick off the day's festivities. Though, she's just one part of an entertainment package that includes a performance by Jennifer Lopez, a reading from 2017 National Youth Poet Laureate Amanda Gorman, and the Pledge of Allegiance recitation by Andrea Hall, President of the International Association of Firefighters Local 3920 and Fulton, Georgia's first Black woman fire captain.
In a press statement, Biden inaugural committee president CEO Tony Allen said the entertainment lineup "[represents] one clear picture of the grand diversity of our great nation." Gaga wrote on Twitter that she is "deeply honored" to have been chosen for the job.
Gaga is a longtime fixture in the Democratic party. During the general election campaign, she stumped for Biden at a drive-in rally in Pittsburgh, PA right before Election Day, in effort to turn out as many voters as possible in the swing state. Lopez also joined Biden for a virtual discussion about the disproportionate impact of the coronavirus pandemic on Latinx communities.
"The Star Spangled Banner" is famously a difficult song to sing. It requires vocal jumps from very low to very high notes, and it's typically sung a capella, or without any instrumentation backing. Plenty of stars have been criticized for their national anthem performances: Beyoncé admitted that she lip-synced the song when she performed at Barack Obama's second inauguration in 2013; she explained that she recorded backing tracks because of "no proper sound check." Fergie also courted controversy for her sensual rendition of the national anthem at the 2018 NBA All-Star game, becoming the only person to upstage LeBron James at a basketball game. Still, if anyone is up to the task, it's Gaga — she hit all the right notes with her anthem performance at the NFL Super Bowl in 2016. Lopez also dazzled the halftime crowd at the 2020 Super Bowl, which was one of the few nice things to happen last year. The inauguration takes place on Wednesday, January 20 at 11:30am.