THE UNITED STATES OF CHROMATICA
Chromatica Marks Lady Gaga's '90s Club Kid Era
With the release of her latest album "Chromatica" today, Gaga has ushered Little Monsters into the sonic landscape of a dance floor from the 1990s.
---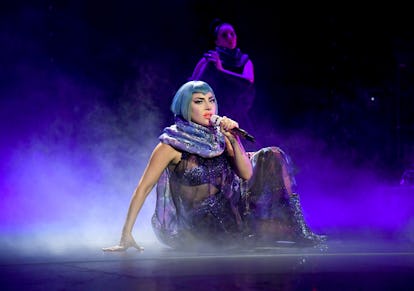 Photo courtesy of Getty Images.
Lady Gaga has officially bade goodbye to the cowboy hats and romantic, soft ballads of her Ally Mayne era. With the release of her latest album Chromatica today, Gaga has ushered Little Monsters into the sonic landscape of a club dance floor from the 1990s.
"Stupid Love," which leaked in January, had all the elements of Gaga's signature pop power anthem, with heavy synth and a propulsive chorus. "Rain on Me," the lead single from the album featuring Ariana Grande, came out next, giving more overt hints at the '90s sound that would saturate Chromatica (the drum'n'bass beat recalled "Rhythm of the Night," the 1993 hit from musician Corona.)
A listen to Chromatica in its entirety solidifies Lady Gaga's next era: that of the 1990s club sound. "Sine From Above," her song with Elton John (whose own '90s era of music was iconic! "Candle in the Wind," anyone?!), is pure "Better Off Alone" by Alice DJ—especially during the breakdown in the final minute of the track. The choral background singers, piano riff, and spoken lyrics on "Babylon" evoke the vibes of Dr. Alban's "Sing Hallelujah," which first charted in the mid-Nineties. (And yes, closing track "Babylon" includes that infamous loon sample that's fluttered through dance music history and also appeared on Nicki Minaj's "Anaconda.") On "Alice," call-and-response verses and a huge backing track give off a whiff of "What Is Love? (Baby Don't Hurt Me)" by Haddaway.
There are some exceptions to this sound on the album, of course—the opening track "Chromatica I" is a swelling, orchestral song that feels more like the opening to a sci-fi film than that of a pop album. And the Blackpink-assisted "Sour Candy" is EDM through and through. But consumed as a whole, Gaga has created with Chromatica a nostalgic, safe space located in a club from 30-or-so years ago. It makes sense that this album would aim to provide some kind of escape, especially given the current political climate, socio-economic issues, and worldwide pandemic. With this album, which has already reached #1 on iTunes charts in over 50 countries, Gaga is certainly world-building—there's even a "United States of Chromatica" Twitter account, giving those who want to leave the hardships and mess on Earth a chance to make their exit.