Lady Gaga's Chromatica Could Be the First #1 Album Fueled by Jockstrap Sales
She has the golden touch for fashion provocation.
---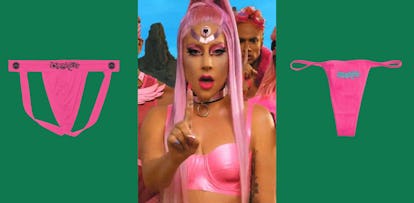 There's little doubt that Lady Gaga will score her fifth number-one album when Chromatica is released on May 29th. The Killers' comeback album, originally slated for release that day, has been pushed back. Her only real commercial competition of any sorts: Diplo's fist country album.
Though, Gaga seems to have an ace up her sleeve (or an elastic band up her pantleg, as it were) to help goose album sales: a certain segment of her fanbase's love for jockstraps. Yes, the official Chromatica jockstrap is all part of the album's release strategy, alongside a corresponding hot pink thong, as well. Both pieces of clothing seem to have the Internet in an absolute tizzy.
You might remember a few years ago, the fashion industry was absolutely lit up by the idea of merch. No longer just cheap concert tees sold in suburban arena rotundas, musician-branded merchandise started to rival traditional streetwear in levels of hype. Designers were collaborating on drops, and items were sold in traditional boutiques. Though, as hypebeasts and fashionistas tend to do with trends, everyone went in a bit too hard, too fast, and by the end of 2016, this magazine declared the moment of elevated merch officially dead.
Of course, musicians haven't stopped selling branded t-shirts and sweatpants. Though, these days, merch may be more important to appearances in Billboard than showing up in Vogue—especially in the age of Spotify. Items are routinely sold as part of a package that includes a bonus digital album. In the eyes of the charts, that counts as a traditional album sale just as long as certain rules are met.
Of course, yet another cotton t-shirt can only get even the most devoted fanbase so riled up.
Gaga has always had the golden touch for fashion provocation, and that's finally extending to her merch. The humble jockstrap has existed since around 1891, but has always been a bit taboo and, outside of locker rooms, hardly a mainstream undergarment. Queer culture, however, has a long history of holding up the garment as a thing of sex appeal dating back to at least the days of Tom of Finland and Peter Berlin. Even as brands like Calvin Klein and Tommy Hilfiger produce their own, they still occupy a special corner of the underwear drawer.
Within hours of the product reveal, the item has become almost something of a meme, owing to the sheer audacity of the offering.
So, Chromatica may just end up being the first #1 album in history powered, in some part, by jockstrap sales. How long until Rihanna releases some Fenty x Savage jocks of her own? At this point, we wouldn't be too surprised if it actually happened.
Related: Lady Gaga's Weird Tweets Are an Ongoing Social Experiment