After Headlining Coachella, Lady Gaga Will Shoot Her New Film There, Too
The Gaga-fronted remake of A Star Is Born is looking for extras in Indio.
---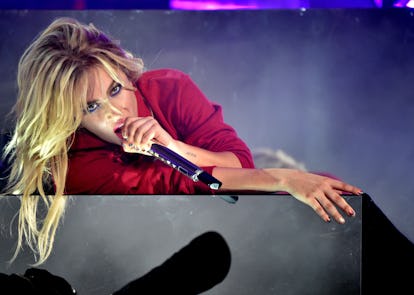 Kevin Mazur/Getty Images
Bailey, Shamir
Released a new surprise album, Hope — his first full-length since 2015's Ratchet and an album recorded in a single weekend. Last weekend, to be precise.
Coachella
Ancestral birthplace of festival fashion. This year is no exception: See a few of the best street style looks from Coachella's first weekend, here.
How Paris's street style stars do fashion week:
Gaga, Lady
The Coachella headliner will star in A Star Is Born, the Golden Age-era Hollywood film, in the role for which Judy Garland was nominated for an Oscar. And, this week, Coachella attendees will have the opportunity to be extras in the film, directed by Bradley Cooper.
Gainsbourg, Charlotte
Actress Charlotte Gainsbourg met François Nars, and a collaboration was born. Now, with the launch of her new Nars capsule collection, Gainsbourg opens up about her beauty icon (her mother, Jane Birkin, naturally), the French woman's approach to makeup, and why young people shouldn't mess with their skin.
Girls
After six seasons, Girls has finally drawn to a close. Here, costume designer Jenn Rogien looks back on a few of the most iconic looks, from Jessa's feathered Ann Demeulemeester jacket to Elijah's H&M shortsuit.
Gucci
Many praised Gucci's recent northern soul-inspired campaign as a step forward for a brand that has, notoriously, cast largely white models in its shows and campaigns. But others are asking, is it really progress?
Jenner, Kendall
… Has always been the most removed of the Kardashian-Jenners. And while her little sister gets a new reality show, Jenner has retreated even further in the wake of the Pepsi scandal — but over the years, that reluctance to speak out has only made her a more interesting subject.
Jorts
Perhaps fashion's most divisive piece of clothing. We investigate.
Kawakubo, Rei
How the 2017 Metropolitan Museum of Art Costume Institute exhibition on Rei Kawakubo's Comme Des Garçons came to be — and, in a rare interview, what the creator herself thinks of the whole affair.
Schnetzer, Ben
Sundance darling, classically trained dramatist, co-star of Nick Jonas, and the newest rising star to be added to Xavier Dolan's stable. He'll next appear in The Death and Life of John F. Donovan — so it's time you start taking him very, very seriously.
Coachella 2017: Crop Tops, Florals and the Best Street Style From the Ancestral Homeland of Festival Fashion