Hugs and Thank Yous to Lady Gaga
In case you missed them, here are the top style stories from the week.
---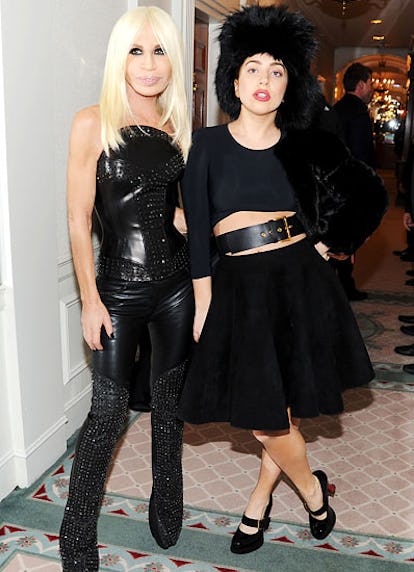 Photographs: Shawn Brackbill
__Abramović, Marina__ The artist reached her Kickstarter goal with the help of Lady Gaga. Now owes her a hug.
Angelou, Maya Starring in Cole Haan's newest advertising campaign; will encourage women to purchase comfortable footwear.
Beyoncé Changed her hair again. This is just getting dull.
Campbell, Naomi Ran into her ex-boyfriend at a bar. What happens in Ibiza, stays in Ibiza.
de la Renta, Oscar Is seriously cutting down his fashion week list. How exclusive.
Domino The now-defunct magazine is making a digital comeback much to the delight of home lovers everywhere.
Dunn, Jourdan Gets very, very naked for GQ. Reminds everyone that it is a men's magazine.
East Coasters Apparently wear more makeup than women on the West Coast. Duh.
McCartney, Stella Collaborating with Gwyneth Paltrow's GOOP on a TBA adventure. The anticipation is killing us.
McNeil, Catherine Got a gap in her teeth for a Lauren Hutton-inspired fashion spread.
Mizrahi, Isaac Is apparently writing a TV pilot.
Murakami, Takashi The artist is now collaborating with Shu Uemeura on a collection of makeup. To be worn on the East Coast only.
One Direction Will perform at the Victoria's Secret fashion show this year. Continues to live every teenage boys fantasy.
Pannettiere, Hayden Gets bangs; makes headlines.
Rag & Bone Collaborates with Hunter on a line of wellies; conveniently announced on a rainy day.
Rihanna May play Josephine Baker in an upcoming film. Will be forced to change her hair yet again.
Rodarte Would like to dress Vin Diesel, of all people.
Topshop Will be available across the country, thanks to Nordstrom.
Versace, Donatella Publically thanked Lady Gaga for writing a song about her. Outdoes Marina Abramovic's hug.
Wilson, Eric Counted all of the naked breasts in W's September 2013 issue for The New York Times. Glad you're paying attention!